Websites for IT companies
IT websites that drive results
Ironpaper focuses on website design, lead generation, and digital marketing for IT and high-tech companies. We build websites, mobile apps, and manage marketing to help IT enterprises & communication service providers with demand generation and best practice websites.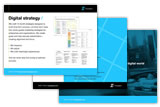 Learn more: Download Agency Overview (PDF)
Lead generation best practices for websites
IT and tech companies need websites that act as a foundation for demand generation, lead nurturing, and a powerful touchpoint for sales. Ironpaper designs websites that build trust, authority, visibility and growth for IT companies.
Relevant, Optimized, Well-Positioned
IT companies need their websites to act as a primary salesperson, a nurturing tool, and a new business generator. Websites can help set an IT apart in the marketplace. Websites must be built with careful consideration of SEO, social sharing, content strategy, marketing automation, dynamic personalization, lead scoring, and progessive profiling.
B2B buyers today are 70%-90% of the way through their "buying journey" before they reach out to a vendor.
IT Company Website Design
Ironpaper is a digital and web design agency based in NYC. We improve lead generation and results for IT companies. Learn how we can apply best practices for IT company websites and demand generation. We help execute website best practices for IT companies. Lead generation and inbound marketing for information technology providers. 
Ironpaper specializes in IT, tech, internet of things, and telecom companies
For your reference: related pages: