We often see brands and eCommerce businesses so narrowly focused on the direct correlation between advertising and purchase that they miss the customer relationship, which is the longer term value a business builds as it affects the market.
This is a missed opportunity at a minimum.
At a maximum, it could be the mislaying of the business from the affects of branding and customer relationship, which impacts growth and sales. This could be a "make or break" deal.
Customers love to research, flirt and think during the purchase process. This is a magical investment of time as the consumer explores brands, products and options. They use the web, mobile, in-store, friends and social networks to help them make decisions. But, it should be noted, that for many it is a labor of love.
Social networks play a big role in this. According to the latest survey data released by Ipsos OTX, in a report titled Socialogue: It Pays To Be Social!, 44% of Americans agree that social networking keeps them in the know about brands and products. Internationally, social networks play an even bigger role. Americans are 20% less likely on average, according to the report, to rely on social networks to keep updated than consumers in other parts of the world.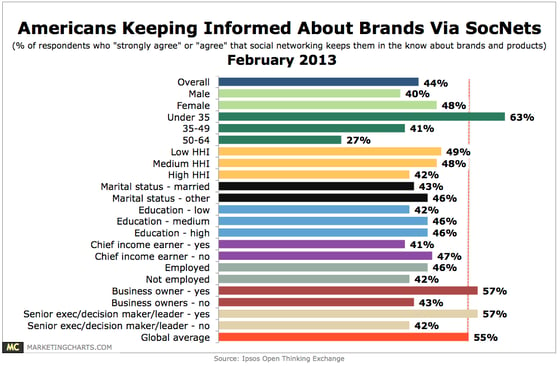 The report goes into more detail on this user behavior phenomenon. For example, women are more likely than men to leverage social networks for brand updates (by 20% in this case; 48% vs. 40%).
Nevertheless, social networks play a vital role in branding. Hence our warning above... Users participate in commerce sometimes in a flirtatious or research-driven way. They explore, and this exploration is vital to the laws of attraction between buyer and brand. By overlooking the user's desire to research in an attempt to focus on the immediate sale, a brand may be overlooking the relationship. To date, social networks are not a good place for driving direct transactions and conversions for eCommerce. They are, however, vital influencers of taste.