Marketing Strategy for the
Internet of Things
IoT Marketing Agency
The rise of the Internet of Things and workplace mobility have become a remarkable opportunity for telecom companies and communication service providers.
Now, a strong Internet of Things marketing strategy is more important than ever. You must connect with technical and non-technical buyers, produce educational content, define your value proposition, and overcome a long sales cycle.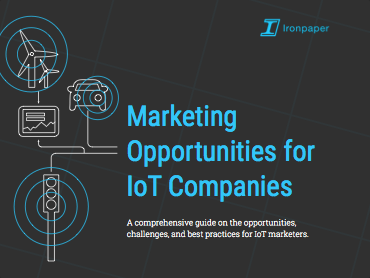 Learn more: Download my IoT Marketing Opportunities eBook →
A more connected world...
creates challenges for enterprises as they communicate their value proposition and position their brands in order to attract customers.
Digital marketing for the IoT
Ironpaper specializes in lead generation and digital marketing for the Internet of Things and the emerging connected ecosystem. Our team of designers, developers, marketers, writers, and user-experience experts help clients build brand engagement, drive leads, improve sales, and increase conversion rates. 
Websites
Inbound marketing
Lead generation
Advertising
Content marketing
Digital strategy
Social media
Web support
Improve your sales opportunity pipeline
Lead generation
We help telecom, IoT, communication service, IT, and B2B companies attract qualified leads and customers. We act as a strategic partner to both set goals and achieve them. Our work combines strategy and production — we are data- and results-driven.
Our growth goals include:
Generate leads
Increase sales
Nurture leads
Increase brand visibility
Grow media mentions
Increase customer loyalty
Increase conversion rates
Content marketing to nurture and convert leads
Content is still king. We help clients by creating great content and repackaging existing content as offers, campaigns, social posts, and search-accessible assets. We work hand-in-hand with product teams to create marketing and sales content that is relevant and interesting to prospects.
Whitepapers
Datasheets
Web content
Campaign content
Case Studies
Gated content
Blogging
PR content
65% of marketers feel that their marketing department could be doing a better job.
Marketing for the Internet of Things
IoT Marketing Agency
Digital marketing agency focusing on helping Internet of Things companies with demand generation. Lead generation and demand generation for companies pursuing opportunities with the Internet of Things. B2B campaigns focused on attracting and building sales opportunities. We help companies with marketing strategies for technology products.
The opportunities with IoT are vast. Enterprises gain new possibilities for productivity, service models, sales, creativity and connectivity.
Ironpaper is a digital agency that integrates marketing, content, design and development to help clients achieve business goals.
For your reference: related pages: