Does your CMS help you achieve business goals?
According to a new report sponsored by Adobe, very few businesses feel that their content management system facilitates their digital business goals. Less than one-third of survey respondents state their CMS is helpful in improving user and customer engagement and brand-building through positive experiences. Also many business leaders feel that their CMS does not provide a complete view of engagement across all channels.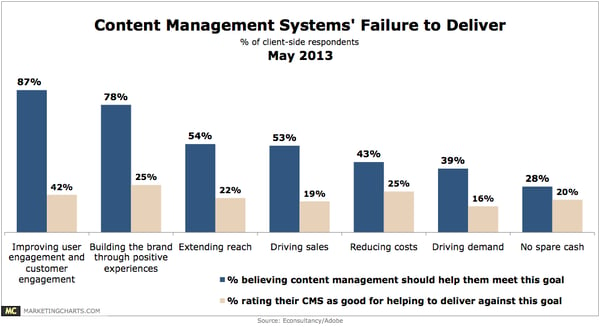 Based on the poll, 87% Businesses feel that content management systems should help them improve user and customer engagement. Yet, only 23% of those polled feel that their CMS helps them with this digital goal.
Another popular concern was with mobile responsiveness and the mobile experience online. About 33% of the respondents say to mobile website functionality and responsive design would be a feature that they wish to add to their current website CMS. Another feature reported missing from CMSs of those polled is the ability to integrate with other marketing platforms.
About the survey: eConsultancy: Quarterly Digital Intelligence Briefing, An online survey focusing on over 1,000 client-side and agency respondents. The survey was conducted in February and March 2013 across the UK and North America.