It is projected by MarketingLand that US eCommerce spending will exceed $200 billion dollars for the first time after the Q4 holiday this year based on 2013 figures from comScore.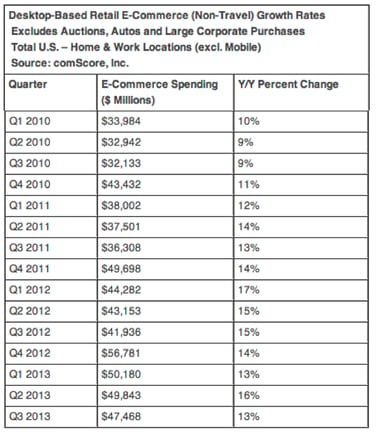 The news release, comScore Reports $47.5 Billion in Q3 2013 Desktop-Based U.S. Retail E-Commerce Spending, Up 13 Percent vs. Year Ago states that third quarter 2013 eCommerce sales grew 13 percent year-over-year to $47.5 billion.
The market is showing robust growth with this quarter making the sixteenth consecutive quarter of positive Y-O-Y growth and twelfth consecutive quarter of double-digit growth for eCommerce in the US.
Overall eCommerce is a little less than 6% of total US retail spending according to the US Commerce Department (excluding the forecast for Q4 of 2013).
As online retailers prepare for the holiday season, discounts and promotions will be a powerful tool to drive loyalty with shoppers. An online survey focusing on discounts driving loyalty spending show that 86% of shoppers claim to purchase products from stores that have a promotion. Retailers and eCommerce websites need to ensure that they drive awareness of sales to customers.
See 5 holiday marketing tips for retailers for example tactics to drive better performance throughout the marketing to sales funnel.
Top-performing eCommerce categories (with 14% growth Y-O-Y) included:
Digital Content & Subscriptions
Apparel & Accessories
Consumer Packaged Goods
Consumer Electronics and Jewelry & Watches
SOURCE: www.comscore.com