Ecommerce impacts the revenue of brick and mortar retailers. Traditional retailers are losing share to eCommerce rapidly, and a recent survey by IBM sheds some light on this trend.
The study, Consumers Willing to Share Personal Details, Expect Value in Return, explores the recent shopping behavior of 30,554 consumers across 16 countries and found 27% of shoppers made their last purchase online. This number is double that of last year's survey of the same time period.
Many retailers fear showrooming, and blame the phenomenon for the loss of revenue. However, the IBM points out that the majority of gains for eCommerce websites was not showrooming but directly shopping online.
The study also identified opportunities for retailers. The number of consumers willing to share their current location via GPS with retailers nearly doubled year-over-year to 36%. And, 32% would be willing to share their social identities with retailers. The willingness to trade is dependent on receiving a personalized experience in return from retailers.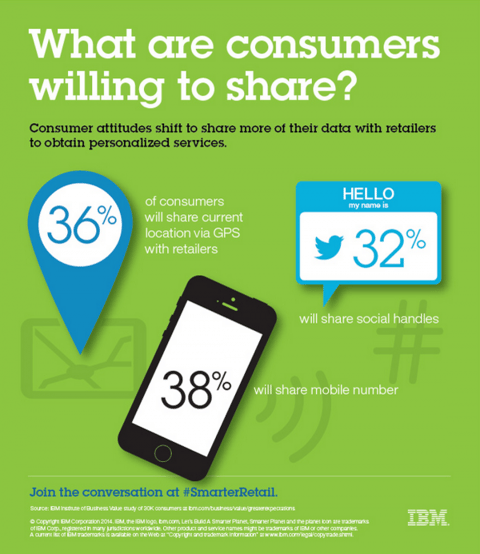 The demands of retailers are increasing. Methods of communication and access to consumers are fragmented, and more competition poses threats to traditional retailers on the web. Omnichannel retailing is a must for retail brands today. The practice of omnichannel retailing is to give consumers a personalized experience across a variety of channels--online, mobile, tablet and in-store.
Marketing teams must successfully employ a range of disciplines to be omnichannel--including web design, mobile applications, mobile promotions, organic and paid search, social media, in-store, analytics, email, advertising, event planning, content marketing, PR, etc. The sheer number of disciplines involved can be overwhelming to marketing teams, and the expectation of consumers is for retailers to learn from their interactions so recommendations and offers are personalized place large demands on the analytic capabilities of retailers.
SOURCE: IBM, 13 Jan 2014 - IBM Study: Consumers Willing to Share Personal Details, Expect Value in Return, Big Data, Analytics and Cloud Computing Needed to Meet Consumer Demand for Personalization - https://www-03.ibm.com/press/us/en/pressrelease/42903.wss
SOURCE of image: https://www.flickr.com/photos/ibm_media/11935029766/