The internet's major source for professional quality photos, Getty Images, has turned one-eighty on their adherence to charging licensing fees for anyone who wants to access their portfolio.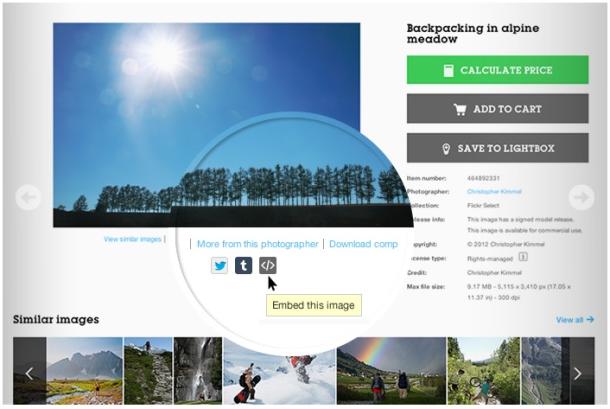 The extensive gallery provider has recently tacked on an "Embed tool" that will allow users access to over 35 million portfolio pictures for noncommercial use. This means that bloggers and other content providers can easily use the same type of iFrame code that allows users to embed Flickr photos, YouTube videos, and tweets to add images to their subject matter. Getty's tool provides an HTML code containing appropriate attributions to embed into a social media post or blog.
The reasons for the change came about due to the acknowledgement of their images being pirated or stolen on the internet for years. Users only had to right-click on the photos, but Craig Peters, senior vice president of business development, product, and content says the company wants to find new revenue streams for the photographers and the company.
"What we're trying to do is take a behavior that already exists and enable it legally, then try to get some benefits back to the photographer primarily through attribution and linkage," he told tech websites. "Over time there are other monetization options we can look at. That could be data options, advertising options. If you look at what YouTube has done with their embed capabilities, they are serving ads in conjunction with those videos that are served around the Internet."
The metadata remains with the image, so users can click back to Getty Images to see information on the image itself or the photographer, or to license the image for other purposes.
This is, of course, excellent news for marketers, who have used Getty Images extensively over the years. Instead of paying an exorbitant fee to use one of the millions of images in their stock, digital marketers now have the world at their fingertips to boost content at no cost. Getty Images business move goes to show just how much the digital world has changed and will inevitably continue to evolve.
Source: https://news.cnet.com/8301-1023_3-57619973-93/getty-images-makes-much-of-its-photo-portfolio-free-to-use/
Image source: Getty Images