A new study by 2014 Digital Trends says that B2B and B2C marketers are making changes on how they reach out to customers, but only 23 percent of marketers said they thought they had the tools to do so correctly.
Concerns ranged from issues surrounding social media accruing tools that obstruct business messages to competition slowing due to giving customers exactly what they ask for. One of the biggest issues, however, was how to deal with how fast the digital marketing world is changing.
The transition to a completely new type of marketing isn't new - marketers in the past have always had to keep up with the times. How did the introduction of television affect the biggest marketing gurus of radio? Perhaps at first they assumed this new "television" was a fad and concerned themselves with boosting radio marketing content. The same could be said for marketers in the twenty-first century. It's clear that, regardless of how it changes, digital marketing is here to stay.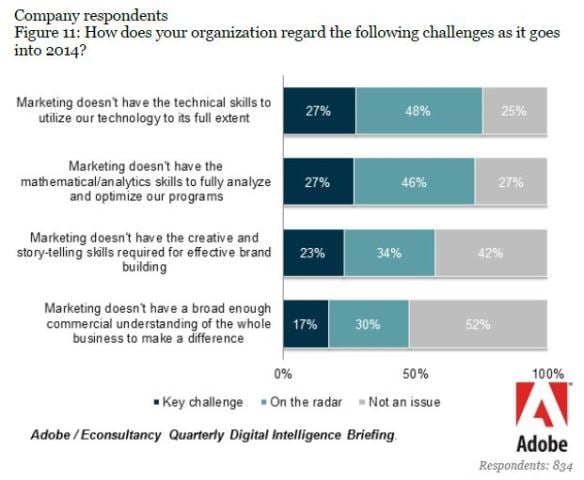 This breakdown reports that technology itself is the most challenging aspect for markers, with a way to measure the response on its heels. Fear of new trends shouldn't stop companies from embracing them to the best of their abilities. "Old-fashioned" techniques can easily be translated into their modern-day equivalent: writers can turn a major profit by blogging, photographers can quickly pick up social media platforms such as Instagram, and Twitter is best for those whose strengths lie in witty catchphrases. And for those who have trouble utilizing creative or story-telling skills for brand building, examples and illustrations are everywhere - start small and find your niche.
Source: https://www.marketingpilgrim.com/2014/03/majority-of-marketers-say-they-dont-have-the-digital-tools-they-need-to-succeed.html