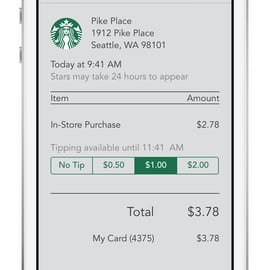 Starbucks, the coffee chain who is no stranger to debuting revolutionary business technology ideas, launched today on their app the ability to tip baristas.
The company has long been pushing customers to download their iPhone app and sign up for the reward program, which has helped boost the number of visitors stores see daily. But now customers who visit often but rarely, if ever, carry cash can tip baristas 50 cents, $1, or $2. With roughly one out of ten customers using the app to purchase their drinks, the move makes sense. After paying with the app, customers will be able to give a tip within two hours of the transaction. For now, however, the tipping function will only be available at 7,000 of the 11,000 U.S. stores.
Starbucks says baristas will be paid out to workers in cash and will align with however they receive their regular tips.
"This update to the Starbucks app for iPhone is an important next step in digital innovation at Starbucks and one of the many ways we'll expand and improve our digital experience in the months to come," said Adam Brotman, chief digital officer for Starbucks.
A new feature with the app update, called "shake to pay," gives customers an easy way to enable the barcode to purchase items by simply shaking the phone. The user interface will also receive an update in design to be more user-friendly.
Over 11 percent of transactions made in-store are done so with a mobile device, though that number may include payments via Square Wallet and Passbook.
"[With] nearly 10 million customers currently using our mobile app, we're thrilled to make the digital experience even easier and more rewarding for our customers and partners," commented Brotman.
Android users will receive the update to their platform later this year, said Starbucks.
Source: https://mashable.com/2014/03/12/starbucks-app-tipping/
Image: https://www.clickz.com/clickz/news/2334152/starbucks-to-roll-out-digital-tip-and-shake-to-pay-app-features