A new study by mobile-ad platform Opera Mediaworks discovered that Google's Android operating system seems to be edging out the competition when it comes to attracting advertisers' dollars. That competition being, of course, Apple's iOS.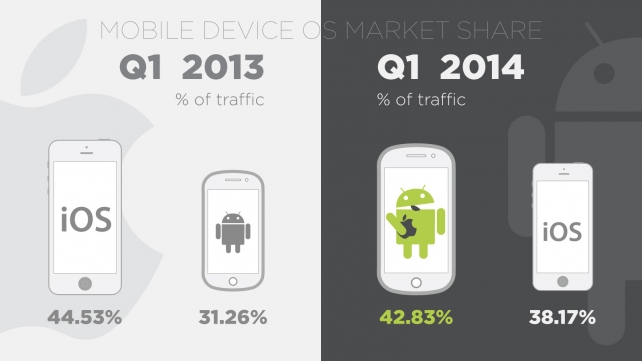 The company analyzed revenues and traffic as measured by ad requests for about 14,000 sites and 64 billion ad impressions.
The report divulged that devices running on Android sent a larger percentage of ad requests during the first quarter of 2014 than Apple's iOS. This is thanks mostly in part to Samsung and Android devices stepping up the game and making huge improvements on their operating systems. Says CEO of Opera Mediaworks, Mahi de Silva, this time last year most agencies still preferred the Apple operating system over Android.
In the first quarter, mobile-ad requests from Android devices jumped from 31.3 percent to 42.8 percent, while iOS's share fell from 44.5 percent to 38.2 percent.
Still, Apple remains the most lucrative, earning 52 percent of the revenue in Opera Mediaworks' platforms. Android is slowly but surely rising in numbers as well, up from 26.7 percent to 33.5 percent of the platform's revenue.
Android has two big reasons to thank for the gain in numbers: ad requests from the many tablets surfacing and the popularity of Samsung smartphones. The latter has given Android the biggest boost, with more than 60 percent of Android ad impressions coming from a Samsung phone.
Other devices haven't fared so well. Symbian, BlackBerry, and Windows devices account for less 20 percent of all ad traffic and revenue.
And that's just for the U.S. With Asia being the second largest market behind the U.S. for mobile devices, iOS and Android have gone head to head over the years to win the popular vote. Though Apple has been steadily gaining ground in many Asian countries, Android is still the big winner.
Source: https://adage.com/article/digital/android-surpasses-apple-s-ios-mobile-ad-traffic-report/292753/