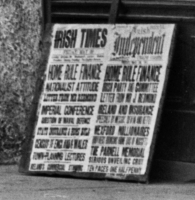 A study by the Newspaper Association of America recently found that 80 percent of adult internet users in the US read breaking news content via digital news sources. The study, conducted in August 2014, saw 164 million unique visitors to digital newspapers, equating to an 18 percent increase over the year.
The growth (and decline) of how US audiences accessed digital newspapers by device versus the same period of the prior year are presented as such:
Mobile only: +102%
Desktop/laptop only: -16%
Both: +48%
The digital newspaper industry has the growth of mobile devices –both tablets and smart phones – to thank. Still, while singularly using desktops/laptops to access digital news dropped, the digital newspaper audience still used both their mobile device and the desktop/laptop to access the news.
The study also looked at how the audience accessed the digital newspapers by device:
Mobile only: 38%
Desktop/laptop only: 34%
Both: 28%
The largest increase the study found for mobile-only readers? Women. Females aged 18 to 24 jumped 204 percent from last year. Coming in second and third were males aged 35 to 44 and 45 to 54, rising 188 percent and 163 percent, respectively. Women 55 and older also made a splash, rising 122 percent.
Sources:
"Digital Newspaper Readers' Eyes Shift to Mobile." 2014. EMarketer.com
"Newspapers' Digital Audience Hits A New Peak. Who's Reading?" 2014. MarketingCharts.com
"Newspaper Digital Audience Hits New Peak." 2014. NAA.org