The Internet has transformed the way we shop, connect, research companies, discover products, understand solutions, and do business.
As a result, your company website is more important than ever before. It now plays a number of critical roles, including number one salesperson, top education tool, and most valuable brand representation for all interested parties – including customers, buyers, prospects, partners, supporters, advocates, and leads.
Given the ever-growing role websites play in the way we do business, a mediocre online presence is no longer an option. Companies need to select a capable and experienced web design agency – one comprised of creative digital marketing specialists, talented designers, adept technologists, content strategists and digital natives--who can ensure that your website successfully achieves your core business goals, attracts prospects and partners, and grows your organization.
To make sure you partner with the right firm, here are four critical questions to ask potential web design agencies before hiring them:
1. Does the agency have the skills necessary to do things right? To deliver the caliber of website necessary to compete online, web design agencies need to possess a broad range of skills. They need to know how to build a website that supports your company's larger business goals – which requires an understanding of business strategy, digital marketing, SEO, technology, user experience best practices, analytics, Inbound marketing concepts, personas, and great design.
Make sure the agency you choose can demonstrate proven knowledge in these areas, along with a track record of applying these skills to create beautiful and effective websites that deliver tangible results and an measurable ROI.
2. Can they help you achieve your business goals? As an extension of your company, your website will directly support your larger business objectives. We recommend communicating your core goals to potential web design companies and ensuring that they have the experience and capabilities necessary to help you accomplish them.
For example, if one of your goals is lead generation, ask potential firms how they'll attract and convert appropriate prospects, partners, and supporters. Request to see case studies and examples of how they've helped previous clients achieve similar goals. Make sure they can sufficiently communicate their track record and expertise. Websites play a central role in attracting and converting buyers/leads/customers--your agency must deeply understand this role.
3. Can they meet your budget and practical requirements? Because of the diversity of skills and approaches, it can be difficult to make an apples to apples comparison of web design companies during the proposal process. Budgets from different firms can vary greatly due to a number of factors, including skill, process, quality of work, expertise in your industry or technology, demand for their services, innovative capabilities, and professionalism. To ensure you partner with the right agency, be clear about your needs, budget limitations, timeframe, and expectations from the beginning.
4. Are they a great long-term partner? An optimal web design company will not only create a beautiful and effective website – they will also become a long-term partner--helping you to achieve your core business goals over time. Ask potential agencies to provide case studies on how they've helped past clients successfully achieve their company objectives, and make sure they offer ongoing assistance after the launch. Websites require maintenance and improvements over time, which is why we strongly encourage you to select a web design agency that provides continued support and an ongoing relationship.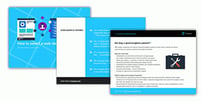 For more tips on selecting the best web design agency for your company's needs, download your free eBook, "How to Select a Web Design Company".