Digital marketing agency.
Marketing must yield results
Ironpaper is a results-driven digital agency. We specialize in lead generation, Inbound Marketing, conversion optimization, and nurturing sales opportunities. Ironpaper's process is data-driven, highly iterative and cuts through the clutter that burdens many organizations.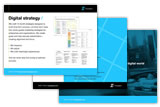 Learn more: Download Agency Overview (PDF)
Improve your sales opportunity pipeline
We help companies grow.
Ironpaper is a full-service marketing agency that partners with clients to achieve business goals using multi-channel and Inbound marketing. We provide data-driven marketing solutions strategically designed to convert your existing customers, attract new ones and optimize for success.

Solutions designed to help you achieve business goals
Generate more qualified leads
Increase revenue and sales opportunities
Improve website conversions
Improve search engine visibility
Gain brand visibility
Convert more leads to sales opportunities
Reduce customer attrition
Marketing for all stages of the user journey
It all begins with a playbook
Starting with our Playbook, we craft a 90 day marketing strategy designed to drive your business goals.  Our marketing solutions are data-driven and strategically designed to convert your existing customers, attract new ones and optimize for success.
Define digital strategy
Schedule marketing tactics on a timeline
Outline content strategy
Define key metrics and goals
Define nurturing processes
Results-driven digital marketing
We drive results using Inbound and digital marketing. We act as a strategic partner for our clients. Our focus is to achieve business goals--not fluffy metrics. Lead generation and sales nurturing are central to our campaigns and how we measure marketing ROI.
65% of marketers feel that their marketing department could be doing a better job.
Full-Service Digital Marketing
Digital is a business imperative today.
Digital opportunities are rewriting the business landscape.
Digital marketing strategy & execution
Design, build, attract, convert and nurture.
Attract: Do you have the right visibility and awareness in the marketplace? How well do you attract qualified users from all digital channels?
Convert: How well does your website, marketing efforts, and content convert qualified leads?
Nurture: We help clients gain more sales opportunities from their lead pool.
Scale: We optimize conversion rates--helping to drive more scalable campaigns. We use analytics to guide decision-making, so we can focus on what works and cut what doesn't.
Marketing Agency New York
Marketing company NYC
The Internet has changed the game. The web is evolving at an unprecedented rate. Marketing departments are forced to evolve and change unbearably fast in order to succeed. Organizations have to contend with seemingly insurmountable gaps in talent, strategy, technology and execution capabilities. This is where Ironpaper fits in.
Ironpaper is a digital marketing agency that helps clients achieve core business goals using a digital strategy. Our focus as an inbound, multichannel, marketing company is to help organizations generate leads, nurture relationships, builds user engagement, gain brand visibility, improve sales, advance analytics, and strengthen partnerships.
As a hybrid digital agency, we use data-driven approach to improve marketing results and business outcomes. We act as the "special operations" of growing businesses and inhouse marketing teams—helping them integrate marketing, technology, analytics, and design to achieve business goals. We fill in the talent gaps and become the strategy and execution engine to help companies grow, compete and succeed.
Our marketing process employs a data-driven, growth hacking and inbound methodology.