Lead generation can be a challenge for any B2B company. Content plays a crucial role in the lead generation process as it offers value for prospects and educates them during the buyer's journey. Another obstacle to success is creating a robust list of B2B content ideas.
36% of SaaS companies blog to educate, according to a study on B2B SaaS companies.
By now, we all know the benefits of having content on our website: growth in search engine ranking, new lead generation channels, and better engagement from your leads throughout the sales funnel.
According to Content Marketing Institute, most B2B companies rate themselves as "moderately successful" with content efforts.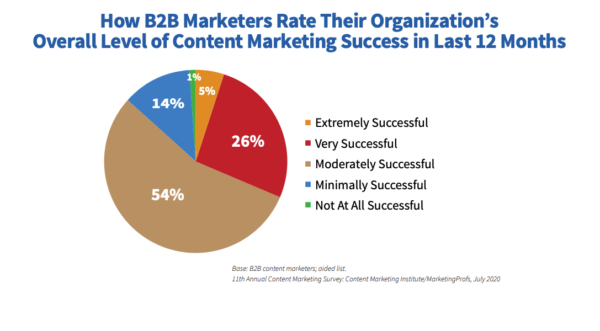 What are some content ideas for websites that you can use to improve rate of success? Here are 10 fresh content marketing ideas for lead generation.
Keyword-optimized blog clusters
Blog posts should be an ongoing project for your content team. Not only do blog posts educate your audience and give you plenty of content for email campaigns, but blog posts also contribute to better search marketing impact. Just make sure you're writing strategically around topic clusters: creating many blog posts around a singular topic, and optimizing blog posts for related keywords. B2B content ideas typically stem from creating blog clusters.
Recurring research report
We've seen clients generate exponentially more leads when using original research in their campaigns. Original research is evergreen. It can also earn you positive press and backlinks. So creating original content on a reliable schedule -- such as quarterly or yearly -- will help your team stay on top of research, production, and promotion. Roll out a robust report, which you can use to "slice and dice" into smaller content pieces. This kind of content is time-consuming but invaluable to decision-makers at your target companies.
Shorter 2-3 page versions of your research report for tailored audiences
With how much work you put into a research report, always repurpose it for more content ideas. One of the most successful options is repurposing for a tailored audience. For example, choose only a handful of stats/research that would be relevant to one particular audience segment, like a certain industry or job function. Then create a new title page and a selection of the relevant stats, and promote your new content to that targeted audience.
Case study
Case studies are widely useful for the sales process. Invest in creating well-researched case studies that show the value of working with you. Always start with a customer or client interview so you get the buyer perspective. Include statistics and testimonials where relevant. Both PDF and video case studies can be impactful!
Visual graphic of your process
There are probably many things that make your company unique. You probably go about your service different than your competitors. So why not make that process or method visual and public? Have a designer conceptualize your differentiator, for example, into a "ten-step process" or a "3-tiered approach." This is something you can treat as content and share or gate on your website.
Short eBook on your processes/method
Have more to say on your process or method? Turn it into a complete eBook. This is the ultimate thought leadership piece and will be a clear differentiator as sales content. Only half of B2B marketers implement this tactic, so it will be a clear way to stand out from competition.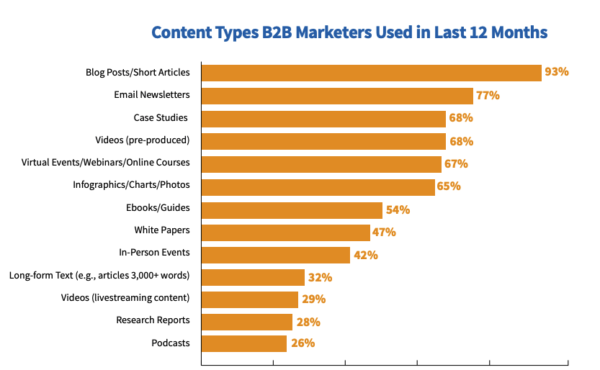 Demo video, pre-recorded
Many businesses in the software space find themselves scrambling to schedule and present demos as they scale, and you can also waste time if the lead isn't qualified anyway. While a personal touch is always helpful, you can pre-record your demo walkthrough to help you get the message through immediately. Gate this on your website to generate sales-ready leads.
Gamification of your software
If you are a software company or even if you simply offer distinct, modular services, you can gamify your purchase process. With this content idea, create an interactive section on your site that allows leads to drag and drop features, visualize a custom product by toggling different options, or see impact predictions with a calculator that auto-generates based on inputs. Even better, add a gate to the tool so you can use it to capture info and follow up.
Microsite for thought leadership
Is there something disruptive about the industry your company is in? Maybe you are a first mover in machine learning, the Internet of Things, artificial intelligence, or a microservices model for your vertical(s). Be a first mover in thought leadership and also reap the benefits of lots of search terms. If you have a lot to say, an entire microsite that's focused on educational, bold content penned by your recognizable leaders can be helpful for both SEO and lead generation. Just make sure to include conversion opportunities and link back to your normal site.
Podcast-style video series
Video productions don't need to be costly or use fancy production tools. Some of the best B2B video content that we've seen clients use is filmed in their office. Invest in an ongoing video series in which you interview key figures, discuss hot topics, and provide helpful insights. You can share these videos in ongoing engagement campaigns, like drip emails. No video equipment? Create an audio podcast instead. This also presents an opportunity to generate sign-ups and leads.
As you can see from our large and growing list of B2B content ideas for websites, content can take on many formats. What matters is meeting your audience where they are, and being confident about your value and differentiators. With a wide range of content, you will fill up a sales funnel and grow your lead generation program.
Sources
Kapost, 8 More Content Marketing Stats to Knock Your Socks (Back) Off, 2013.
Emily Byford, The State of SaaS Content Marketing in 2019, 2019.
Content Marketing Institute, B2B Content Marketing Benchmarks, Budgets, and Trends, 2020.