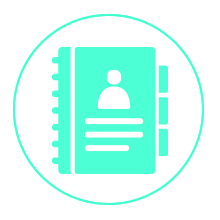 A major challenge facing businesses of all kinds involves improving the quality of your leads from online sources. Almost every sales team knows what it's like to waste time, resources, and energy on a dead-end lead who is simply looking for the least expensive option or isn't a good fit for your company's products or services. And yet, many companies struggle to prevent unqualified leads from making their way into the sales call list. If your company is doing a great job of generating a large quantity of leads, but the quality is lacking, here are four incredibly effective ways to improve your efforts:
1. Create/refine buyer personas to improve your targeting. The first key step in increasing lead quality is to improve your ability to target specific customers, which begins with your buyer personas. Buyer personas are research-based representations of your customers or prospects, and should include a name, demographics, title or role, pain points, and goals. This is critical because a deep understanding of the different types of leads you're marketing to can inform and improve your content and lead generation efforts.
For reference: How to create B2B buyer personas
2. Let your buyer personas guide content creation. Creating or refining your buyer personas should give you a better idea of what your potential customers want and the kind of content that will attract them. From there, we recommend creating different pieces of content and funnels for each of your buyer personas, with the intention of moving them through the sales process with the content they will find the most engaging. For example, let's say you're targeting senior vice presidents from both medium-sized companies and large corporations. Because these different types of customers have vastly different needs, pain points, challenges, and goals, you'll want to create content specifically tailored for each of them.
3. Create higher-quality content. Your content plays a key role in improving the quantity and the quality of your leads, so it's important to make sure it's as effective as possible. To begin, create content for each step of the sales funnel for each buyer persona. Start with a free article or thought leadership piece, and then move on to a more in-depth white paper, webinar, or video. Finish with a very specific, high-level piece of content for serious buyers, to provide them with the information they'll need to make a purchasing decision.
In addition to making sure your content contains valuable, relevant, and helpful information, it's also important to make sure it's visually appealing. As such, we recommend enlisting the help of a web design company to make sure the landing page clearly communicates your offer and the content design incorporates elements that will attract and engage your different buyer personas.
4. Improve the feedback between sales and marketing. When it comes to increasing lead quality, communication between sales and marketing is vital – especially if your company features a complex and/or lengthy sales cycle. Encourage the sales team to talk to marketing about which leads are qualified and moving as intended through the sales funnel, and which ones aren't. On a regular basis (we recommend monthly), have the sales team review and update lead scores and share their findings with the marketing team, so they can tweak their approach to ensure they only send the most qualified leads with the highest likelihood of making a purchase to sales.
Explore more tips: B2B Sales Enablement Best Practices