According to Statista, online advertising spend is steadily growing year-over-year, and is expected to grow almost 11% yearly through 2021.
Online advertising opens up many possibilities for marketing teams to scale, reach new contacts, and nurture leads through their funnel. B2B lead generation is one major goal for marketing teams, and online advertising helps you reach wider audiences and grow lead KPIs.
Here are the 5 major advantages of online advertising:
Scale quickly
Reach new audiences
Capture target leads with account-based marketing
Remarket to existing leads
Tailor messaging to keep the sales funnel full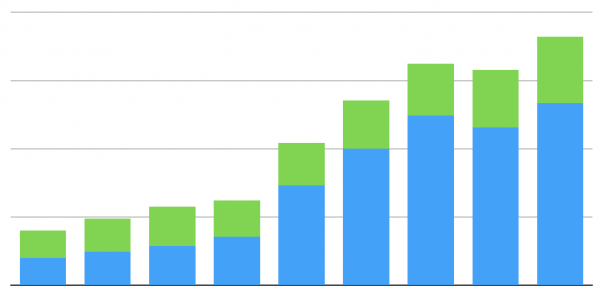 Scale Quickly
With any inbound marketing strategy, there is a ramp-up period before you see results with lead generation. But online advertising lets you jumpstart quickly by expanding your reach and your insights quickly.
By investing in paid advertising like LinkedIn, Google Ads, Facebook, and others, you can reach a wide audience quickly before your organic strategy gains traction. With more exposure to your messaging and content, you can get significant insights early on what works. These insights can be applied across channels to help improve your conversion rates all around.
Reach New Audiences
Whether your brand wants to shift into a new market, or expand your presence with your existing target market, paid advertising is a great way to do so effectively.
Shifting an audience organically takes time. You need to update your keyword and content strategy, then wait for search engines to crawl and re-rank you — and there are some risks to drastically shifting your keyword rankings as well. Therefore this should be done slowly and with much planning.
However, many major online advertising platforms let you build and reach audiences easily. Depending on the platform, you can build based on company size, industry, or a person's job description. You can also oftentimes target based on their existing engagement with other brands, too.
Therefore you can test a small sample outreach strategy to a new audience with online advertising before you roll it out to your entire digital marketing ecosystem.
Capture Target Leads With ABM
Another advantage of online advertising is the ability to target specific accounts. This is called account-based marketing. Many paid platforms allow you to reach your target leads in a few ways: uploading email lists of known contacts, building audiences with specific companies or sending messages (like LinkedIn InMail) to particular known individuals.
Almost 85% of marketers measuring ROI say that ABM outperforms other marketing investments. –ITSMA
ABM lets you reach very specific, high-value accounts, which offsets some of the cost of paid advertising. While it's possible to catch target leads with general content marketing, ABM specifically with online advertising is much more efficient.
Remarket to Existing Leads
Generating new traffic and leads is expensive. So one big advantage of online advertising is remarketing to existing leads to nurture them towards a sale. You can pinpoint campaigns to your existing leads, such as uploading lists of existing contacts or installing a "remarketing pixel" on your website to build lists of previous visitors.
96% of people who visit your website aren't ready to buy yet, according to Marketo.
Therefore it's important to keep engaging people once they've left your website. And sharing new, relevant content with existing leads via paid ads helps re-engage them.
Tailor Messaging to Keep the Sales Funnel Full
Some companies struggle to build brand awareness, while others have difficulties moving new leads toward a purchase. No matter which issue you have, paid advertising can be targeted to help alleviate it.
For example, if you need to generate more website traffic to people who have not experienced your brand, you can cast a very wide net with your targeting. And if you struggle to improve your close rate, you can use online advertising to specifically educate decision-makers from your target companies.
Since audience parameters are so flexible, and any content offer can be advertised — for example, an eBook for the top of the funnel, or a demo for the bottom — paid advertising is an easy way to tailor your campaigns to optimize your sales funnel.
Conclusion
There are many advantages of online advertising, including targeting both new and existing leads and gaining digital marketing insights quickly. Follow the pack by investing in a range of online B2B advertising strategies to supplement your inbound activities.
Sources
Statista, Global Online Advertising Revenue
Marketo, Website and SEO for Lead Generation eBook