Content creators might not be in the habit of mining the wealth of analytical data to find clues as to what kind of content they should be planning to write or how well existing content impacts their bottom line.
But these numbers, when taken from the right places, tell the story of how your prospects interact with your site. While diving into the data might seem intimidating initially, there are at least five good reasons for content creators to take the plunge.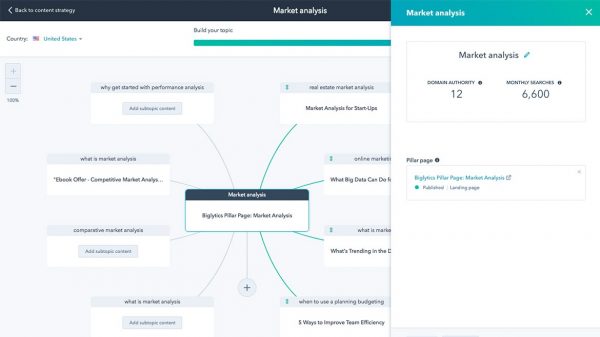 1. Determine what content is converting
Generating leads is arguably the most important metric for your content's performance. So it makes sense that your traffic-to-lead conversion is one of the most important metrics for your website.
Understanding your conversion rate tells you if your content brings in leads, not just visitors. This is a sign that your content is both relevant and compelling. Generating leads is a major goal but not a guarantee when you create content. So if you are seeing a growing conversion rate, congratulations!
Set up goal tracking in Google Analytics, or use HubSpot CRM or a landing page tool to measure the conversion rates of your pages and your website as a whole. Any content offers that bring in traffic, but no new leads should be seriously analyzed and optimized to try and improve the rate. Don't underestimate the value of running split tests to determine which messaging or format works.
2. Understand the buyer journey
Where are leads going on your website when they visit? Understanding the buyer journey tells you which content is drawing attention, and this pathway can also tell you where leads are bouncing or failing to click the content you planned for them. All of these metrics tell you about future optimizations.
Here are a few ways to measure the buyer's journey:
Referral Sources
Referral sources show you where your website visitors are coming from, and this can be useful in determining how to set up the content on your website. Are most of your visitors coming from organic searches? Then you have made great progress with your SEO strategy and should continue writing optimized content regularly.
Suppose you see many of your leads coming from a high-sales-intent referrer, like a partner directory or a product database like Capterra. In that case, you will know to make sure that you have bottom-of-funnel content like demo signups, one-pagers, and case studies on these landing pages, to match the sales intention.
Behavior Flow
If good traffic is coming in but not following any path to conversion that you set up, the behavior flow diagram in Google Analytics can offer some insight into where these visitors are going and when they choose to leave the site. Checking the exit rate (Solomon, 2015) on popular pages can help you make small adjustments that increase conversions.
For example, if the Behavior Flow data shows that visitors are staying on a blog long enough to read it but then leaving the site, you can try adding calls-to-action to your blog posts to download more content. You can also use Hotjar to see "heat maps" of where clicks and scrolls occur.
3. Look for gaps in the buyer education process.
A good old-fashioned content audit can help you see the gaps in your narrative and what kinds of content you need to create to fill those voids. As you look at the content marketing you have in place, ask these questions to help:
What stage of the buying journey is the target prospect in when they read this piece? Awareness, consideration, or decision?
What are the questions or "next steps" that may arise for leads after reading this piece? Identifying the inquiries that are likely to come up and creating new content pieces around them can help the prospect progress in the buyer's journey faster than they might on their own. Always be on top of the "next step."
Do you have varied content for prospects at each part of the sales funnel? If you're trying to capture as many leads as possible, you should naturally have many content pieces that target those at the top of the funnel. For example, short video clips can help during the sales process, and eBooks and case studies can help nurture.
4. Seek out under-performing but high-potential content
Getting a baseline of the way your content pieces are performing can help you decide which pieces to optimize. On one end, you should be wary of changing pages already ranking for key search terms, as you may end up removing the components that work and losing the ranking altogether (Linn, 2017).
However, on the other end, if you drive high traffic to a content piece but no conversions, it may not be the content's failing. Instead, you can try optimizing how you advertise it, which form questions you ask on the landing page, and when you choose to share it with leads.
By shifting your strategy and making incremental tests and iterations over time, your content can see a huge boost in downloads.
To test assumptions
Even when you create a clear path to conversions, there is no guarantee that prospects will follow it. Assumptions are usually made based on the persona research behind the campaign, often gathered at the outset of the process and never updated. If that research is outdated or inaccurate, the assumptions you make based on it are also likely to be flawed.
Analytics numbers can give you a final word on what is working and what isn't so you can put those assumptions to bed and work based on cold, hard numbers. Using analytics data to inform your content creation process doesn't mean sapping all the creativity from your work. Rather, it illuminates the best places to spend your time and energy to get the greatest returns from your efforts.
---
Works Cited
Linn, M. (2017, March 3). 4 Google Analytics Reports Every Content Marketer Should Use. Retrieved from Content Marketing Institute: https://contentmarketinginstitute.com/2017/03/analytics-reports-content-marketer/
Patel, N. (n.d.). How to Skyrocket Conversions with these 6 Micro Conversions. Retrieved from Neil Patel: https://neilpatel.com/blog/micro-conversion-optimization/
Solomon, L. (2015, October 15). Google Analytics Insights For Content Creators. Retrieved from Search Engine People: https://www.searchenginepeople.com/blog/15194-google-analytics-for-content.html