Updated February 2021.
B2B sales is changing rapidly. Now with the pandemic pushing relationships online, companies are struggling to stand out in a crowded space.
40% of salespeople say earning a response from prospects is getting harder, according to HubSpot.
In part, the reason for this statistic is buyers have more research and insight available online without talking to a salesperson. So how can B2B sales reps bridge this gap?
We know about all the benefits of content marketing for demand generation: SEO-enriched, targeted content can create brand awareness and help bring new leads into your funnel. But what about the benefits of content for the sales process?
Building a content arsenal for your sales team has benefits:
Convey trust by demonstrating thought leadership
Educate the buyer
Communicate the business value of solving pain points
Communicate the value proposition in context
Nurture throughout the pipeline
Content is a useful way to make the B2B sales process more relevant for buyers, and meet the demands of prospects who are already doing plenty of research with a search engine. Let's dig in.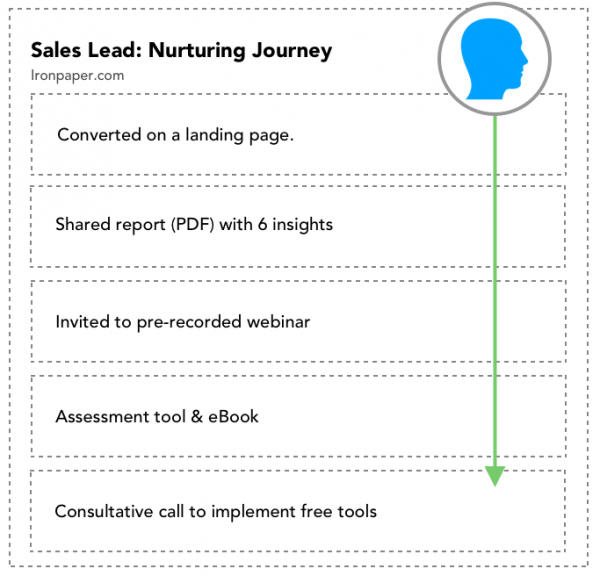 Convey Trust and Demonstrate Thought Leadership
96% of B2B buyers want content with more input from industry thought leaders. (Demand Gen Report)
While there is much "so-so" content to be found online, true thought leadership is in high demand.
Content marketing is most successful when it takes a profound and informed stance. Many B2B companies publish original research papers, in-depth guides, or insightful use cases for their leads. Even a blog post can constitute thought leadership. CEOs or company founders often lead this charge, enlisting the help of marketing and sales to get the message out.
All of these content formats share a common purpose: instilling knowledge and reliability. They are useful pieces to elevate a vendor above its competitors, proving that this company understands the industry and the applications of its product or service.
The same content can be helpful in the sales process, too.
B2B Marketing teams should work with sales teams to create high-quality content with strategic thought leadership. By creating new innovative frameworks, sharing a vision, or writing authoritatively on the industry and where it's heading, companies can produce thought leadership pieces that B2B sales teams can use.
Content creators can work with business leaders to develop these stances. Original research and data-driven visuals, like infographics, will help drive the point home.
Educate the Buyer
Educated buyers make bigger purchases, and often become steadfast customers. This is because they believe in what they're buying, and often invest more resources up-front to see it through. As you know, outcomes and ROI in your solution are higher when that initial investment is high, too. But education is a multi-step process. It won't be complete in one phone call or demo.
Therefore, content can help educate beyond the sales call, in different formats that resonate with your prospects.
Educational content often includes eBooks, guides, infographics, slideshows, video walkthroughs, and more. Ultimately you want to show your prospect 1) why your solution matters to them, 2) how they can use or invest in it successfully, and 3) what outcomes will be promised if they do.
Sales teams can use content effectively by identifying content with relevance to the sales lead. For example, if the prospect is just learning more about the subject matter, a guide or eBook will be helpful. If the prospect is comparing competitors in the final stages of their buying decision, case studies demonstrating value and ROI can drive the final sale push.
Communicate the Business Value of Solving Pain Points
97% of marketers are using prescriptive content, or content that outlines a formula for success. (Curata)
B2B sales are often complex and require buy-in from a few different stakeholders. Content can help address this. Business buyers — executives in the C-suite or high-up directors/managers with access to the budget — need to understand the business value of solving pain points. It's not just how your product/service can help, but why it is necessary.
Case studies are one format in particular that addresses business value. If done well, a case story can paint a clear picture of the business outcomes from partnering with you. This may be a reduction in long-term costs, a step towards future-proofing against nimble competitors, or an investment that expands your prospects' reach.
Technology sales, in particular, tend to get down into the weeds of how it works, but tech specs matter little to the people with the wallet. These people need to know why should we care, and content can help address this in the sales process.
Communicate the Value Proposition in Context
Your value proposition is at the crux of what you do, why you do it, and who you do it for. While an autobiographical value prop is low-value, a buyer-led value proposition will do wonders for your positioning. But your value prop is just a statement, and content marketing can help you communicate it in context.
For example, say your B2B solution helps companies from five different verticals. But your value proposition is somewhat generic, and in its current state, it might require your prospect to use some imagination — How will this apply to me? Or Does it apply to me at all? By creating a library of content pieces, you can have a case study or eBook with applications to each industry. Then in the sales process, you can share the most relevant version. This decreases the "imagination gap" and makes your value immediate and unstoppable.
This is also useful for sales prospecting your high-value leads — an account-based marketing strategy requires you to have plenty of extremely relevant content marketing pieces, tailored for a particular audience.
By making your value proposition contextually relevant to a segment of your leads, you inspire the prospect towards the sale.
Nurture Through the Pipeline
Businesses who nurture leads make 50% more sales at a cost 33% less than non-nurtured prospects. (Strategic IC)
Lead nurturing is critical for businesses who have an extended sales process. And for most B2B companies, this is the case.
Content helps lead nurturing in many ways. For one basic example, sending new content in the form of blog posts, guides, and sales one-pages keeps prospects engaged even when a sales rep can't be in touch. It also gives sales reps talking points.
Nurturing can also bring new stakeholders into the buying process. This can lead to more understanding of your solution from both business-minded and technical buyers. And when your prospect has unanimous buy-in, the investment will be higher.
Of course, it takes more time to create content and sales outreach for multiple buyers. But the impact of content on your sales process makes it the best investment you can make this year.
Sources
HubSpot State of Inbound Report, 2018
Demand Gen Report, 2016
Curata Report, 2016
Strategic IC, 2017