IT and technology companies are challenged to generate sales in an industry being reshaped by non-stop disruption. With pressure on the IT company evident in shifts in software and services delivery, new business models, the buzz of big data, and a demand for constant innovation, marketing for IT companies must be nimble work. These 6 sales generation tips for IT marketing teams can help.
#1 Build a strong web presence that defines your value proposition for IT decision makers
IT audiences have a low tolerance for poorly performing websites. IT buyers perceive an IT organization's website as a direct reflection of the company and their sophistication. Be sure to clearly define your company's value proposition, delineating what the solution offers and where it fits in the IT stack.
48% of people cited a website's design as the number one factor in deciding the credibility of a business (1)
A strong web presence also requires an impactful, accessible, inspiring web design coupled with interesting, valuable content. Further, insure call-to-action (CTA) is clear and the site is mobile friendly. Conversion points, such as lead acquisition forms, must be accessible.
Related reading: Best Practices for B2B Websites
#2 Build a lead acquisition foundation
Marketing automation can efficiently govern your marketing email efforts, social media, websites and more. You can also generate and nurture leads, personalize communications to the leads' level of engagement and interest, and track ROI for campaigns.
86% of marketers use lead scoring as part of their demand gen strategy. — DemandGen 2016
Enhance lead acquisition and lead capture with well designed landing pages, form, and/or overlay CTAs. Keep forms short to increase conversions; in general, a clean, streamlined design will convert far better than a cluttered and unappealing one.
In order to drive the best results, set up marketing automation to enable closed loop marketing, which will allow marketing teams to better understand what channels, content, offers, value statements, messaging, landing pages, etc. work the best for converting the highest caliber leads.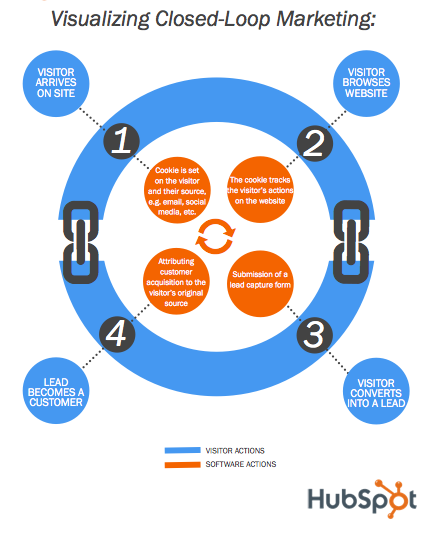 76% of marketers have an automated lead scoring system in place. — DemandGen 2016
#3 Avoid disruptive practices
Coercion or trickery does not help a sales process. Stop buying email lists and cold calling — those strategies don't work. In fact, these practices can ruin brand reputation and hurt the companies' email sending rating. Instead, think multi-channel and aim to provide information and demonstrate thought leadership. Establish audience trust and business authority with content assets tailored to the prospects' different needs and behaviors.
66% of marketers send nurturing differentiated emails based on actions/interests of respondent. — DemandGen 2015
#4 Nurture leads with content that aids your target buyers
Creating content that nurtures each buying stage will enhance relationships with prospects down the funnel. An IT content strategy must focus on both technology endorsers and IT decision makers. Ideally, content would be created for each independent audience--serving their needs, pain points and unique value requirements.
IT decision makers: need to understand the business value within the context of endorser needs
Endorsers: need to understand integration, cost, timing, enabling features, value for their role and support should something go wrong
Top of funnel content, for instance, will focus on audience concerns, helpful insights that addresses their pain points. Meanwhile, at the bottom of the funnel a free assessment, evaluation or trial works well.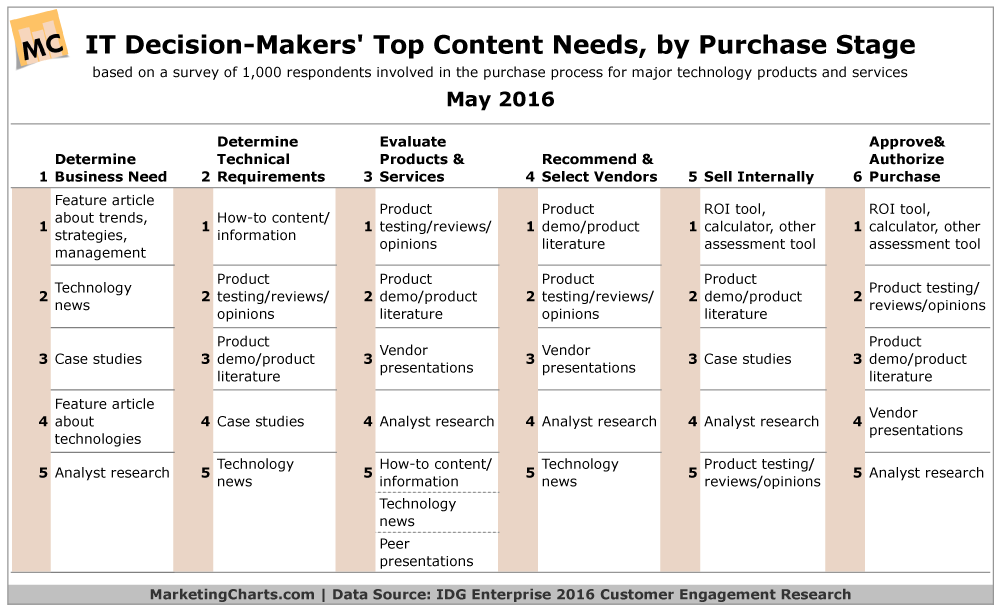 Publishing educational and authoritative content, regularly, can help the IT decision maker in determining business needs and technical requirements as well as evaluating products and services. This isn't about quantity so much as providing quality content adding value for the target audience. Address the pain points in the IT environment— improving efficiency, reducing costs, powering business, or driving innovation.
By providing an incentive in the form of gated content, you can increase your opt in form conversions by 300%. – JustUno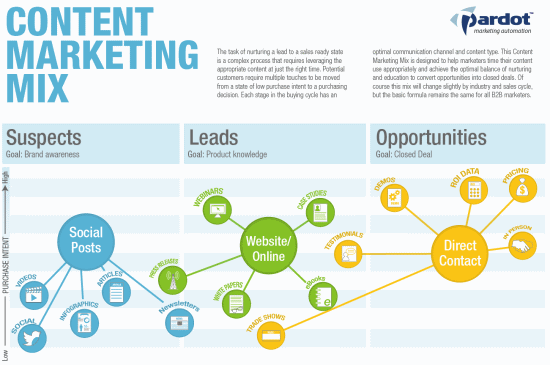 Marketing for IT companies requires content that aids the decision making process throughout the marketing to sales process. It's essential.
#5 Make data-driven decisions
The sales lifecycle can be tracked using an enterprise CRM or a marketing automation system–most often in combination with both. Align the sales and marketing reporting tools to better close the gap between website activity and activity within the sales process.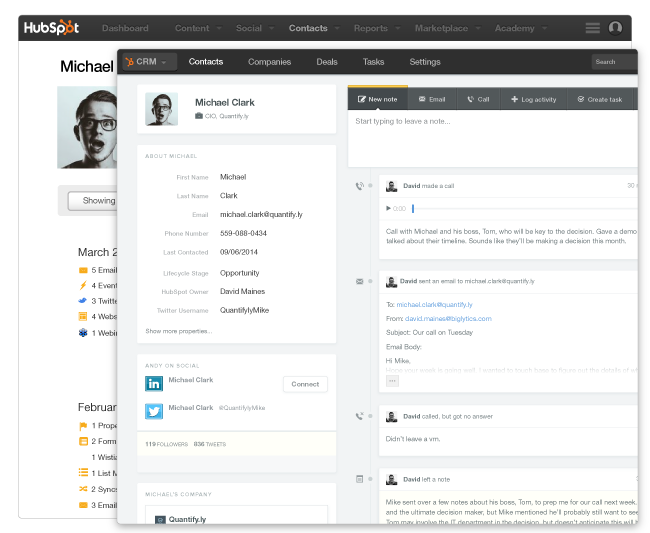 Studying sales trends using Customer Relationship Management (CRM) can help marketing and sales identify drivers for current conversion rates (or the lack of conversions). Unemotional review of the data can reduce wasted efforts and inform overhauls intended to optimize the IT companies' digital presence.
Forms placed on the right side of a landing page generate 24% more leads. — Formstack
#6 Respond quickly
Respond promptly to IT sales leads and opportunities. Use an automated workflow to trigger content providing context into the IT solutions' value proposition for more automated practices, or possibly (for manual ones) use an internal trigger email that shares the lead profile with an internal sales team member or internal sales person.
Competition is stiff in the rapidly evolving IT arena; don't miss an opportunity to capitalize on a prospects' interest by delaying follow-up.
56% of B2B organizations verify valid business leads before they're sent to sales. — MarketingSherpa
#7 Don't let opportunities fall through the cracks
Study your CRM's bottom of the funnel contacts. Many deals are lost because the sales team too quickly abandons the opportunity, because the contact isn't ready to receive a proposal, complete an RFI or share an RFP. Have a clearly defined CRM sales pipeline to understand your opportunity flow. Remember to nurture opportunities using helpful content--just like you would higher up in the funnel.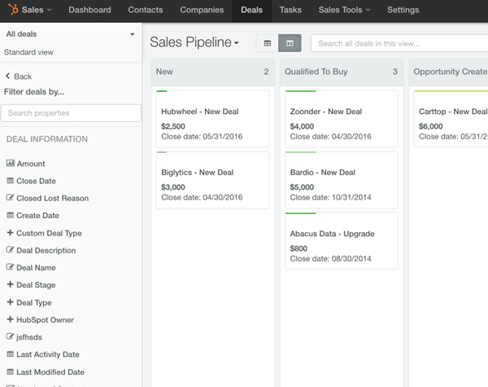 Always remember sales generation is a lot like dating... People seldom want to start a relationship with the person who talks only about him or herself.
Instead, sales generation depends on marrying these many sales generation tips for IT companies and focusing on educating, informing and delighting.
1.) SME Website Statistics. February 27 2014. Rareform New Media.
Sales Generation Tips for IT companies Sources:
DemandGen. (2015). 2015 Lead Nurturing Benchmark Study. https://www.demandgenreport.com/resources/reports/2015-lead-nurturing-benchmark-study-aligning-nurture-programs-to-the-buyer-s-journey
Demand Gen. (2016). The 2016 Lead Scoring Survey Report. https://www.demandgenreport.com/resources/reports/the-2016-lead-scoring-survey-report
Freitas, T. (2016, July 21). 12 Tweetable Lead Generation Statistics. https://blog.brighttalk.com/marketing/12-tweetable-lead-generation-statistics.html