LinkedIn is one of the most successful channels for account-based marketing that we've seen for our clients at Ironpaper.
When it's paired with other ABM channels and strategies, LinkedIn can be used to create demand generation and engagement among your best target accounts. When utilized well, the platform is proven by companies across B2B sectors to reach and convert target prospects into educated business leads and sales.
Companies utilizing account-based marketing attempt to convert target accounts by reaching individual users with targeted, helpful advertising and content. It involves sending them messages and literature that educate them specifically. Rather than casting a wide net, ABM is a bow-and-arrow striking a target of very specific individuals or buyer segments. The goal is to reach them across their digital experiences and create brand awareness and trust gradually.
Social media advertising is on the rise. Precision targeting and enhanced filtering tools have helped the platforms as powerful tools for marketers.
Why is LinkedIn Advertising so effective for ABM? One reason is its user base. The platform has a huge community of users:
According to Kinsta, LinkedIn had over 500 million users in 2018. Of its monthly active users, 40% log into the platform daily.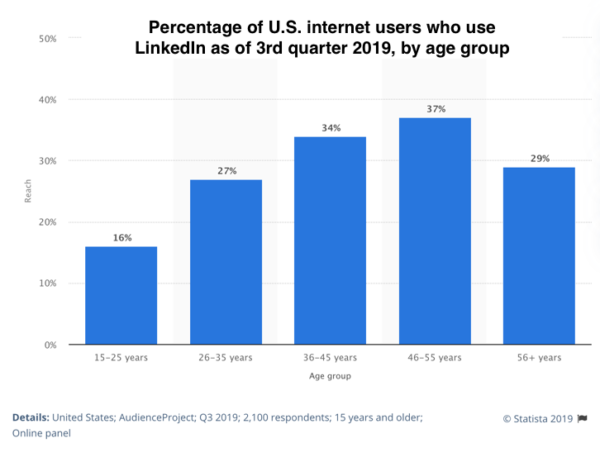 The platform also lets you use its Audience Expansion feature to reach users outside of the LinkedIn network, on partner websites. That is a ton of potential to reach your target prospects somewhere where they are statistically very engaged. With even a modest investment of $1,000, you can gain thousands of impressions in a relatively short amount of time.
Read more: "How Effective is LinkedIn for B2B Marketing? (20 Stats)"
But while the LinkedIn usership is wide, you can use it for ABM to reach very specific, targeted segments of users. In the Advertising platform, you can build audiences as small as 1,000 people. You can retarget existing known contacts by uploading a list of email addresses, which the platform will attempt to match with user accounts. Then you can run strategic remarketing campaigns against that audience.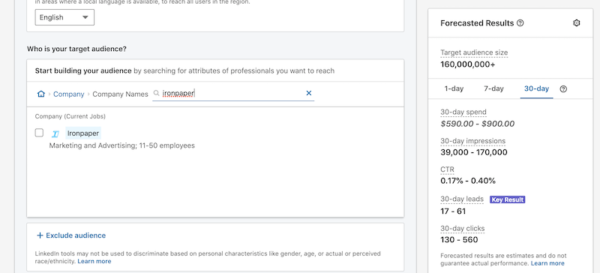 Appealingly, you can also create audiences based on preset criteria. You can create a LinkedIn audience that reflects your target account list to a tee, using factors like company size, company name, job title, job function, seniority, years of experience, and more. With the right combination of factors, you can build audiences and launch campaigns with messaging specific to them.
Targeted campaigns to relevant ABM audiences can triple or even quadruple click-through rates on campaigns above the platform average of 0.3%, according to Ironpaper findings.
The platform also lets you take advantage of different advertising formats. You can experiment with formats like single images, video ads, or carousel rotations of different images. By testing different formats, you can learn what your ABM targets prefer.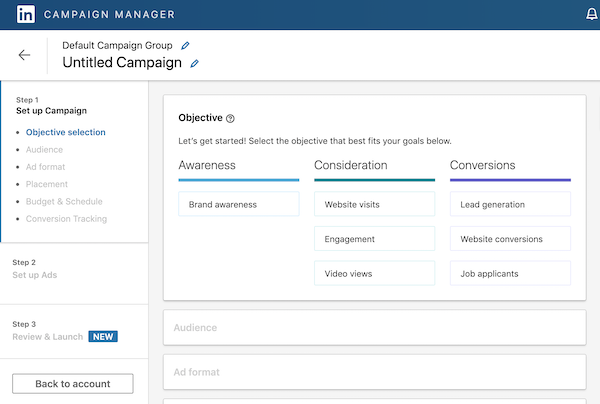 A strong ABM strategy uses content marketing tactics to reach target accounts. By creating content that speaks to individual buyers and their pain points, goals, and challenges, you can educate and convert them on your solution or service. With LinkedIn Ads, sharing this content with target leads is easy. You can sponsor content offers like eBooks, guides, checklists, infographics, and webinars.
Tip: In all of your LinkedIn ads, we recommend including a compelling and relevant headline, a bold ad graphic with a clear call-to-action, and a snippet of text that speaks to relevant value or pain points.
Your business can even create "lead generation forms" to collect new leads natively in the platform, collecting information that can help you identify and qualify the right people. And by adding this data into your CRM, you can track the engagement of target accounts across the platform. With these insights, you may nurture target accounts over time with email marketing, remarketing campaigns, and direct one-to-one sales outreach.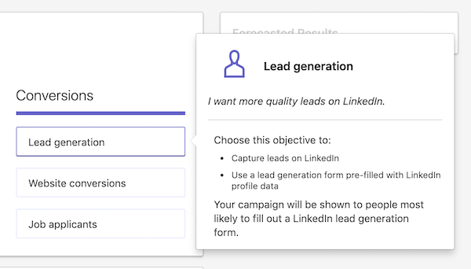 Successful companies create unique lead generation forms on LinkedIn that speak to their target buyers specifically: Using their job title, their challenges, and messaging that resonates with them.
Ironpaper has seen targeted lead generation forms convert leads at up to a 50% rate — competitive compared to many websites' lead capture pages.
The best advantage of LinkedIn advertising for B2B ABM campaigns is the robust analytics dashboard. You can run lean tests between different ads and audience builds. Then you can measure success in the form of click-through rates, lead form conversions, and cost-per-lead.
The data is helpful because you can learn from your insights over time, improving the performance of your ABM campaign. One tactic is to launch a handful of ads, then "pause" ads that perform poorly. This lets your most relevant ads rotate more frequently with target accounts. By refining your campaign in this way, you create more demand generation around the best messaging and lower your cost-per-lead. Additionally, you learn which messaging works with your target accounts. You can use this messaging across your website, email marketing and beyond.
Read more: "Agile LinkedIn Best Practices for B2B"
Conclusion
In conclusion, LinkedIn and ABM are the perfect pair. The platform gives B2B companies access to hundreds of millions of active users. It lets you build tight audiences of target leads, and run specific tests to them. You can share your targeted content with the right people, and import your insights into your CRM for effective lead nurturing.
Sources:
Kinsta, "Mind-Blowing LinkedIn Statistics and Facts (2019);" January 2010