LinkedIn sponsored content is one of the best ways for B2B companies to generate targeted, qualified leads. An agile strategy — that is, one that involves testing, iteration, and scalability — is ideal to get the most return on your LinkedIn investment, and see campaign conversion rates well above average.
If you (or a marketing team member) can invest daily in your LinkedIn sponsored content strategy, you will gain insights into the messaging, designs, and audiences that work best for qualified lead generation.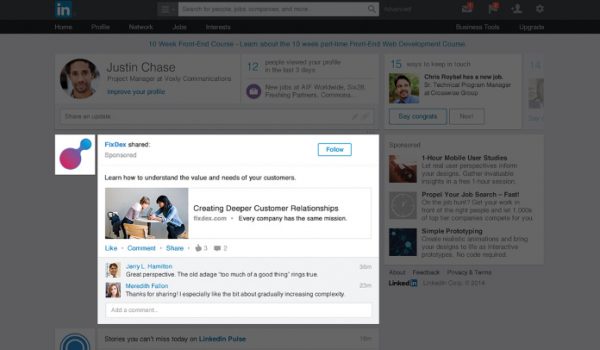 Here are our best practices for B2B marketing with LinkedIn sponsored content campaigns.
Ideate a series of tests
Thinking of your ad campaigns as "tests" is necessary to gain meaningful, scientific insights.
A test can be a:
Slight tweak in messaging (A messaging vs. B messaging) for the same content offer
An A/B design test
The same ad run to two distinct audiences (i.e. a technical role vs. a non-technical one.)
By isolating just one variable, you gain scientific insights instead of mere assumptions. And with these insights you can scale the most successful tactics.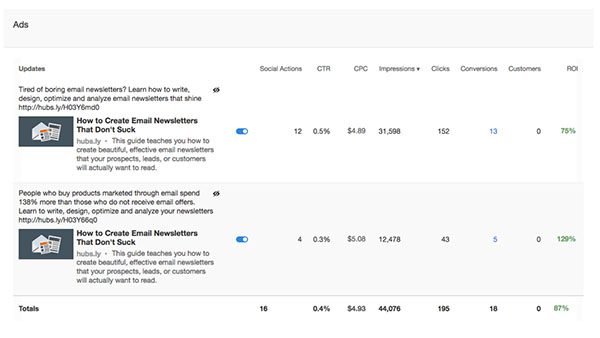 Consider prioritizing tests that will offer you the most insights for your business. For example, imagine the benefit of knowing which type of messaging is more impactful on your audience — value-add, statistic driven, case-study focused, role or industry specific? With the nature of LinkedIn oversaturation of ads, as we'll explain later, it's advisable to only run 1-2 tests per audience segment at any given time.
Make sure all tests promote custom content, whether it is a content offer download, a webinar signup, or a demo video view.
Build targeted audiences
While it can be cumbersome to build audiences in LinkedIn, it's crucial to getting your ad campaigns to the right people. Targeted audiences are especially useful for account-based marketing, since you can include particular job titles and company names.

We recommend building out your audiences with several compounding criteria, such as job title + company size. The more criteria you include, the smaller and more targeted your audience will be.
You can name audiences in accordance with your tests, i.e. "Job Title - [A]" and "Job Title - [B]," for a role-driven test, or "SME Account Executives" and "Enterprise Account Executives" for a test related to company size. These distinctions will help you test and manage your campaigns.
A truly agile targeted campaign has an ideal size between 2,000 – 20,000 audience members. Anything smaller and you will not receive enough impressions. Yet anything larger and you run the risk of becoming too generic and hurting your ad click-through rates.
Tip:
If you care more about lead quality than quantity, particularly if you are running an ABM campaign, turn off LinkedIn's "Audience Expansion" checkbox. While it can increase your ad exposure, we've found this feature can lower the quality of leads coming through.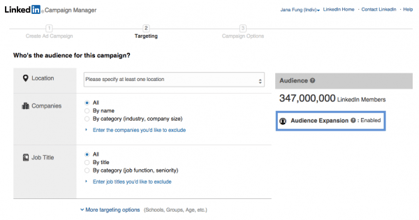 Please note that you will need to be within a campaign setup panel (upcoming instructions to follow) to build an audience for the first time.
Set up LinkedIn lead generation forms
Lead generation forms are a great goldmine of paid advertising. In fact, these are so successful that Facebook is planning on rolling out their own version in the future. Below, our tried-and-tested best practices.
Create a custom lead generation form for each offer. Make sure the language matches your original ad copy, and that the intent and value is very clear.
Choose the correct action item — i.e. "Download now" for a content offer, instead of "Sign up." Choosing the correct action that correlates with the offer is crucial; otherwise, you may deter interested leads who feel confused.
As the follow-up link, create a second version of your landing page with a "download now" button, which facilitates an instant download.

Tip: Include an optional progressive profiling on your download page, so leads can provide more information if they'd like. While it may seem like an unnecessary step, we've found that up to 40% of leads in our test environment have filled out this optional form. This provides your marketing and sales teams more lead information for targeted follow-ups and nurturing.

Take care with your thank you message, because even though leads filled out the form, they may not click through to download if this thank you message is not relevant and compelling.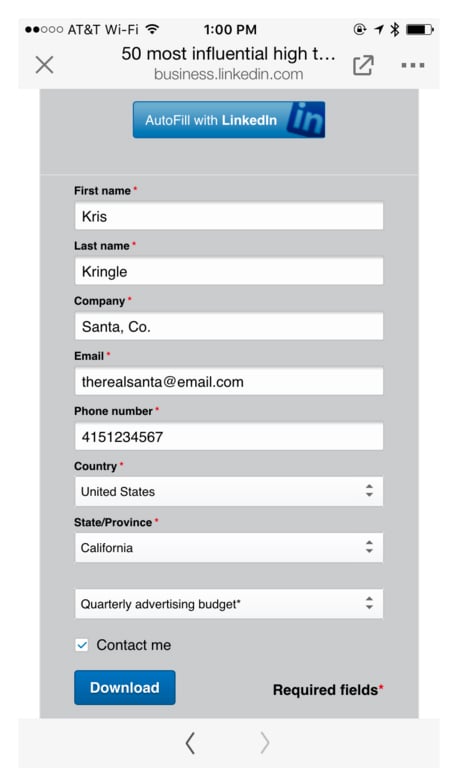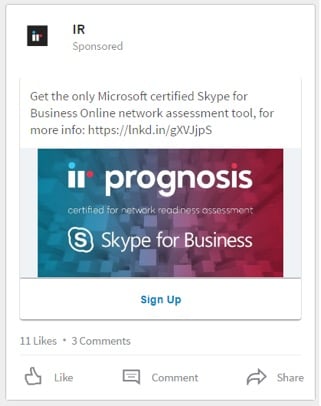 Create campaigns
As for how to organize your campaigns, there are several options. But we recommend at least to start by creating a campaign for each individual test you want to run. I.e., "Messaging A/B test to Account Executives." It's helpful to include the targeted audience's name within each campaign name, as we'll explain later.
Navigate to the "Create Campaign" panel to build your campaigns. Make sure that you select the "Collect leads with lead generation forms" option at this stage, to take advantage of LinkedIn's highly successful lead generation forms tool. Inside a campaign, click the "Create Sponsored Content" button to set up your first ads.
Tip:
As you create your ad, first paste the link to your relevant landing page URL. This will pull some metadata, such as page title and description, to get you started.
Next, include a custom image (the image may be part of your A/B test). It is not advisable to include the automated image, unless that is formatted for LinkedIn ads (1200 x 628 px) and high resolution. On your images, make sure to include a CTA "button" on the image, as these have been tested to increase engagement.
Tip:
Our strategists have found the most success with ad copy targeted to job title and role. Infographic-driven designs also drive high interest, such as leading with a large statistic or chart.
Write your ad copy in the box. When continuing on to the next screen, you will see an option to choose the appropriate lead generation form. Keep in mind that it's advisable to keep the link to your website landing page in addition to the LinkedIn lead gen form, so your audience has two options to engage and convert.
As for your campaign budget, we advise bidding high on your click bid amount to pull in quality leads, particularly if you are running an account-based marketing campaign where high-value leads (from select accounts) are critical. Remember that you can set a daily overall budget to keep your spend in check.
Manage campaigns daily
While LinkedIn's algorithm is under wraps, we've calculated that any individual person can only see the same ad variation once every 48 hours, and will only see one ad from your company overall every twelve hours.
This means you must be committed to managing your campaigns and removing lower-performing ads daily, to offer high-performing ads the greatest chance for impressions.
So every day, check the analytics on your campaigns:
Impressions: Make sure the campaign is seeing growth in impressions and not stalling. It's helpful to view the "Impressions" chart at the top of your campaign panel to see impressions over time. Once you notice a dip, it may be time to update with new creatives.
Click-through rate: Within each campaign, pause ads with relatively lower CTR. LinkedIn will stop showing these ads to your audience, but they will still take up a valuable slot in your ~12-hour ad rotation. So by pausing low CTR campaigns, you allow better-performing campaigns to shine through and earn more impressions.
Form conversion rate: LinkedIn will also begin to prioritize ads with a high form completion rate. So check this rate daily. If your lead generation form is relatively low compared to others, you should assess it to see if you can rewrite the copy, change the call to action, or switch up the ads to better reflect the content offer.
Cost-per-lead: Measure your cost-per-lead is crucial to knowing the return on your campaign investment. Set an acceptable amount (perhaps $50-100 per lead) and make sure you pause any campaigns that far exceed this. This will help you stay on budget and also duplicate or ramp up budget for your most cost-efficient campaigns.
Budget utilization: If your click-through rates and conversion rates are high for a campaign, but you are utilizing much or all of your budget, you should increase the daily budget on that campaign to begin the scaling process.
Number of ads against each audience: While there is no hard-and-fast rule for this, we recommend running only 1-2 ads for audiences smaller than 5,000, and 3-4 ads for audiences any larger. This means you may only be able to run a handful of tests at a time, but you will also see more reliable results more quickly. Count your ads daily against each audience (this is why it's important to name your campaigns based on audience, as mentioned before) to make sure you're not oversaturating any audience segment.

Tip: Remember that even separately built audiences can have overlapping individuals, and those individuals are seeing ads from multiple campaigns. So don't max out anyone with more than ~4 ads who falls into multiple audiences.
See here for a B2B Sales Middle of the Funnel Content Checklist
By following this agile process, you will begin to develop a cadence for launching 1-2 tests, measuring results over several days, scaling successful ads for several more days, and launching new tests based on your results. These LinkedIn best practices for B2B will help your program attract and convert target personas. The result is a reliable B2B lead generation program that gives you insights into the messages, designs, audiences, and content offers that generate the best leads for your B2B organization.