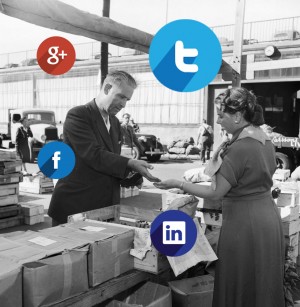 The benefits of social media for B2B lead nurturing are held with high regard by marketers across all industries. Social media outlets are used by online marketers as a productive B2B channel. When used correctly (and consistently), companies can extract many unique leads out of their social media efforts.
From a traditional B2B marketing standpoint, lead nurturing is to focus on making the movement of targeted decision makers through the sales funnel. The key to making it seamless was providing the right messages at the right time to steer clear of obstacles that may get in the way. That changed once social media entered the scene.
https://www.ironpaper.com/articles/linkedin-marketing-b2b-business/
Social Customer Relationship Management is the key to evolving your B2B lead nurturing campaigns. This can be accomplished by making good use of techniques that have been used for years: relevancy, personalization, and targeting. The use of these techniques on social networks help turn social media into a series of customized, behavior-based channels. And that is when the benefits start rolling in.

More Sales Leads with Little to No Investment
By nurturing leads through social media, you can continuously engage with the people listed in your marketing database who aren't ready for the "sales" part of the process. Best part of all is that it's free. If you decide to use social media marketing software, the costs will be minimum. All you need to make this work is advanced planning, and organization. Using these skill sets, you can create meaningful content, benefits-oriented emails, and segmented lists. You can then brainstorm multiple campaigns with the team, based on industry, the size of the organization, location, and more.
Become Viewed as a Thought Leader Amongst Prospects
By creating and sharing useful information with your prospects, you will build credibility and trust. This will become the base of you (and your company) being viewed as a thought leader by your industry and your prospects alike. Bear in mind, the decision-making process for your prospects may take a long time, because making B2B purchase decisions is overwhelming, and requires a series of meetings and approvals beforehand. You can use this time to earn their trust with your knowledge and solutions, which will serve as the most powerful differentiator.
Improve Employee Relations
B2B lead nurturing with social media is primarily considered a marketing task. In many work environments, the relationship between marketing and sales teams isn't necessarily the strongest. That changes when multiple members of sales teams begin to make their quota sooner, due to the lead nurturing efforts. Sales reps generally may not give the marketing team credit for the lead nurturing efforts, but they will notice the increase in leads that turn into sales opportunities. And in most cases, prospects do drop a few lines over how companies initially gained won them over through social media.
Click here to learn more about how to create a corporate social media policy.