Personalization helps websites perform their job more effectively. Think about websites in the B2C realm such as Netflix and Amazon that offer highly-personalized experiences; these sites thrive because they cater to the needs and wants of their users. The same is true for B2B websites.
Personalization increases the chances of success for B2B websites.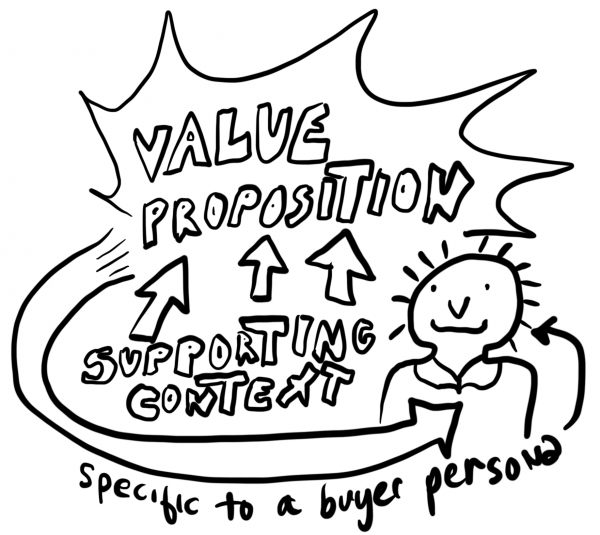 The benefits are astounding: from increased engagement rates to higher conversions, personalization is a key ingredient to any website experience. One of the most significant benefits of personalized websites is lead generation. 93% of companies see an uplift in conversion rates as a result of website personalization (Econsultancy), so companies still not personalizing their website are truly missing out, especially because people want this experience.
Website visitors need personalization
According to HubSpot, 74% of online website visitors get frustrated with sites when content such as offers, promotions, ads, etc. appears that has nothing to do with their interests. And when visitors are frustrated with a website, they almost always click off of it. More than 78% of buyers will engage in offers if they have been personalized to their previous engagements with the brand (Marketo).
One thing companies should note, however, is that people want to know and have full transparency in how their data is being used. 77% would trust businesses more if they explained how they're using personal information to improve their online experience (Janrain). And,
62% of adults under 34 are willing to share their location for more relevant content (Jiwire). This means organizations that are ready to personalize content should also be prepared to share the personalization process, maintaining a transparent relationship with website visitors.
Website visitors get frustrated with sites when content such as offers, promotions, ads, etc. appears that has nothing to do with their interests. -HubSpot
Benefits of website personalization
If your company is struggling with lead generation, then you should seriously consider personalizing the website experience. Here are benefits you can look forward to when doing so.
Increased Actions Taken
HubSpot conducted a study of over 93,000 calls-to-actions and hundreds of millions of views over a 12-month period. The company found that calls-to-action targeted to the user had a 42% higher view-to-submission rate than calls-to-action that were the same for all visitors. Lead generation starts with getting the prospect to click the CTA (and subsequently enter an email, download materials, etc.), so a personalized CTA is a way to get the prospect in the sales funnel.
Furthermore, in a study of 650 multi-channel marketing campaigns, personalized campaigns consistently and overwhelmingly beat out static campaigns in generating a high response rate from recipients. Plus, according to Nielsen, 84% of consumers reported always or sometimes taking action based on personal recommendations. Lead generation is all about engaging the prospect, and the data proves personalization is the way to do it.
Better Nurturing and More Loyalty
Leads who are nurtured with targeted content produce a 20% increase in sales opportunities (DemandGen). Not only does personalized website content show your visitors you care and listen to them, but it also increases the chance they read, digest, and perform the CTA from that content. Leads will come back to companies who show they care and understand their pain points, and personalized websites can do just that.
More Sales
Personalized websites ultimately lead to more sales because they cater to buyer's needs. Using personalized content down the funnel, the prospect begins to trust the company, which helps make the purchasing decision easy. Just look at the statistics that prove this point:
In-house marketers who are personalizing their Web experiences and who are able to quantify the improvement see, on average, a 19% uplift in sales (HubSpot).
40% of consumers buy more from retailers who personalize the shopping experience across channels (MyBuys)
79% of organizations that exceeded revenue goals have a documented personalization strategy, compared to 31% of those that met revenue goals and 8% of those that missed revenue goals (Monetate).
Personalized home page promotions influenced 85% of consumers to buy while personalized shopping cart recommendations influenced 92% of shoppers online (Kibo).
Moving towards a personalized experience
According to a study by eConsultancy, only 32% of respondents saw their current content management systems as useful enablers of personalization, which means many companies still struggle on how to personalize and what technologies to use. The problem is, 63% of people are highly annoyed by the way brands continue to rely on the old-fashioned strategy of blasting generic "speak-to-the-whole-audience" messages repeatedly. Businesses must adopt new, improved technologies to personalize websites not only to increase leads moving down the funnel but also to appease website visitor wants.
Sources
https://blog.hubspot.com/marketing/data-personalize-marketing-li
https://https//econsultancy.com/reports/conversion-rate-optimization-report/
https://www.marketo.com/software/digital-advertising/
https://www.ninthdecimal.com/sites/default/files/JiWire_MobileAudienceInsightsReport_Q42011_2.pdf
https://www.nielsen.com/us/en/insights/news/2013/under-the-influence-consumer-trust-in-advertising.html
https://www.demandgenreport.com/industry-resources/white-papers/204-calculating-the-real-roi-from-lead-nurturing-.html
https://www.mybuys.com/company/news/press_releases/pr-2-27-13/
https://econsultancy.com/reports/quarterly-digital-intelligence-briefing