Amongst best-in-class B2B content marketers, 71 percent tailor content to the profile of the decision maker. – The Content Marketing Institute
By 2018, 70 percent of B2B e-commerce sites will offer personalized features for customers. – Gartner
By 2018, B2B companies with effective personalization on their e-commerce sites will outsell by 30 percent competitors without the same level of personalization. – Gartner
Website personalization is becoming increasingly important for B2B companies – because it increases engagement and conversion rates with key audiences.
B2B customers are also engaged in the B2C space, where they are active on highly personalized sites like Amazon and Netflix. Users have become accustomed to the personalized content and recommendations these sites deliver. Those benefits clearly extend to their B2B counterparts as well, because the increase the relevance of content and calls-to-action. The expectations of B2B users are also increasing with the web. B2B users expect websites to be easy-to-navigate, relevant, helpful and to be an appropriate representation of a company.
Fortunately, companies have much to gain by delivering on their customers' heightened expectations using personalization. Here are the top three benefits of website personalization for B2B companies:
Increased conversions. Leads who are nurtured with targeted content produce a 20 percent increase in sales opportunities. – Demand Gen.
A personalized website fuels digital sales by catering to your customers' needs; building customer trust; and making it easier for buyers to make purchasing decisions. The B2B companies we work with have found that a personalized user experience typically leads to an increase in sales, leads, nurtured SQLs, sign-ups, and overall conversions.
Efficient communication. Calls-to-action targeted to the user had a 42 percent higher view-to-submission rate than calls-to-action that were the same for all visitors. – HubSpot.
Personalized content gets results, by ensuring that your company delivers the right information to the right customers -- exactly when they need it. It enhances your reputation; allows for meaningful and efficient interactions with buyers; and ultimately drives sales.
Enhanced loyalty. A personalized user experience demonstrates to B2B buyers that your company appreciates and listens to them. It shows that you strive to make their lives easier, by offering relevant information that allows them do their jobs more efficiently. They inevitably reward that ease of use and attention to detail with their trust, loyalty, and continued business.
Here are three ways B2B companies can begin incorporating effective website personalization:
Offer a personalized buying experience. 50 percent of B2B customers expect improved personalized product or service recommendations. – Accenture.
If it's what customers expect, it's what your company needs to deliver. We advise the B2B companies we work with to offer customized product recommendations and best-seller lists based on browsing and purchasing histories.
For example, a construction company purchasing welding tools would appreciate automatic recommendations for related storage and safety gear. This builds customer trust; ensures that buyers get everything they need; and fuels digital sales.
Distribute personalized content. Personalized website content is about filtering out irrelevant information, and making sure visitors only consume the content that will meet their needs.
To do this effectively, we recommend segmenting your list according to companies with similar qualities, such as size, industry, revenue, and location. Develop messaging based on those qualities; leverage pay-per-click (PPC) ads and Facebook ads to target your content to the appropriate market; and discuss automatically displaying this content to different list segments with your web design company.
Personalized call-to-actions. Convert 42% Better -- Hubspot
B2B companies should tailor calls-to-action to their personas at different stages in the buying process. Call-to-action areas and buttons can automatically detect segmentation lists and personas in order to share appropriate value proposition messaging, offers, solutions and emotive triggers.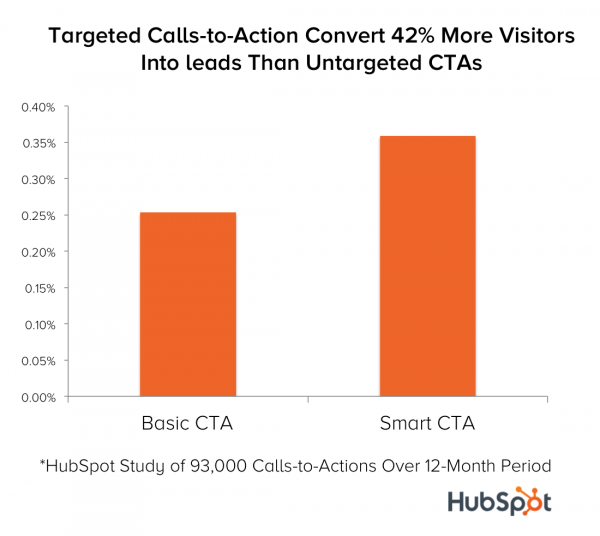 Offer enhanced search capabilities. 60 percent of B2B customers expect enhanced search functionality. – Accenture.
To maintain a competitive edge, B2B buyers need to accommodate the needs of customers who want to research their options, and buyers who already know exactly what they want to purchase.
This requires the standard SKU-based search, as well as the ability to search according to product details, availability, price, and ratings. We recommend offering extensive online product catalogs that allow buyers to perform accurate searches, and continuously rendering personalized results based on their browsing and purchasing histories.
Learn more:
Sources:
Content Marketing Institute, B2B Enterprise Content Marketing: 2013 Benchmarks, Budgets, and Trends – North America, https://contentmarketinginstitute.com/wp-content/uploads/2013/04/Enterprise_Research_2013_CMI1.pdf
Gartner, Top 10 Strategic Predictions for 2015 and Beyond: Digital Business Is Driving 'Big Change', https://www.gartner.com/doc/2864817?ref=SiteSearch&sthkw=B2B%202018%20personalization&fnl=search&srcId=1-3478922254
DemandGen, Case Study – Concur, https://www.demandgen.com/pdf/CS_Concur.pdf
HubSpot, Stop Being Rude: 22 Data-Backed Reasons to Personalize Your Marketing, https://blog.hubspot.com/marketing/data-personalize-marketing-li
Accenture, Building the B2B Omni-Channel Commerce Platform Of The Future, https://www.accenture.com/SiteCollectionDocuments/PDF/Accenture-Building-Omni-Channel-Commerce-Platform-Future.pdf