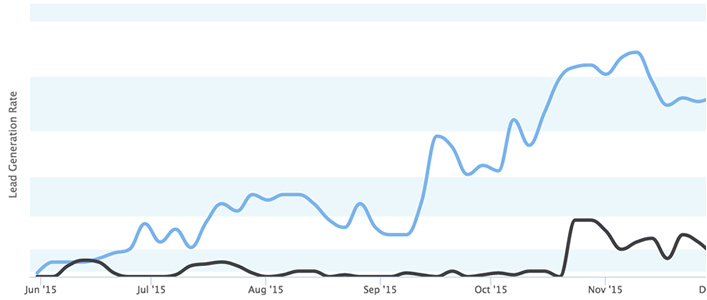 Inbound marketing is no longer the new buzz phrase. Yet it's still the new kid on the block (the dreamy one that listens to you) when compared with outbound marketing.
Companies are 3X as likely to see higher ROI on inbound marketing campaigns than outbound. — HubSpot, State of Inbound 2015
Outbound marketing gets a company's message out to potential buyers through cold calling, direct mail, email and advertising. With a detailed understanding of audience, response, incentive and other factors going into outbound lead generation, it may work.
However, 3 out of 4 global marketers prioritize inbound approaches, according to HubSpot's State of Inbound 2015.
57% of companies that saw greater ROI in 2015 cited advertising as the most overrated marketing tactic. — HubSpot, State of Inbound 2015
Inbound marketing is about attracting qualified leads by creating content designed with your target market in mind. This is the first choice strategy for operations with fewer than 200 employees. Yet, regardless of company size or budget inbound campaigns achieve a higher ROI than outbound, per HubSpot.
Why might that be true?
Well, let's think about the outbound practice of buying leads. First, buying leads and sending emails to people who didn't contact you first is spam. Spam is illegal. Yes, we'd all like to meet Superman, but don't be a villain of the Internet.
Even if you're fine with breaking the law, buying leads is not going to do you much good. People are becoming much more resistant to unsolicited emails. After all, various studies estimate spam comprises 45% to 73% of all emails. Ironpaper has seen companies purchase email lists and get nothing but a harmed Email Sender Score from their efforts.
This brings us back to generating leads through inbound marketing.
Inbound is less expensive. All that's required is an ability to create high-quality content and leverage SEO, social media, and your website to attract your target market. An earlier HubSpot's report found outbound leads cost on average 61% more than inbound ones.
Your audience is engaged. Buying your leads sees you talking at a potentially disinterested audience. Inbound is about drawing people in and starting a dialogue. Then, once they are part of the discussion, converting them to customers.
Better brand reputation. Since you aren't contacting people who didn't even ask to hear from you, you're not spoiling potential clients perception of your organization. After all, customers are much more likely to go with an organization they see as trustworthy and helpful. Think Superman again. Most of us would much rather meet him than that super-villain Dr. Spam of the Mass Mailings.
| | | |
| --- | --- | --- |
| | Outbound | Inbound |
| Timing of interaction | You choose | Prospect chooses |
| Medium of interaction | You choose | Prospect chooses |
| Duration of campaign | Finite | Indefinite |
| Cost profile | Short term, higher cost | Long term, lower cost |
| Key mediums | Direct mail, email, telephone, web | Web, email, social media, search engines |
| Marketing skills needed | Planning, copywriting, graphic design, web | All those in outbound along with Internet marketing, PR, social media and SEO |
Sources:
Truly, Spam is against the law: https://www.spamlaws.com/illegal-spam.html
HubSpot's State of Inbound Marketing 2015
What you need to know about Sender Scores: https://blog.hubspot.com/blog/tabid/6307/bid/31446/Everything-Email-Marketers-Need-to-Know-About-Sender-Score.aspx
Differences between Inbound and Outbound: https://www.blendb2b.com/blog/inbound-vs-outbound-lead-generation-differences-and-similarities