Some 85% of manufacturer marketers use content in their marketing efforts, according to the 2017 Manufacturing Content Marketing (MCM). The Content Marketing Institute (CMI) and MarketingProfs report highlight valuable trends to guide content marketing strategy for manufacturering companies.
Content marketing is "a strategic marketing approach focused on creating and distributing valuable, relevant, and consistent content to attract and retain clearly defined audience—and, ultimately, drive profitable customer action. — MCM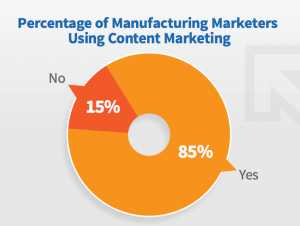 Of the 15 nonusers, 53% planned to launch content marketing efforts in the next year.
That's not a bad plan. According to the MCM, 82% of marketing manufacturers have seen increased success with better content creation.
Better content creation wasn't the only factor contributing to manufacturing marketers' increased success. Better strategizing and prioritizing content marketing had a difference too.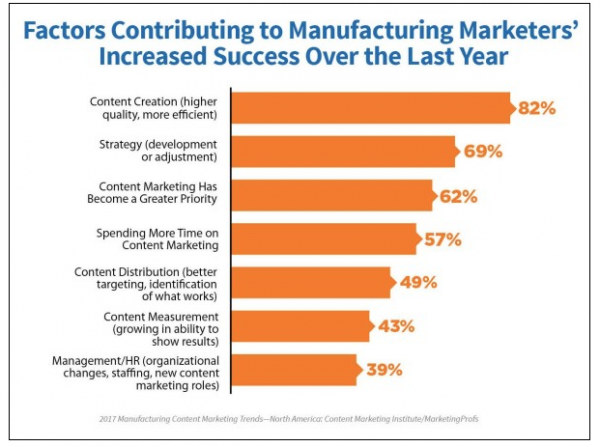 Yet fewer than 20% of the 2,562 manufacturing marketers surveyed said their organization was effective at content marketing. Maybe because only 31% had a documented content marketing strategy.
Content Marketing for Manufacturers Report Results
Perhaps the absence of a documented strategy reflects organizational structure in manufacturer marketing. The vast majority (57%) had a small or one-person team serving their entire organization.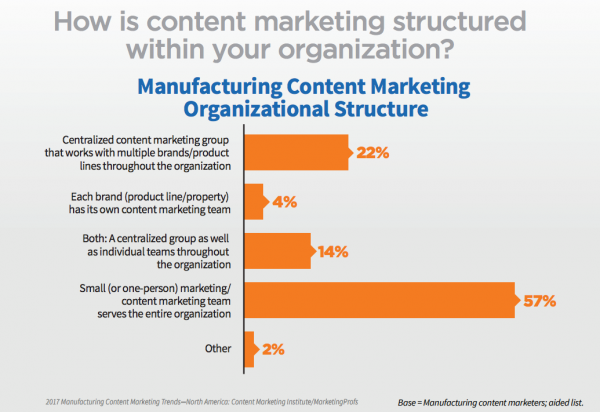 Or, it could reflect the organizations' commitment to content marketing.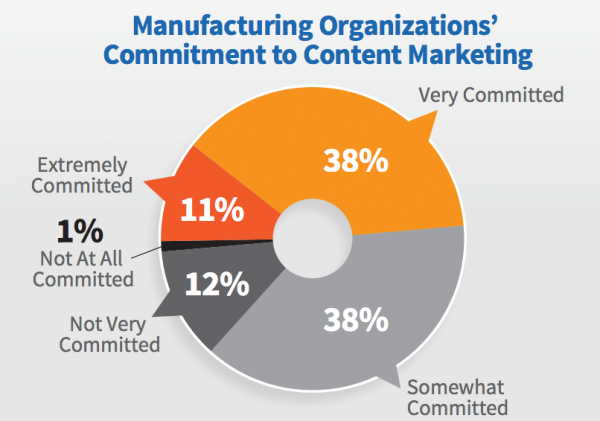 Still, 80% of the marketers surveyed agreed content marketing is an important of their organizations' marketing program. Additionally, 70% agreed their organization is focused on audiences — both building long-term relationships and providing an overall exceptional experience.
How do they learn about their audiences?
Employee feedback 73%
Website analysis 58%
Keyword research 53%
Competitive analysis 51%
Customer Feedback/Panels 49%
Further 64% said they always or frequently consider how their content impacts the person's overall experience with the organization.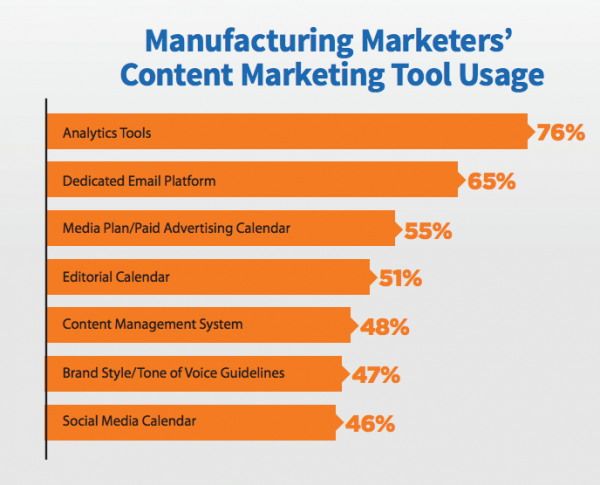 The average manufacturing marketer used 8 content marketing tactics with email newsletters and social media content tied for the top spot.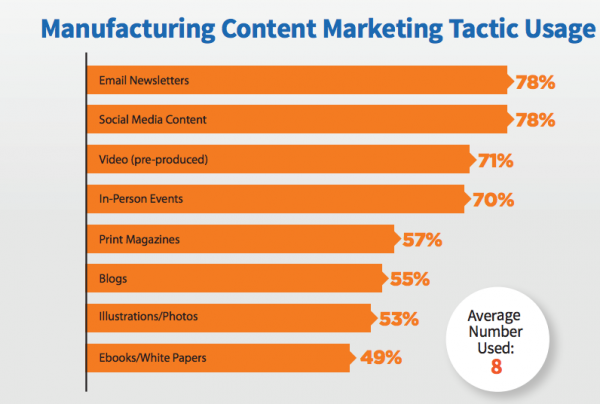 Search engine marketing (63%) was the most effective marketing tactic, with social promotion (40%), native advertising (35%), traditional online banner ads (31%) and print or other offline promotions (29%) rounding out the top five.
Related reading: 5 Sales Generation Tips for Industrial Manufacturing
Content Marketing for Manufacturers — Tips
Suggestions for Better Content Marketing for Manufacturers?
Use valuable metrics: Sales, Sales Lead Quality, and Higher Conversion Rates are all reliable in measuring content marketing effectiveness.
Set progressive, achievable monthly goals.
Address the entire buyer's journey with content and measurements. Don't undervalue retention.
https://www.ironpaper.com/articles/b2b-marketing-statistics-and-trends/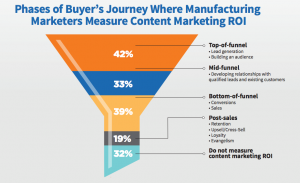 Stop buying email lists and cold calling. Cold calling doesn't work.
Align sales and marketing in the content creation process to better identify buyer personas.
Content marketing for manufacturers can be just as smart and creative as the campaigns in other industries. Take these tips and the insights from the MCM report to shape a stronger approach to 2017 marketing in manufacturing.
https://www.ironpaper.com/articles/does-web-content-have-an-roi/
Content Marketing for Manufacturers Sources:
CMI and MarketingProfs. (2016, November). 2017 Manufacturing Content Marketing: Benchmarks, Budgets and Trends — North America. https://contentmarketinginstitute.com/wp-content/uploads/2016/11/2017_Manufacturing_Research_FINAL.pdf