Digital marketing spending trends in the US and globally offer valuable insight into the industry today. One encouraging finding is Forrester Research's forecast that digital marketing spending will continue to rise through 2019.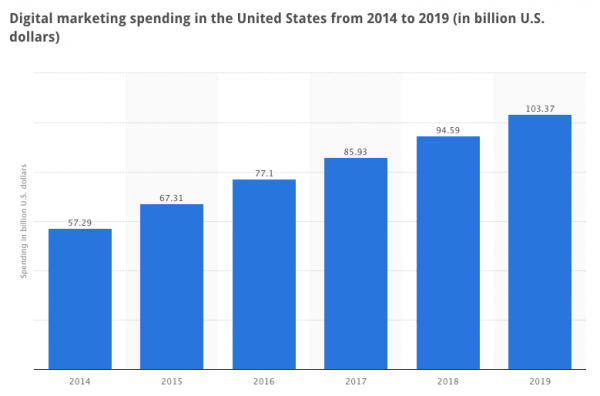 The research firm forecast an increase from 57.29 billion US dollars in 2014 to 103.37 billion US. dollars in 2019. Forrester attributed the growth to three key factors:
A recovering economy boosting tech confidence
Media proliferation giving advertisers more options
Performance proofs driving marketers to better trust digital.
"Online consumers already dedicate 52% of their media hours to digital channels." — Forrester
In fact, Forrester's forecast was mild compared to other available predictions. Magnaglobal predicts digital advertising spending worldwide will grow to 191.85 US billion dollars by 2017.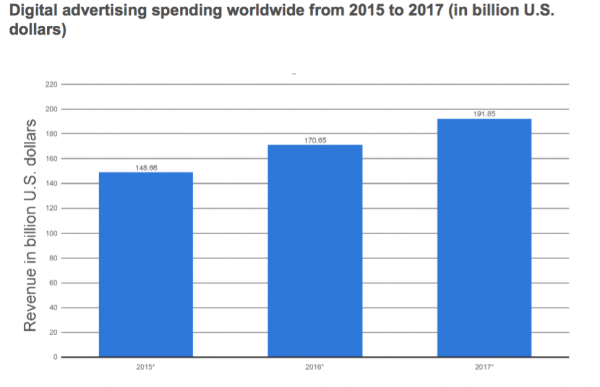 Even more bullish are the analysts at Technavio who have the global digital marketing spending market standing at $200.8 billion in 2015 and reaching $306 billion by 2020. That's a CAGR of around 9%.
Why is digital advertising spending up?
As we embrace the Internet in our daily lives, digital media is trending globally. Plus, digital advertising spending is benefitting from the ability to track and monitor outcomes and measure customer response and campaign success in real time. Further, these platforms offer users the interactivity they now increasingly expect.
Consider these proof points. Every minute:
An estimated 650,000 search queries are made on Google
More than 700 videos are hosted on YouTube
Over 700,000 status updates and 500,000 comments are posted on Facebook
Over 65,000 tweets are made worldwide
Approximately 180 million e-mails are sent.
"Make no mistake: when US digital marketing spend hits $100 billion, you'll see ads everywhere." — Forrester
Search marketing is predicted to retain the largest share of the overall digital mix. Search was more than 33% of the total market share in 2015, per Technavio. Forrester forecast social media would experience the steepest growth in market share.
Search wasn't going to drop, though, according to Statista's July 2016 digital market outlook by channel:
Added Insights into Digital Advertising Spending
Nearly half of the world market share for digital marketing spending would be centralized in the Americas, Technavio suggested. In this region, brands have a greater chance of monetizing campaigns due to a broad base of target audience and the rapid shift toward online shopping.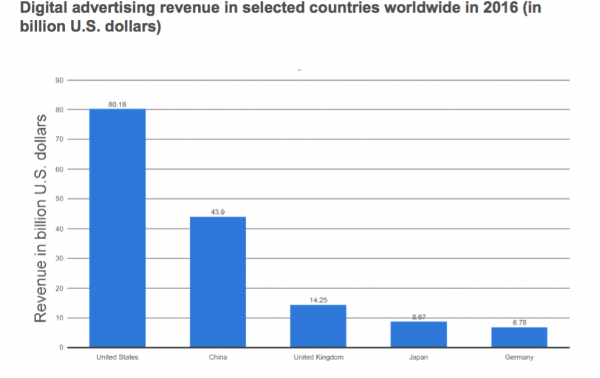 A 2015 Undertone study reported in eMarketer found Internet users had greater recall of digital advertising they encountered on smartphone or tablet devices, regardless of ad format.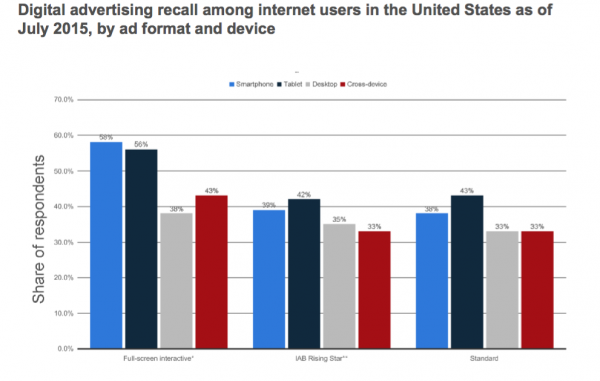 Neverthless, marketers will continue to need to account for consumer sensitivity to ad clutter. Using data from IAB, Millward Brown and Tremor Video, MarketingCharts identified the share of connected customers who in April 2016 felt they were seeing too many digital ads: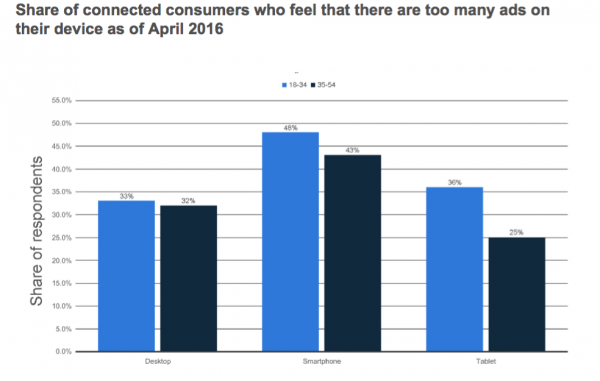 With the market growing and audience expectations changing, the digital marketer needs to be strategic. Learn more about best practices in the digital sphere.
Sources:
Forrester Research's Harnois, J. (2014, Dec. 29). US Digital Marketing Forecast, 2014 - 2019. https://www.slideshare.net/JeffHarnoisMS/us-digital-marketing-forecast-2014-to-2019
Statista. (2016), Digital Ad Spending US 2016: Dossier. https://www.statista.com/statistics/456679/digital- advertising-revenue-format-digital-market-outlook- worldwide/
Technavio. (2016, July 25). Current affairs: Digital marketing's role in the US presidential elections. https://www.technavio.com/blog/current-affairs-digital-marketings-role-us-presidential-election
Technavio. (2016, July 26). Global Digital Marketing Spending Market: 2016 - 2020. https://www.technavio.com/report/global-media-and-entertainment-services-digital-marketing-spending-market