We get this question a lot. It's not surprising considering both platforms (HubSpot and WordPress) are the top in their respective areas of focus. WordPress is, by far, the most popular CMS in the world and is used by nearly 75 million websites. WordPress powers 25% of the world's websites, and HubSpot has 21.21% of the marketing automation market, according to data by Datanyze.
For many organizations, the optimal choice would be to continue using WordPress as a content management system for their website and begin to use HubSpot as an all-in-one marketing software to advance their marketing capabilities, reporting, and lead generation adeptness.
The short answer is a resounding yes.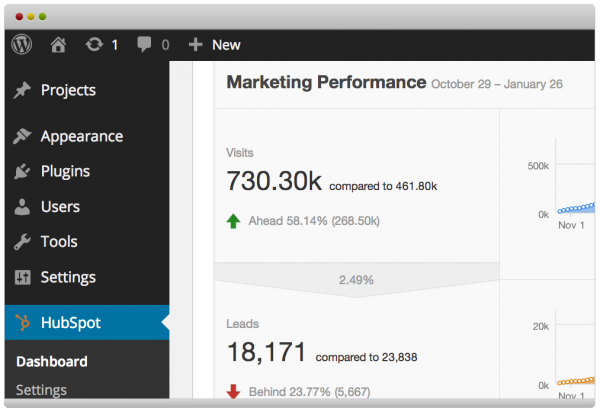 HubSpot does work well WordPress, and you can download a free plugin from the WordPress app store for connecting your WordPress instance to your HubSpot account.
It's easy to install.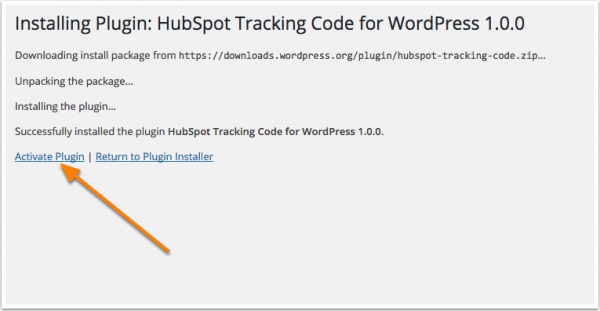 Please note that a HubSpot account is required for the connector to work.
With more than 20,000 installs and authorship by the HubSpot team, the plugin is highly trusted and serves as a ready-to-go connector between the two platforms.
What does HubSpot allow you to do with a WordPress website?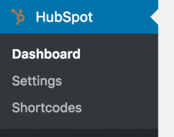 HubSpot is an all-in-one marketing system. Categorically, HubSpot is often labeled as a marketing automation system, although it breaks from narrow definitions of that category.
HubSpot Marketing provides everything you need to launch effective marketing campaigns that make people interested in your business and happy to be your customer. From publishing and analytics to lead acquisition and nurturing, HubSpot is a powerful system for scaling up marketing performance in a mature and efficient way.
Using HubSpot with WordPress
Although HubSpot has its own website solution, it can also easily be incorporated into a WordPress website. HubSpot tools allow for embedded forms, tracking progress in marketing, and driving better engagement with leads.
SEO for WordPress Websites Using HubSpot
HubSpot's SEO Tool allows for tracking ranking and identifying website performance for organic search. The keyword tool allows for marketers to identify new keywords and build stronger, more competitive rankings to drive new leads.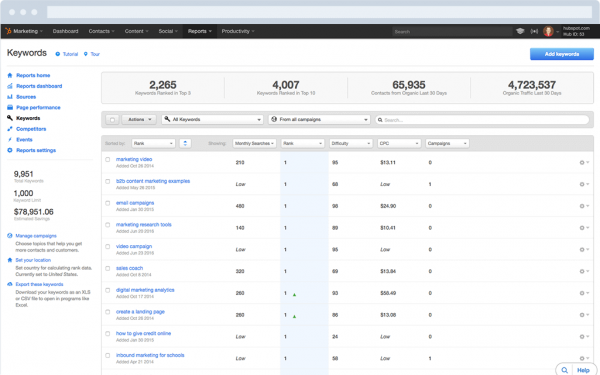 Additionally, HubSpot can identify SEO issues with a website and provide ideas to fix problems--helping to improve rankings and results. The on-page optimization tools provide quick solutions for WordPress websites to improve how pages are interpreted by search engines such as Google.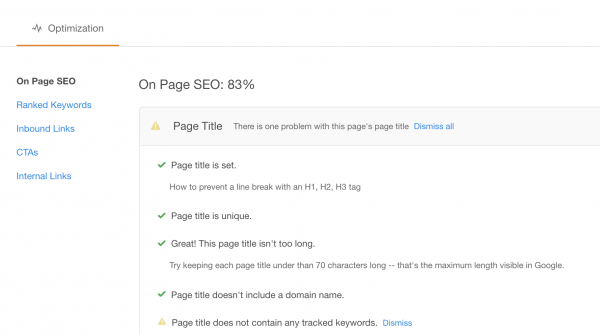 The tool also provides a list of optimized and non-optimized pages with quick links to deeper, meaningful reports.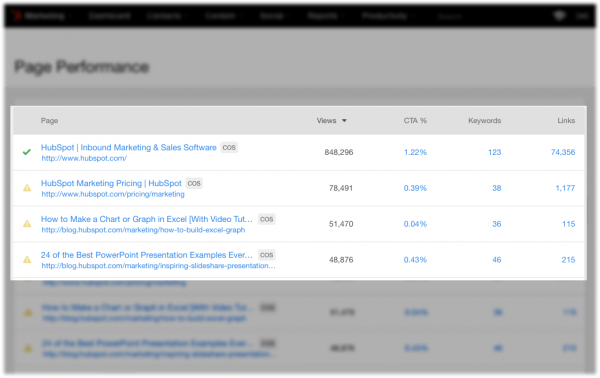 Because HubSpot's powerful analytics engine tracking marketing activities down to a contact level, marketers are more empowered to measure their impact on business growth and sales directly. Additionally, HubSpot can allow for tracking how contacts engage with a website and quickly alert marketing and sales teams when contacts return after dormancy.
Tracking Engagement for WordPress Websites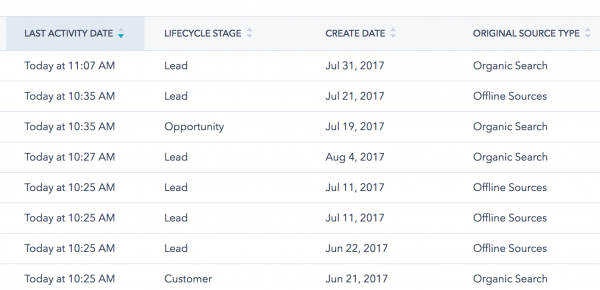 Marketing and sales teams can be alerted using internal notifications when leads and prospects visit a website or a specific piece of content. This can be powerful when trying to identify buying intent and moving deals down the funnel.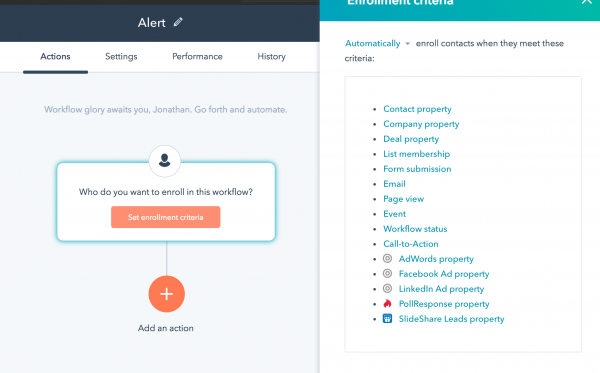 One of the most critical tools for identifying success or failure in marketing campaigns is HubSpot's source tool and the custom reports. This reporting engine works perfectly well with WordPress websites.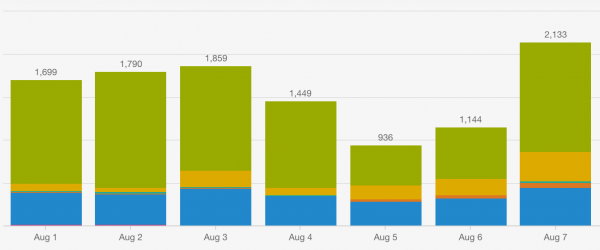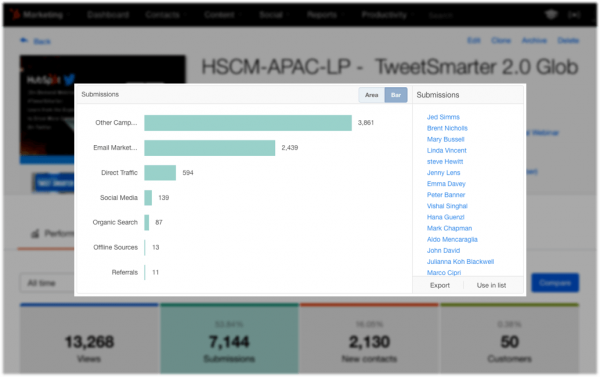 Use analytics data from your Wordpress website to make informed marketing decisions and take action using HubSpot.
The lead nurturing and drip campaign capabilities of HubSpot is enterprise level. The controls can be quickly updated, and you can launch nurturing activities based on web engagement quite easily. Plus, advanced features like events and triggering based on webhooks give marketers and website designers a lot of control in how they interact and respond to lead activities.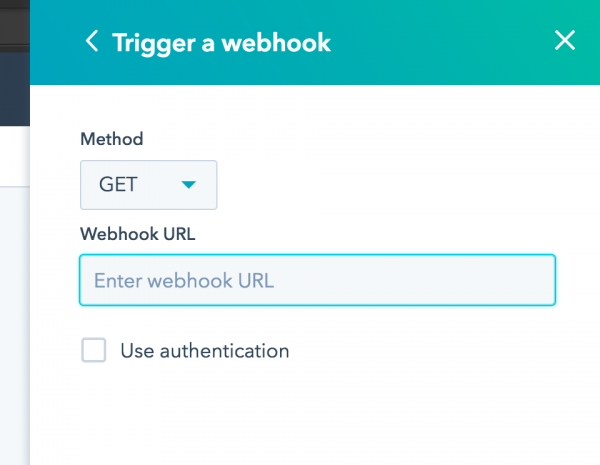 Additionally, you can embed trackable calls-to-action and launch A/B tests to measure the effect of messaging iterations. Ideally, WordPress websites can use HubSpot to have personalized calls-to-action that help buyers progress down the sales funnel.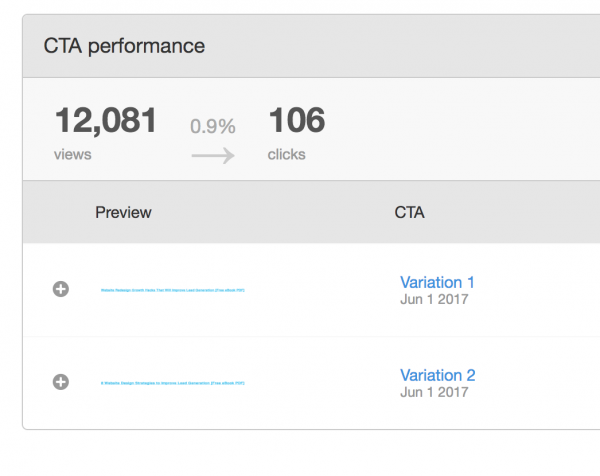 Lead Acquisition and Deep Insights
HubSpot makes it easy to create, embed, and gain insights from forms and lead capture tools. Additionally, it's easy to get reports and graphs of lead flow and capture rates against other variables. The UX is simple and easy to work with, which helps to reduce the need for IT.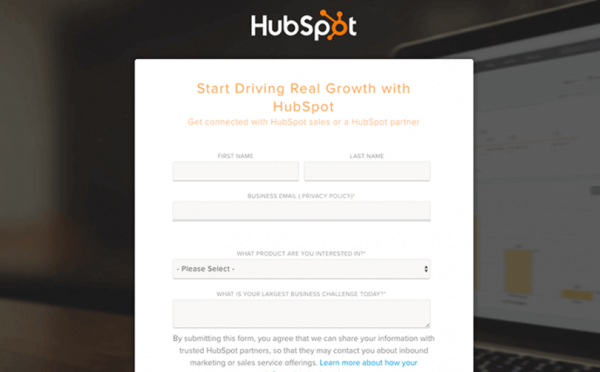 Powerful Integrations That Drive More Success for WordPress Websites
HubSpot has a robust integrations library that allows websites owners to connect systems and tools together to improve insights, publishing capabilities, data, and process.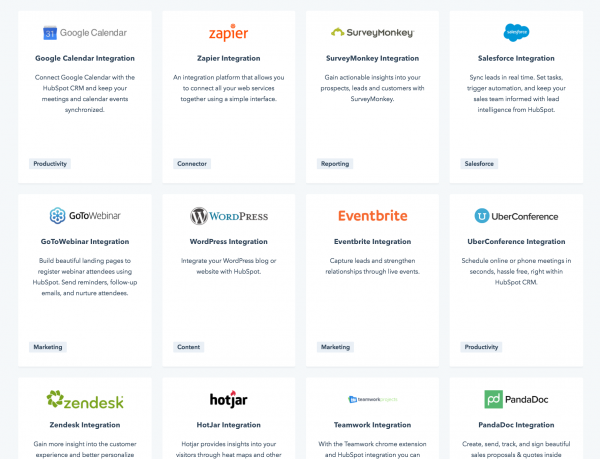 There are numerous other tools and benefits. As a HubSpot partner agency, Ironpaper is passionate about using WordPress and HubSpot to improve marketing outcomes. Connect with us to learn more ways that HubSpot and WordPress can work together and drive measurable results.
SOURCES:
WordPress HubSpot plugin: https://wordpress.org/plugins/leadin/
Datanyze - https://www.datanyze.com/market-share/marketing-automation/