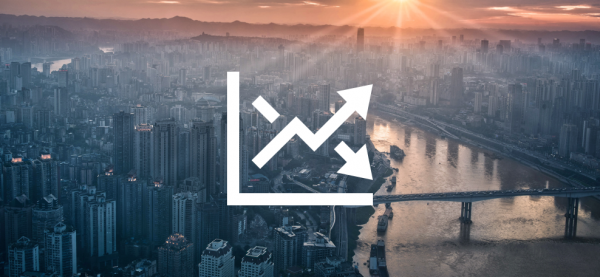 The Many Unpredictable Factors That Influence Enterprise IT Spending in 2018
Predicting growth and the related costs in certain parts of an enterprise can be as simple as plugging numbers into a formula. If you're adding more desks to your office environment to accommodate more employees as you expand, you can simply multiply the fixed costs by the number of spaces you're adding and come up with a reasonable estimation of how much you can expect to spend.
Spending on IT and related costs at an enterprise level can be much harder to estimate. The pace of enterprise spending is easy to track after the fact, but tough to predict because so many variables come into play. Adoption rates of new processes and technologies can historically be slow at large enterprises, where approval of large expenses can require approval at several levels. Smaller companies with less leadership may be quicker to hop onboard with new technologies but may find themselves switching from one provider to another until they find the right one and spending more than anticipated along the way.
As the second half of 2018 approaches, there are certain trends and patterns developing in how enterprises are spending their money and what parts of IT are poised to be the biggest money makers.
Below: The statistic depicts spending on global IT services from 2008 to 2017 with predictions for 2018 and 2019.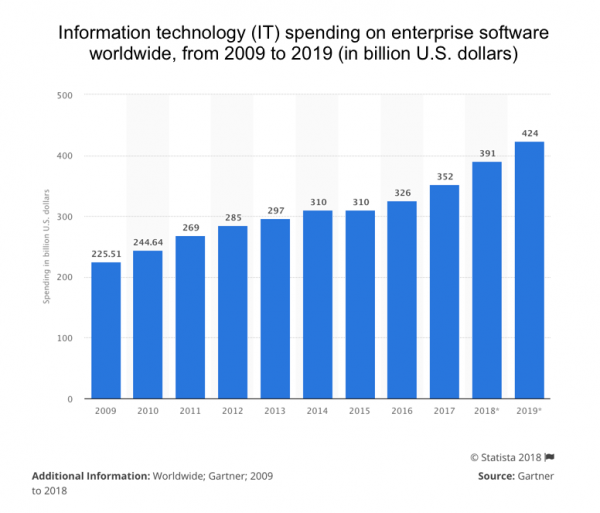 In terms of IT market growth, services are advancing steadily, second only to enterprise software spending. Year on year, IT services spending is expected to increase at a rate of around 5.5 percent according to Gartner.
Changing Enterprise Spending by Category
Traditional budgets include a large portion of spending reserved for the software needed to make things work day in and day out. But modern enterprise often uses free or low-cost tools, whether to minimize spending or because they simply offer better user experience. As businesses recognize this, budgets are opening to new and more innovative technologies and investing in categories that have long been neglected.
Cybersecurity
As cybersecurity continues to grab headlines, businesses are struggling to keep up with new and evolving threats. 80 percent of leadership teams report being lost in how to protect themselves against security threats, and the global shortage of qualified cybersecurity experts means they also have trouble finding qualified help to hire in-house. This leads to more spending on managed security solutions to try and prevent the worst from happening.
80 percent of leadership teams report being lost in how to protect themselves against security threats - McKinsey
IoT
McKinsey's 2017 Enterprise IoT Executive Survey revealed that some 96 percent of companies expect to increase IoT spending over the next three years. Some enterprises predict spending up to a quarter of their IT expenditures to getting the IoT-related devices needed and perfecting its capabilities. Perhaps even more surprising was the number of businesses ready to make a shift toward automation through machine communication, even those in industries that are traditionally slow to accept change.
Most enterprises are using IoT devices to refine and automate administrative tasks, like inventory control and management. While this can mean reduced spending on employees and payroll to complete simple tasks and more accurate inventory counts, it comes with an increased cost in edge solution spending. Edge solutions allow devices to capture real-time data at the device level, without taking up cloud or data center space. Up to 125 billion dollars of IT spending through 2020 will be on these solutions, which solve common problems like data latency and make more IOT processes possible.
96 percent of companies expect to increase IoT spending over the next three years (McKinsey)
The Slow Rate of Cloud Adoption
Though cybersecurity remains a serious concern to businesses of all sizes, moving to the cloud as a solution to these issues hasn't yet become the all-encompassing solution many predicted it would. Businesses are still slow to move their intellectual assets to the cloud, with the average adoption rate hovering around twenty percent. Research shows that 2018 is different, with many larger enterprises choosing to move to the cloud. In the long term, cloud-specific spending is expected to grow at more than six times the rate of general IT spending through 2020.
A large reason for this shift is the reduction in cost involved with moving to the cloud. A unit of cloud storage can cost half as much as the same space in a data center. The result can be millions of dollars saved in operational costs, and budget dollars left free for new and exciting initiatives that keep the company innovative. The opportunities for cloud solutions are excited as evidenced by the following McKinsey survey statistics:
Cloud-specific spending is expected to grow at more than six times the rate of general IT spending through 2020
80% of large North American enterprises are planning or executing programs to make use of cloud environments to host critical applications—mostly by building private-cloud environments
The Dynamics of Enterprise Spending
Refining the way that an enterprise makes decisions on which new processes and products to invest in helps the overall success rate of new software. Even the newest enterprises can be hampered by classic problem dynamics and processes that limit how effective spending can be.
Many businesses have a team in place that identifies and purchases the new technologies coming into the company, but research from Mckinsey shows that too often, this team does not include people whose day to day responsibilities involve the use of the software. The result is a technology that only accomplishes some of the goals that the team using the product needs to be successful. To get the buy-in you need from the employee workforce, it's important to ensure the team charged with finding new technology includes innovators and early adopters who will help encourage others in the company to get enthused about the software implemented.
As the nature of the competitive landscape continues to change, enterprise spending is likely to remain difficult to predict. Certain areas seem destined to remain flat while emerging technologies and their potential capabilities are poised to grab the imagination, and in turn, a larger share of the budget. Research shows nearly half of all enterprises poised to spend up to five percent of revenue over this year on new technology and tools. Increased fluidity to deal with these changes and faster moving systems for approval can only benefit enterprises that want to ensure spending leads to continued growth.
Learn how we can help differentiate in a crowded IT environment: Ironpaper IT Marketing
CITATIONS
Bommadevara, Nagendra, et al. "Cloud Adoption to Accelerate IT Modernization." McKinsey & Company, www.mckinsey.com/business-functions/digital-mckinsey/our-insights/cloud-adoption-to-accelerate-it-modernization.
Elumalai, Arul, et al. "Ten Trends Redefining Enterprise IT Infrastructure." McKinsey & Company, www.mckinsey.com/business-functions/strategy-and-corporate-finance/our-insights/ten-trends-redefining-enterprise-it-infrastructure.
"Technology Budgets: From Value Preservation to Value Creation." Deloitte United States, www2.deloitte.com/insights/us/en/focus/cio-insider-business-insights/technology-investments-value-creation.html.
Gartner, Forecast: April 2018