In 2015, the global cloud systems management software market had a value of $2.8 billion. Forecasting the cloud computing market makes the future look even more promising, per a recently released Cisco report.
Cloud Computing Market Growth
More businesses today are seeing value in data center technologies such as virtualization, new, software-based technologies and management tools. Offering greater agility and cost optimization, the cloud data center is now addressing both business and consumer needs.
The dominant force is hyperscale data centers (also known as large-scale public cloud data centers). These include players such as Amazon/AWS, Google and eBay. In fact, hyperscale data centers will benefit greatly from growing acceptance of data center virtualization and cloud computing according to the recently released Cisco Global Cloud Index (GCI).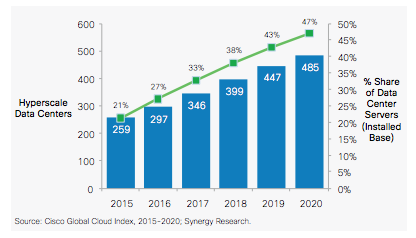 Hyperscale data centers will represent 47% of installed data center servers by 2020.
Traffic will quintuple with hyperscale data centers' accounting for 53% of total traffic within all data centers by 2020 — up from 34% today.
Per Cisco, only seven of its 24 identified hyperscale data centers are headquartered in the US. Yet the Asia Pacific has been the fastest growing region and will continue to grow rapidly over the next five years.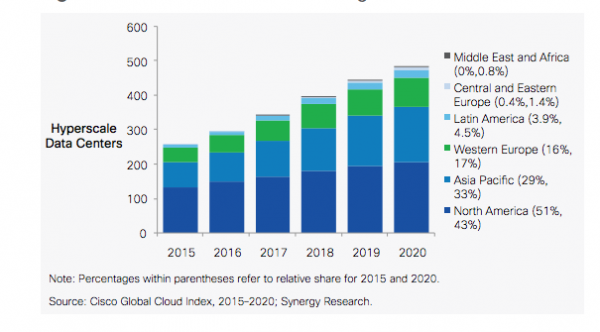 Cloud Computing Traffic Forecast
Traditional data center traffic is poised to grow at a 27% compound annual growth rate (CAGR). Yet cloud data center growth will surpass that with a predicted 30% CAGR from 2015 to 2020.
Cisco further forecast the consumer segment would grow more rapidly into 2020 with a 29.5% CAGR. Nevertheless, the business segment wasn't far behind at 21.4%. Cisco's predictions for business traffic growth were measured in exabytes:

Business and consumer data flowing through these centers will fall into three main categories:
Internal to data center — moving from development to production environment, or writing to storage array
From center to center — flowing between clouds as part of content distribution network
From center to end-user through Internet or IP WAN — e.g. streaming video
Cisco sees 77% of the traffic residing in the data center by 2020. Center to center will represent 9% of traffic with data flow to users reaching 14% by 2020.
The bulk of cloud workloads (74%) will be software-as-a-service (SaaS) by 2020, according to Cisco. At the same time, infrastructure-as-a-service (IaaS) will see its market share drop from 26% in 2015 to just 17% by 2020. Platform-as-a-service (PaaS) will also drop slightly from 9% to 8% by 2020.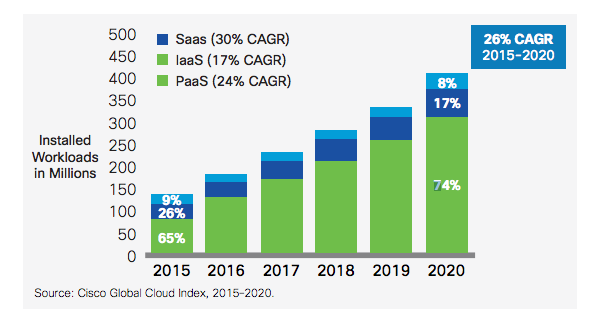 Computing and collaboration will contribute the majority of enterprise workloads in data centers. Meanwhile, video streaming and social networking will remain the primary consumer users. No wonder the consumer workload is on the rise from 21% in 2015 to 28% by 2020.
https://www.ironpaper.com/articles/it-market-statistics-and-trends/
Cloud Computing Evolution
The fastest growing applications, though, in the enterprise segment are expected to be database/analytics and Internet of Things (IoT).
By 2020, traditional and private cloud data centers will be supplanted by public clouds, except for database/analytics/IoT and other business application categories, Cisco forecast. Consider how it looked in 2015:

Versus how the same chart is predicted to look in 2020: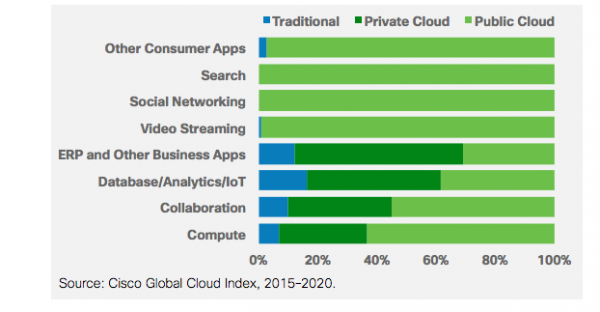 Ultimately, Cisco forecast a quintuple growth in the data stored in data centers globally by 2020.
https://www.ironpaper.com/articles/lead-generation-tips-for-it-service-companies/
Even with all this positive news for the market, though, Cisco cautioned that security remains an imperative concern for cloud growth. Nevertheless, with cloud computing gaining traction, the focus is on improving network capabilities to offer the advanced applications and promise of security customers expect. Meanwhile, the marketing opportunities in this market are as vast as the sky over the state of Texas.
Related reading: IT as a Service — Cloud Market Insights [Report]
Related reading: Best Practices for IT Value-Added Reseller Company Websites
Cloud Computing Market Source:
Cisco. (2016, November). Cisco Global Cloud Index: Forecast and Methodology, 2015–2020. https://www.cisco.com/c/dam/en/us/solutions/collateral/service-provider/global-cloud-index-gci/white-paper-c11-738085.pdf