By Katie Surace, Senior Marketing Director
When I feel stuck in business or personal life, I find a good way to move forward is looking at things objectively.
Being objective is hard because we're so close to our own creations, beliefs, and opinions. To overcome it, I talk to people, hear different perspectives, and read thought-provoking articles. Challenge my own beliefs.
A consequence of not being objective is missing opportunities. For example we often have clients who come to us with a product that really fits a need, and they have a website that talks in depth about the products features but overlooks the buyers needs. As consequence they are not attracting their ideal customers.
A mindset shift is stepping out of the perspective of this what the product offers and rather communicating the value to buyers and how they address their particular pain points. Buyer first or bottom-up approach to messaging means narrowing in on the right audience. How? By speaking to others you can broaden your perspective and more objectively understand the needs of your buyers. Speak different people within your organization. Ask what common questions sales or customer service teams get or how salespeople close sales.
Consider the Buyer Journey
Providing clear and concise value points is crucial for those already evaluating solutions. They are in the consideration or decision-making stage of the buyer journey.
Those who are experiencing particular pain or are still defining the problem will be a more problem-solving mindset, in the awareness stage of the buyer journey.
Pain buyers feel stems from a broad range of emotions: frustration, fear, or anger. The best place for discovery is where the conversations are occurring in real life. Forums such as Reddit, in research reports or competitor content. Test new messaging and see what resonates by comparing conversion rates on content offers.
Guidelines for Defining and Documenting Value and Pain Points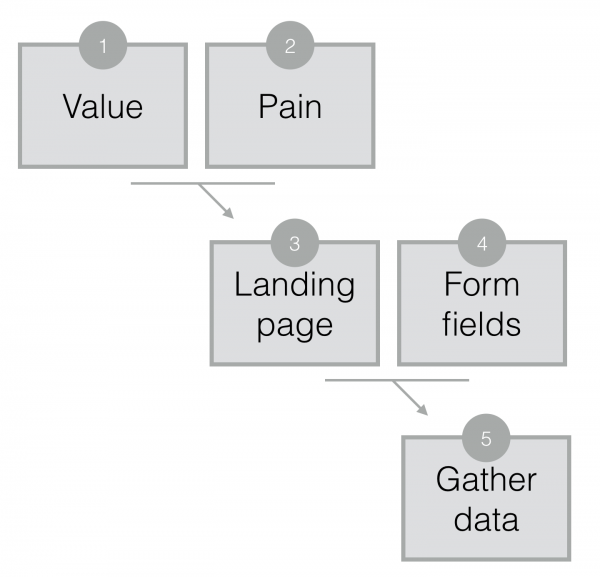 Create a list of value points including clear, concise differentiators that relate to the offering. Key attributes that set you aside from your competitors. Think about which value points relate to each type of buyer.
Create a list of pain points your customers are having. Pain points won't necessarily coincide with a value point, but serve to get you thinking from the point of view of your buyer. Value and pain points require critical thinking. What specific situation is your buyer in when they are searching for a solution you offer? An IT Director coordinating a data center migration may be dealing with the risk of downtime. They are looking for help from a managed IT service provider. Providing educational material like a checklist is a good piece of content to provide in the awareness stage of the buyer journey.
Use value points to update the way you talk about your offering. The 'home' or 'about' pages are both good places to start. Begin to write content that ties pain points and value points together.
Test pain point focused messaging on landing pages to see which ones resonate well with customers.
Use form fields to ask what pain points visitors are experiencing and begin gathering primary data. This informs future content and campaigns.
Use the Data and Uncover New Opportunities
Identifying clear value and pain points is an ongoing process. Capturing primary data in a marketing management platform allows for messaging refinements. Primary data uncovers new pain points and open up opportunities in new markets.
Feeling stuck in your own perspective and stepping away from your own work to address buyer needs can improve brand growth and even change the course of the business altogether.
Download the eBook 'Marketing Opportunities for Technology Companies' to learn more.