These 20 Stats Prove LinkedIn Must be Part of B2B Marketing
LinkedIn is a powerhouse social network for B2B marketers. Built for business networking, LinkedIn works exceptionally well for B2B lead generation, making it one of the top tactics for B2B marketing. For those who are wondering whether or not to invest time and resources in a LinkedIn strategy, these statistics will show the social media network's worth.
LinkedIn Demographics Statistics
According to LinkedIn, the site has 500 million members, 61 million senior-level influencers, and 40 million decision-makers using the website. The network does not just boast large amounts of users, but the users are influential, high-level executives that most businesses are targeting in their B2B marketing campaigns. LinkedIn, therefore, is a clear place to reach these decision-makers when trying to promote a product or service.
LinkedIn users are educated and earn high incomes. 49% of U.S. adults using LinkedIn are college graduates, and 45% of them earn over $75,000 a year, which is more per year than Twitter, Pinterest, and Instagram users (Pew Research Center).
Furthermore, according to the site itself, LinkedIn is the most-used social media platform among Fortune 500 companies. LinkedIn is a serious website to use for business, unlike other social networks, which have a familial element to them as well.
Statistics on B2B Marketers Using LinkedIn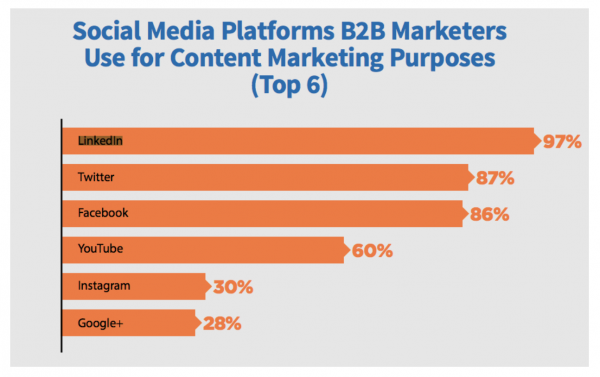 According to a study by the Content Marketing Institute, 97% of B2B marketers use LinkedIn for content marketing purposes. B2B marketers know not to skip this site when organizing a marketing strategy since big players regularly check and network on this platform.

Furthermore, 78% of B2B marketers say LinkedIn is an effective tool for content marketing (Content Marketing Institute). It's not just that B2B marketers feel they must use the site, it actually is an effective tool in any B2B marketing campaign.
Though a vanity metric, it's worth noting that LinkedIn makes up more than 50% of all social traffic to B2B websites and blogs (LinkedIn study). While this statistic does not necessarily mean that the traffic is relevant traffic, LinkedIn does bring users to the company website, hopefully, to be nurtured in the sales funnel.
B2B Marketers not only use LinkedIn to network but also to share content. There are nine billion content impressions in the LinkedIn feed every week (LinkedIn study). About 45% of LinkedIn article readers are in upper-level positions, including managers, VPs, Directors, and C-level positions (LinkedIn study). Content published or posted on LinkedIn has a good chance of getting in front of the target audience or a decision-maker, which means it must be high-quality and well-written.
It's not just short and snappy content that gets read on LinkedIn. OkDork analyzed 3,000 LinkedIn blog posts and found that long-form content gets the most shares, and how-to and list posts perform the best on the site. B2B marketers can also repurpose content into a SlideShare, which now has over 70 million monthly active users.
LinkedIn Lead Generation Statistics
So, the real question is: how well does LinkedIn perform for lead generation? The answer: better than all other networks. According to HubSpot, LinkedIn is 277% more effective at lead generation than Facebook and Twitter.
The reason for this is most likely because LinkedIn users are high-level decision-makers. 91% of executives rated LinkedIn as their number one choice for professionally relevant content (LinkedIn study). 49% of B2B buyers research vendors by looking at their LinkedIn profiles, and 44% have actually found potential vendors by looking at shared connections on LinkedIn (LinkedIn study).
43% of marketers overall say they have sourced a customer from LinkedIn (LinkedIn study). 59% of B2B marketers say LinkedIn generates leads for their business (Demand Wave), and
38% of B2B marketers say LinkedIn is generating revenue for them (Demand Wave).
LinkedIn can undoubtedly be an excellent lead generator for companies that invest time and effort into creating a dynamic and relevant LinkedIn strategy. What B2B marketers and B2B employees must remember is that LinkedIn is for networking and connecting, not for spam or sending out too many inMails. Take time and develop a LinkedIn marketing strategy that makes sense for your B2B business before launching in. If properly done, LinkedIn can produce great results for your B2B business.
See also: Agile LinkedIn Best Practices for B2B
Sources
Content Marketing Institute, B2B Content Marketing: 2018 Benchmarks, Budgets, and Trends - North America, 2018.
LinkedIn, THE CASE FOR B2B MARKETING ON LINKEDIN.
HubSpot, LinkedIn 277% More Effective for Lead Generation Than Facebook & Twitter [New Data], Originally published January 30 2012, updated August 26 2017.
LinkedIn, BUYING WITH CONFIDENCE: HOW SENIOR DECISION MAKERS USE SOCIAL MEDIA.
Pew Research Center, Social Media Fact Sheet, 2018.
LinkedIn, The Sophisticated Marketer's Guide to LinkedIn, 2017.
LinkedIn, The Secret Sauce: How LinkedIn Uses LinkedIn.
Demand Wave, 2016 State of B2B Digital Marketing, 2016.
OkDork, 10 LinkedIn Publishing Tips: We Analyzed 3000 LinkedIn Blog Posts, November 12, 2017.