A sales funnel is unsuccessful without quality leads to fill it. And as many sales organizations know, in order to drive conversions into opportunities, deals, and new business, you must practice marketing strategies that bring in high-quality, relevant leads with a buying interest.
"Bad leads" is a common gripe of sales teams when they review a marketing team's inbound marketing strategy. So what makes a good lead, at a basic level?
A qualified B2B marketing lead is:
Opted in: A true lead has opted in to receive communications from your company. This is why buying lists or scraping information on potential prospects off of websites or social networks is bad for building your lead list.
Purchase-qualified: While you may have several target personas (for example, a technical and a non-technical buyer), you should make sure you're attracting people at the top — think C-suite and other decision-making roles, not lower level employees. The quality and positioning of your content is critical in attracting the right people.
Interested in your services: A lead must show interest in your specific services, either directly (by filling out a contact form or requesting a sales demo) or indirectly, by showing interest in your field — for example, reading about retail inventory management optimization, if you are a retail POS provider. Cast too wide of a net with your content, and you will bring in people at the fringes of what makes a "good lead."
How can you bring in more qualified B2B leads into your marketing funnel? Try these strategies.
Targeted Driver Campaigns
Paid campaigns, like LinkedIn lead generation forms and Facebook lead generation forms, are lead drivers that let you get highly targeted for your outreach.
Take advantage of paid campaigns to power lead generation efforts. Depending on the platform, you can upload a sizeable list of target accounts by email, or build a custom audience based on traits such as:
Company name, industry, and size
Job title
Job seniority (C-suite, manager, VP, etc.)
Interests and interest group membership
Geographic location
Utilize these targeting criteria to build a list that you can send highly targeted offers to. For one client, Ironpaper generated 100 high-quality leads from Fortune 500 companies in two months — up from zero leads in the months before. We did it by building content offers targeted to CMOs at a specific-size company who faced very particular challenges within their industry, and sent the offer to a custom-build audience including job title + company size specifications.
Progressive Profiling
Take advantage of providing downloadables on your website to gather lead information. But go beyond the typical form (name, email) and ask for information that speaks to the quality of the lead. Make sure to create pre-identified drop-down answers so you can sort leads quickly based on their responses.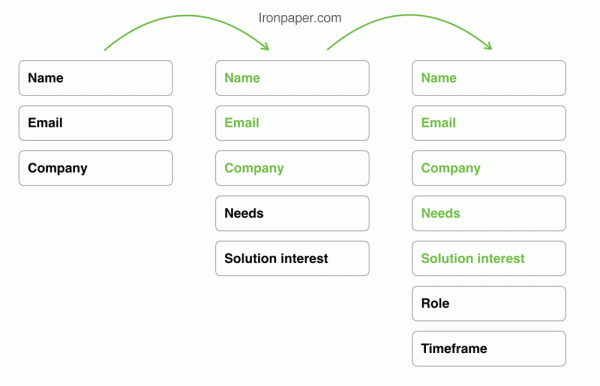 Some successful custom fields can separate great leads from unqualified leads:
What is your purpose? "Education, exploring solutions/partners, job inquiry, solicitations" may be common responses
What is your [campaign] budget? Provide ranges that will identify budget-qualified leads from those who are less likely to afford your product or service.
Which topics are you interested in? OR What is your biggest industry challenge? Provide a range of answers that will help identify if your solution is the right fit for the lead. You can also use this information to target the sales response and improve your chances of generating an opportunity.
Would you like to learn more about [Company name]'s services? Often a simple checkbox yes or no can indicate high-interest leads for your sales team.
Keep in mind that high-quality content is critical to driving conversions on these forms.
Consideration-Stage Content
Often businesses who don't generate high-quality leads fall into one of two categories: They have all awareness-stage content (like blog posts and general interest downloads), or they have all decision-stage content (like sales one-sheeters.)
But a healthy inbound marketing funnel also provides content downloadables somewhere in the middle — for consideration-stage buyers, who want to learn more about your service before picking up the phone. Case studies, success stories, company-branded thought piece white papers, and product demos are all incredibly critical to driving that sales-qualified conversion.
Appropriate SEO Strategy
At Ironpaper, we find that the most successful accounts have a healthy mix of traffic sources, but definitely a high organic search traffic volume.
Why? Because organic search leads are high-intent. They are searching for specific research or to resolve an already identified pain point. This makes them prime candidates to be highly qualified leads if you can deliver what they want.
Make sure you include plenty of SEO pathways on your website, including:
A blog with regular content posting on a variety of related topics
SEO pages, each with a dedicated keyword focus
Technical SEO best practices including an appropriate robots.txt reference, optimized h1s and h2s, searchable images with alt-text, and clean code
Having trouble generating high-quality leads? You may also consider partnering with an inbound marketing agency to drive better traffic, nurture more leads, and convert sales.