As B2B marketing teams adopt better CRM technology, they can do more advanced things to manage and convert business leads.
Read more: What is Progressive Profiling?
Progressive profiling is a great tool for growth teams. It allows marketers and sales reps to gather lead information over time. Many platforms like HubSpot can "remember" information about a lead from the past. So instead of asking them the same questions over and over, you can automatically present new questions on your lead forms.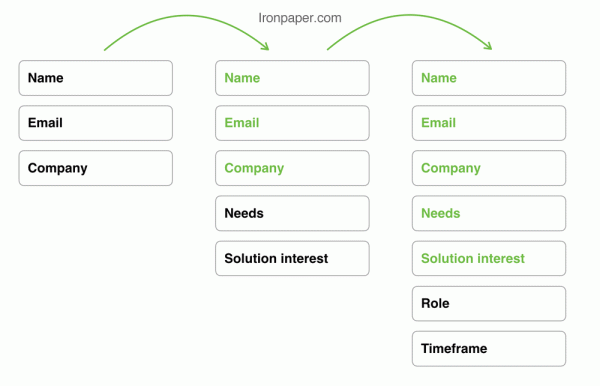 Use these form fields strategically, not arbitrarily. With progressive profiling, you can gain great lead intel that helps you:
Qualify a lead
Close more sales
Power quality conversations with sales
Nurture leads with better targeting
Route non-leads to the correct place
Improve segmentation of your CRM and sales pipeline
Follow these progressive profiling strategies to gather and use your lead intel more wisely.
Understand pain points + goals
Sales questions about your prospect's business pain points and objectives are closely tied to a won deal, according to Gong.
By understanding your prospects' pain points, you can tailor outreach and nurturing materials. And you can make sure your sales approach is relevant.
In progressive profiling questions, ask directly for pain point: "What is your team struggling with?" for example, or "What is your pain point?" As with most form questions, set up a drop-down menu rather than an open text field. This will help you organize your lead intel and get a response that's relevant.
In subsequent forms, ask for a drill-down into that pain point. And always make sure to include opt-out answers such as "other" or "none," so you don't force a positive response that could muddle your lead qualification.
It's also helpful to identify goals that can frame your value proposition. But you may need to start with some straightforward questions and then drill-down into more specific ones. For example, "What is your current software/system?" may be a question for technology companies, followed up by "What is your satisfaction level with X system?" This can translate to an implied goal of using said system better, or switching to a new system entirely.
Pain point and goal information can be used to segment and nurture leads. For example, if many of your leads are indicating a similar pain point, create an email campaign with content specific to them. Tailor any sales outreach around this pain point and goal, too.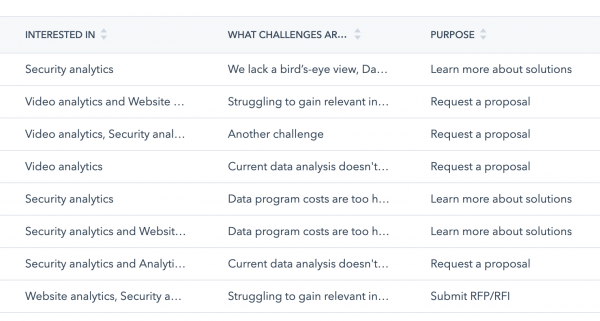 Read more: How to Nurture Content Leads
Detect buying readiness
19% of buyers want to connect with a salesperson during the initial stage of their buying process. –HubSpot
Detecting buying readiness is critical for marketing teams to know when to "hand off" leads to sales. Do this too early, and you run the risk of scaring a lead away. Do this too late, and you lose business to competitors.
Read more: The Missing Element in Your Business Growth Strategy: Marketing and Sales Alignment
There's a critical point when a lead might be ready for sales. You can identify this moment with several tactics in progressive profiling forms.
First, pose "purpose" questions in your forms. "What is your purpose?" might include highly specific intent answers like:
Talk to sales
Industry research
Job applicant
Vendor research
Request a demo
Second, always identify a buyer role early on. You can ask specifically for job title, seniority, or department to gain this insight. We've even seen clients ask the question directly with success: "Are you a purchasing decision-maker at your organization?"
In more advanced forms — such as a lead's second or third conversion, or on a high-value sales content offer like a demo — you can ask specifically for project budget within a range, and sales contact information such as phone number. By making these optional forms, you can detect if someone is truly eager to speak to sales, whether they submit this sensitive information or not.
And finally, always add a straightforward checkbox to your top-of-funnel forms, such as when someone downloads content. This will give them a chance to "fast track" directly to a sales rep:
"Do you want to hear from our sales team?" Check yes or no. Or, "Do you want to learn more about our analytics dashboard for operations professionals?" Check yes or no.
Filter non-leads
Not everyone who submits your form is a qualified sales lead. Also, not everyone will be excited to speak immediately to your sales team. Some may want to better understand their current situation better. But this doesn't mean you should toss aside these people. In many cases, your website forms will capture people who are useful to your business in other ways: partnership opportunities, job applicants, looking for information, and more.
Your website forms can help support other pipelines in your business, such as HR, press, and more.
Add progressive questions to help bucket these people into meaningful categories. For example, a "Describe yourself:" question can include drop-down options for job applicants, press, partnerships, customers, and competitors in addition to actual leads.
For example, we have worked with companies to run acquisition campaigns, in which we brought in people who were not business leads but represented acquisition or investment opportunities.
Using a marketing automation tool such as HubSpot, you can set up automatic alerts to company representatives in HR, partnerships, press/PR, and more. You can also create a "spam" list where you can filter out bad contacts altogether, and delete them regularly.
It's also critical to detect if someone is an existing customer, so you can avoid overmarketing to them and so you can direct them to the right place: sales or support, for example. In addition to asking "Are you a current customer?" or including "Customer" as an option in a purpose or "Describe Yourself" question, you can ask for identifying information such as customer ID. This will help prove that someone is indeed a customer and help you route them to the right place.
Progressive profiling serves many functions for lead generation, so spend time building a strategy for capturing lead intel and funneling your information into strategic outreach.
Sources
Gong, "The 7 Best Discovery Call Tips for Sales You'll Ever Read."
HubSpot, "Sales Perception Survey 2016."