Searching for a job in the marketing industry when you don't have a degree in marketing can be discouraging, but getting a job without a degree is entirely possible. The industry is changing, and a traditional degree may not be necessary for all positions.
Marketing has become a digital-focused, rapidly changing industry, and the growing number of interdisciplinary roles, self-education opportunities, and its fast-moving pace make marketing today more accessible than it's ever been. Marketing's digital evolution also means that university curriculums often can't keep up with all of the skills you need to succeed and the tools available to marketers. While a traditional degree can help you get your foot in the door, experience and knowledge can be just as valuable.
For individuals who want to enter the marketing world without a four-year degree, there are specific skills employers look for when hiring, and there are many opportunities for you to learn about the field and demonstrate your knowledge and skills. You can learn and practice many of these skills independently, and the experience you have in other areas may be more applicable than you think.
Learn how Ironpaper is changing the way agencies address employee burnout.
In-demand marketing skills:
Writing and communication
Marketers must be able to write and communicate effectively. While this may seem obvious, this core skill can make someone a leader in the field. If you're hoping to work in a content-heavy position like a marketing writer or content specialist, you will probably need to write for various clients, appeal to different target audiences, and maintain different voices.
But even non-writing roles require effective communication. Client calls and presentations are a part of agency work, especially as remote work becomes more common. You'll need to succinctly and effectively discuss the work you're doing and the outcomes it's created for the client. Marketers also commonly have to work on projects with writers, and being able to evaluate and discuss writing with them will make you a more effective marketer and a more valuable teammate.
Practice the following:
Writing about marketing channels or platforms
Researching and writing about a field of specialization or interest
Storytelling with data – using hard metrics to drive home objective points.
Best practices for specific marketing applications or channels, such as SEO, Google Ads, or social media.
Making technical subjects sound simple in writing or conversation
Telling a brand story through web copy and long-form content
Data Analytics
Marketers that can analyze data, produce thoughtful insights, and base a campaign around these results will thrive in any organization – with or without a degree. In today's digital marketing landscape, data is essential to every decision marketers make. The amount of data available to marketing teams is staggering and, frankly, can sometimes be overwhelming. Someone who can analyze that data, develop actionable insights, and communicate wins will find that they're hugely in demand.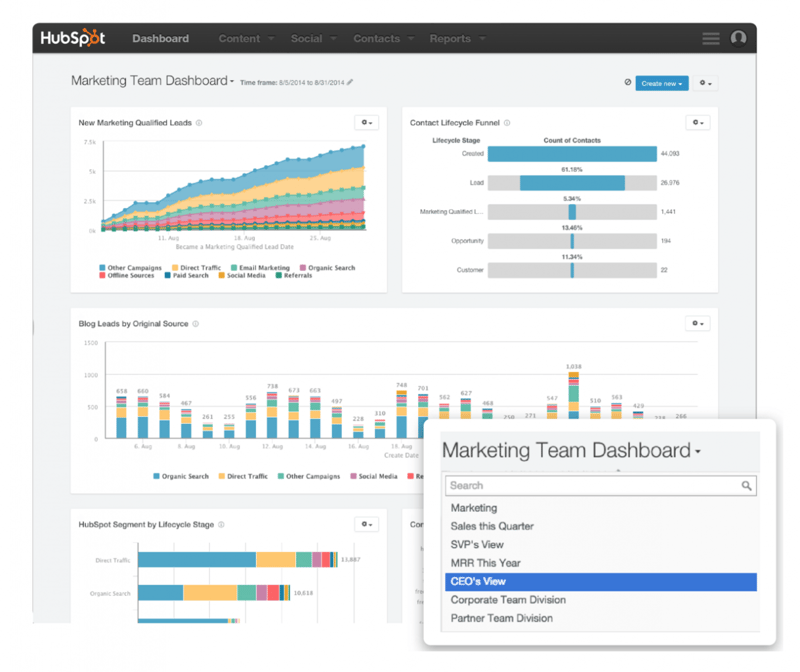 Marketing Technology
Learning the technology most commonly used by marketing teams can make you a much more attractive candidate for a marketing job. Some popular marketing platforms offer free versions of their tools or certifications you can complete without a paid subscription.
These are just some of the most in-demand types of marketing technology you can learn on your own:
A four-year degree isn't the only way to learn the most valuable marketing skills. These resources can help you learn the basics, get acquainted with the most popular marketing platforms, and demonstrate your willingness and ability to learn to your potential future employers.
Critical thinking
The pandemic accelerated changes already happening in marketing, and traditional rules and playbooks have gone out the window. A combination of left- and right-brain thinking, an understanding of marketing "rules," and the ability to know when to break them is necessary for developing campaigns that respond to buyer habits and decision-making. Looking critically at marketing campaigns and outcomes and whether they're meeting campaign goals helps marketing teams plan deliverables and measure results. That critical thinking will be vital as you try to break into the industry.
Putting your skills into practice
The skills we've discussed so far will help you build out a portfolio and knowledge base that will qualify you for marketing jobs. Now we'll discuss how to put those skills to use and get your foot in the door.
Demonstrate your experience with a portfolio
Thankfully, you don't necessarily need to work for a marketing company to get experience and build a portfolio. Instead, create a personal website and use it for marketing your personal brand and hosting your portfolio. A versatile portfolio will help you demonstrate your marketing skills and your ability to work on different project types and write or design for different scenarios. This is especially important if you're hoping to go into agency work – you'll likely be working with multiple clients and need to be flexible and able to work successfully in different contexts.
Get recognized certifications
If you don't have a degree, you'll want another way to prove your knowledge and skills. The free courses we highlighted before through HubSpot, Google, and other is a great place to start. You can highlight those on your resume and LinkedIn profile to show that you have a strong foundation and will be able to hit the ground running when starting a new position.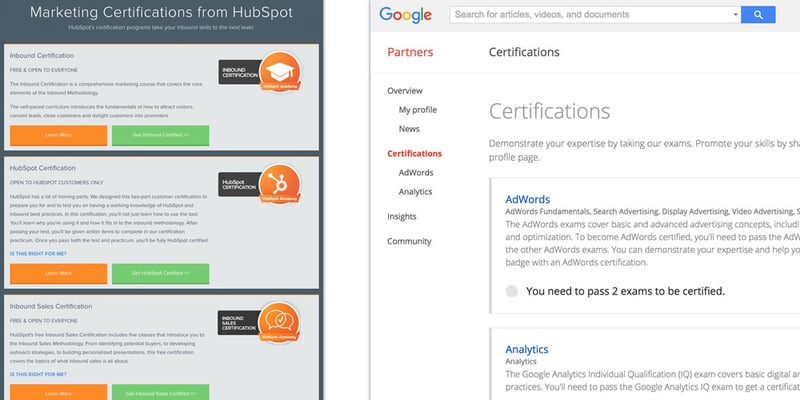 Learn the lingo
A crucial part of getting a job in marketing is being able to talk the talk; you'll need to know certain basic terms such as SEO, SEM, inbound, outbound, etc., and be able to talk about marketing in interviews and when networking. Reading and researching current marketing best practices can help you stay up to date on this terminology and help you have meaningful conversations with the people you encounter on your job search. Podcasts related to the industry can be a great resource as well – they are often more current than books and websites, and the conversational style of a podcast can help you better translate your understanding to real life. Marketers developing new skills should devote time to studying and practicing these crucial concepts.
Furthermore, fluency in key metrics and practices such as click-through rate, conversion rate, marketing qualified lead, sales qualified lead, demand generation, and lead generation should be a focus in your self-guided learning. Just knowing what these terms mean isn't enough; you need to put these concepts into practice and gain experience with each one. Practice using your website or blog and some of the free marketing tools mentioned above.
Network, network, network
You can attend meetups and events – both digital and in-person – to learn about job opportunities and advancements in the field. Again, marketers must be able to communicate effectively, so be prepared to explain why you are a strong candidate for a job and what makes you an effective marketer overall. Try meetup groups related to marketing, technology or tools, industries related to your desired field of specialization, writing workshops, and public speaking groups. These groups will give you networking opportunities and practice building relationships with others in the industry.
Perfect your resume
Your resume and LinkedIn profile should reflect your experience and emphasize the skills and knowledge that make you a strong candidate for the jobs you're applying for. As you add skills to your repertoire and apply for new jobs, revise your resume and create versions focused on different skill sets (e.g., highlight your analytical skills for data-focused roles, your writing portfolio for content roles, etc.). Your networking efforts can help you here as well - having colleagues and contacts review your resume and give you their feedback can help you create a resume that will make you an attractive candidate to hiring managers.
You should use your resume to speak to results and describe what you did to drive those results with each job or specific project. If you're new to marketing and haven't worked in the field yet, you can focus on the experience you have from running and optimizing your blog or website and emphasize the skills you've picked up outside the field (e.g., writing and communication, leading teams, project management, data analysis, research. etc.).
Practice is everything
The most vital lesson that we have to offer is to practice. Establish a blog and put your writing skills to practice. Try converting subscribers and nurturing them using the tools mentioned above. Learn to optimize and configure a conversion-oriented website that you own and operate and track your progress with Google Analytics, DataBox, and other freemium tools available to you.
Practice is everything. To get a job in marketing without a degree, you need to demonstrate the skills and knowledge you would bring to the role, and a website or blog is a great way to do that.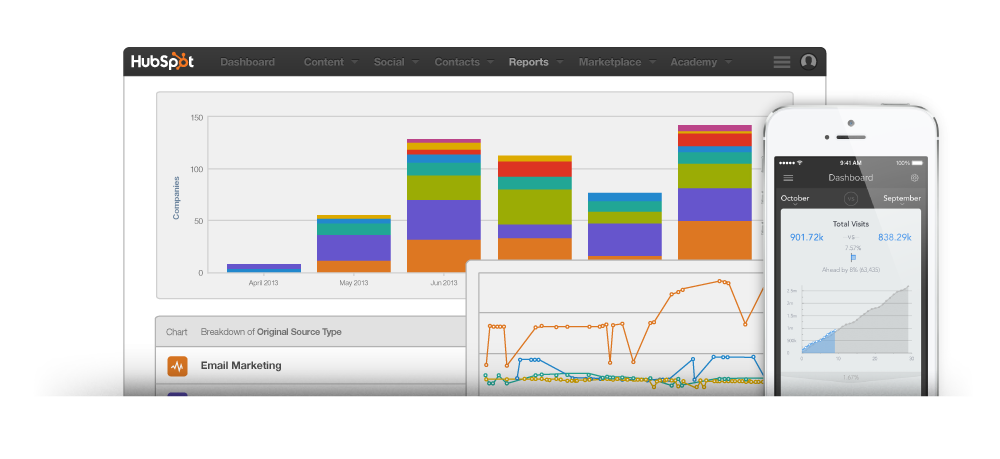 Don't wait until you have a job to build the skills. Hiring organizations want someone who can begin adding value right away.
Getting a job in marketing without a degree
Getting a marketing job without a degree might be more challenging than with a degree, but with the right technical and soft skills, you can break into the industry. Now that companies put more value on data insights, hiring managers are always looking for candidates who understand data and can drive best practices based on that information. So if you're interested in breaking into the marketing industry, the tips above can help you get a foot in the door without a 4-year degree.
Check out Ironpaper's Careers page to see what positions we're hiring for, or our blog for more B2B insights.