HubSpot is a powerful marketing technology. Yet many marketers who pour resources into the marketing tool don't set up a HubSpot funnel to convert contacts into customers.
According to Econsultancy's Conversion Rate Optimization Report, for every $92 spent acquiring customers, only $1 is spent converting them.
This indicates a major area of improvement for B2B companies who invest in HubSpot.
Marketing trend: Investing in conversion data technology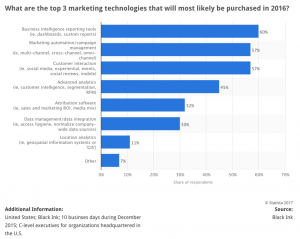 As you can see from this chart of the top 3 marketing technologies that B2B companies would most likely purchase in 2016, a huge spend goes to business intelligence reporting tools (60%) and marketing automation campaigns (57%).
These technologies make conversion marketing possible.
When good data is paired with an automation platform like HubSpot, marketers have the complete toolkit they need to create a conversion funnel.
What is a HubSpot funnel?
A HubSpot funnel is a clear conversion path that converts leads from first contact to final purchase using HubSpot's COS.
To create this pathway, you provide educational materials, lead nurturing, and chances to reconvert. Thanks to HubSpot, you may completely automate the conversion funnel after some initial set up.
Here are the tools and components for a HubSpot funnel:
Lead scoring
Lifecycle stage definitions
Content for the buyer's journey
Calls to action
Email nurturing and workflows
Now I will explain how these components work together to create a complete HubSpot funnel, and why it is necessary for B2B marketing success.
HubSpot funnel tool 1: Lead scoring
A conversion funnel is based on the idea that leads are in different stages of making a purchase. This three-step process is often called the buyer's journey, which we'll get to in a bit.
To set up a conversion funnel, you need to have some kind of lead scoring system so you know where people are in their relationship with your brand. This label tells you where individual contacts should fall in your HubSpot funnel. It also tells you how to nurture them accordingly.
According to Gleanster research, 50% of leads are qualified but not yet ready to buy.
For example, someone who visits your blog for the very first time is probably at the top of the funnel. This lead will have a low score until they complete more conversions with your brand.
https://www.ironpaper.com/articles/defining-a-b2b-customer-lifecycle-marketing/
Furthermore, someone who follows your brand for a while and fills out a "Request a demo" form has a high lead score, and you should treat them as such.
HubSpot funnel tool 2: Lifecycle stage definitions
HubSpot uses very specific lifecycle stage definitions in their CMS.
Since you will be tied to this framework, you should set up a way to define each lifecycle stage.
The lifecycle stage definitions are as follows: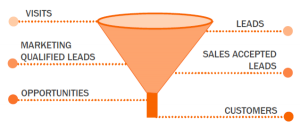 Lead – A lead, AKA a contact, is a website visitor who submits preliminary contact information to you. They are not necessarily qualified.
MQL – Someone who is marketing qualified is deemed to be a good fit for the company because they show a preliminary interest in the brand's content.
According to MarketingSherpa, 79% of marketing qualified leads never convert into sales. This is attributed to a lack of lead nurturing.
SQL – Someone who is a sales qualified lead responds to sales materials with interest. They may visit your pricing page or download a competitive analysis. They are also deemed a good business fit based on sales qualifiers, like revenue, industry, and company size.
Opportunity – An opportunity is someone who engages with a sales representative and becomes a sales opportunity for the business. As a result, the sales team might move an opportunity contact into HubSpot's CRM or sales deal stages.
In order to classify your contacts into the right lifecycle stages, you will need to use lead scoring to determine which lifecycle stage is appropriate.
Thanks to HubSpot, you can easily set up your criteria for each lifecycle stage with Smart Lists. This will flow people into the right lifecycle stage automatically.
HubSpot funnel tool 3: Content for the buyer's journey
HubSpot's CMS is positioned around content. In order to set up a HubSpot funnel that converts leads at a reliable rate, you need to create content that fills all the stages of the buyer's journey.
https://www.ironpaper.com/articles/how-to-match-content-to-buyers-journey-stage/
Content is the tool that takes leads from one stage of the HubSpot funnel and leads them to the next.
The buyer's journey consists of three stages. Each stage needs a different type of content.
Awareness stage: You encourage your top-of-funnel leads to read blog posts, eBooks, articles, and multimedia that help educate them.
Consideration stage: In the middle of the funnel, you provide content offers that help your marketing-qualified leads choose a solution. This can include in-depth guides, white papers, and templates/tools.
Decision stage: Your bottom-of-funnel leads consume sales content, like demos and case studies, that helps them make a purchase decision or confirm their vendor choice.
HubSpot funnel tool 4: Calls-to-action
How do you move leads from one buyer's journey stage to the next? With calls-to-action.
Calls-to-action are graphics, buttons, or text links that encourage a conversion down the HubSpot funnel.
https://www.ironpaper.com/articles/how-to-increase-lead-generation-with-a-focused-call-to-action-cta/
These CTAs exist on your website pages, in your blog posts, and within emails.
And with HubSpot, you can go a step farther to optimize conversions and set up Smart CTAs.
When you use dynamic Smart CTA modules, you dish up the next corresponding content offer automatically. This makes sure that leads will always have a fresh opportunity to convert further down the HubSpot funnel.
In addition, you can set custom criteria to show different CTAs to different contacts based on unique characteristics. For example, Persona A will see "Persona A" button, and Persona B will see "Persona B" button.
HubSpot funnel tool 5: Workflows and Email Nurturing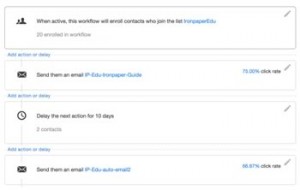 You provide content and calls-to-action to nurture leads down the funnel. But without email nurturing, you put all of the onus on your lead to take the next step.
How can you take that burden off of your leads?
By using workflows. No HubSpot funnel is complete without them.
HubSpot workflows can be automated to keep in touch with leads over time. To do this, you employ a series of emails to send to leads after they take a particular action.
For example, if a lead downloads your top-of-funnel eBook, you can set up a series with 5-10 email messages that provide value and encourage a middle-of-funnel conversion.
In conclusion, you should set up workflows to nurture each conversion on your website. You will use calls-to-action and content to reconvert leads. And as you classify leads as they advance down the buyer's journey, you create a completely automated HubSpot funnel.
With a complete HubSpot funnel, you save time, cuts costs, and convert more qualified leads into paying customers. It's an up-front investment that pays itself off in full.
Sources:
Black Ink. (2016 March). Black Ink's C-level 2016 Marketing Study. https://blackinkroi.com/c-level-2016-marketing-study/
Econsultancy. (2016 October). Conversion Rate Optimization Report 2016. https://econsultancy.com/reports/conversion-rate-optimization-report
Vaughan, Pamela. (2012 January). https://blog.hubspot.com/blog/tabid/6307/bid/30901/30-thought-provoking-lead-nurturing-stats-you-can-t-ignore.aspx