HubSpot is an incredible tool for lead nurturing. But few marketers know how to use HubSpot workflows to their full capabilities.
Why not use all the tools in your toolkit? Here, we'll show you the best ways to improve your lead nurturing campaigns with HubSpot workflows.
Businesses that use marketing automation to nurture prospects experience a 451% increase in qualified leads and nurtured leads make 47% larger purchases than non-nurtured leads. – Annuitas Group
Use personalization tokens
Personalization tokens are the most basic way to build relevancy into your campaigns. And HubSpot's personalization tokens go much farther than "first name," "last name":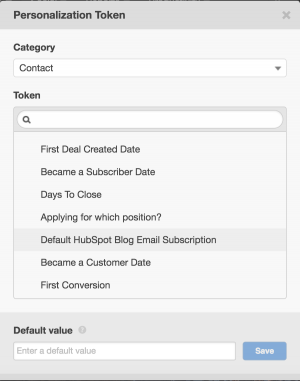 As you can see, personalization tokens can reference important data points in your contact profiles, such as first conversion or last page seen. This data is incredibly helpful for creating relevant emails.
Personalized promotional emails had 29% higher unique open rates and 41% more unique click-through rates in 2013. – Experian
Try updating a low-performing HubSpot workflow email with relevant personalization.
You can bring in any submissions from your form field responses. For example, if you asked recipients, "What's your biggest problem with [X]?" you could use that personalization token to craft an email that starts: "So, you're struggling with [X]... try this."
https://www.ironpaper.com/articles/statistics-on-marketing-personalization/
Implement a smart content strategy
You can go a step farther and create large, "smart" chunks of your emails using HubSpot's smart content tool.
Smart content works by pulling different versions of content for different leads. You set a criteria, and the tool displays the correct version to the recipient.
Examples of smart content segmentation might include:
Mobile device vs. desktop
Geographic location
Lifecycle stage
Contact list membership
Like personalization tokens, you can pull data from any of your collected data points. Anything you've ever asked leads to segment them via forms can be used as a smart content criteria.
Personalized email messages improve click-through rates by an average of 14% and conversions by 10%. – Aberdeen
HubSpot will even show you a panel of smart insights to kickstart segmentation ideas: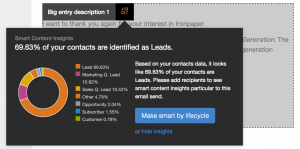 Segmentation is a fairly simple tactic to achieve with smart content. Start simple with your HubSpot workflows, then gradually build in more segmentation. It's a lean way to test what resonates and then scale up the segmented content that is performing well.
Create branching HubSpot workflows
The fullest evolution of personalization is to create branches off of your HubSpot workflows.
We recommend you start with one main, overarching workflow: we'll call this the "trunk."
The trunk workflow should apply to everyone who enters it. It's pretty generic, but it hits all the main stops and content points.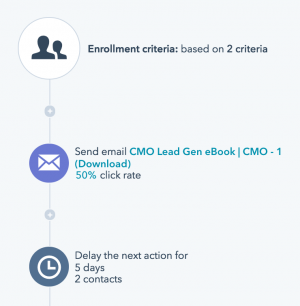 Once your trunk is built and you've tested it against some real contacts, you should build out trunk "branches" for relevant segments.
For example, you could build out a branch for "associates" vs. "chief decision makers." Or select any other criteria you've set for your leads.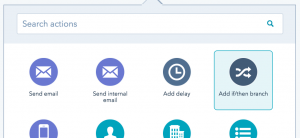 Then, you use HubSpot's "if/then" workflow tool to build your branches and corresponding emails.
You can also set "if/then" branches for actions taken during the workflow process.
So, if a lead is in a top-of-funnel workflow but then converts on a bottom-of-funnel offer elsewhere on your website, you can reflect the workflow accordingly.
Marketers who set up extensive branching workflows will have fine-tuned marketing automation machines to engage prospects in a seemingly one-to-one way.
Segmented and targeted emails generate 58% of all revenue. – DMA
Like with most digital marketing tactics, marketers must be driven by the data. Pay attention to your metrics on under- or over-performing emails to refine your workflow progression and content.
Test your CTAs
Successful HubSpot workflows are built around calls-to-action.
Ultimately, the goal of any workflow is to convert the recipient farther down the sales funnel. That's where calls-to-action come into play: They set the recipient up to take the next bite.
https://www.ironpaper.com/articles/hubspot-funnel/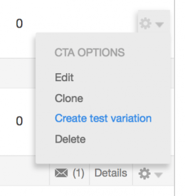 You should test your workflows with A/B tested CTAs to see what resonates with your recipients.
This starts in the CTA panel: Set up a CTA and then select "Create test variation" in the settings drop-down menu.
You can import your A/B-tested CTA into any HubSpot workflow email. Then you can monitor which variation is most successful in your CTA panel, and scale with a similar segmentation technique. This agile tactic will help you fine-tune a strategy that converts reliably.
Tip: Make sure to set goals for each of your HubSpot workflows and monitor overall conversion rates.
In conclusion
HubSpot workflows are the best way to convert leads through your sales funnel, but as a marketer, you need to spend time with your workflows to maximize performance.
Relevancy is the greatest converter, so use HubSpot's tools to incorporate relevancy into your workflow campaigns: personalization tokens, smart content, if/then branches, and CTA test variations.
---
Sources
Experian. (2013). Q2 Email Benchmark Study.
Aberdeen. (2015 April). B2B Social Media Marketing: Are We There Yet?
DMA. (2015). National Client Email Report 2015.