As we move towards a new year, businesses often take time to reflect on what strategies worked and what didn't work. Organizations think about what tactics to implement in Q1 and what tactics to retire with 2017. If your company is still performing more outbound marketing than inbound marketing, it's time to make a change.
See related article: 13 Critical Inbound Marketing Statistics for B2B in 2019
Outbound marketing pushes a message out and disrupts a buyer. Outbound marketing tactics include cold calls, direct mail, unsegmented email blasts, and "appointment setting." Inbound marketing brings the right people in. Inbound marketing relies on targeted tactics, building relevant communications, and generating a "pull" instead of a "push" effect. Inbound marketing tactics rely heavily on content marketing, analytics, and websites.
More and more companies are choosing to rely on inbound marketing tactics because of their proven success and relevancy. If your organization is still on the fence as to which type of tactics to bet on in 2018, here are ten inbound marketing statistics that demonstrate inbound marketing's power and impact.
10 Inbound Marketing Statistics Worth Considering
1. ALL of the most valuable content marketing types for moving prospects through the sales funnel according to B2B marketers is inbound marketing content (Statistica).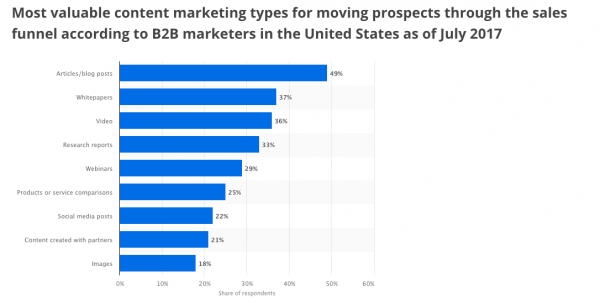 When asked what type of content works well to move leads through the sales funnel, the top three answers for B2B marketing were blog posts, white papers, and videos. All of that content are powerful tools within an inbound marketers arsenal. Outbound tactics such as direct mail or email blasts were not included on the list because they are less and less effective each year in bringing in qualified leads.
2. 68% of inbound organizations believe their marketing strategy is effective (HubSpot).
Inbound organizations know that their strategy works because it relies on using targeted content to bring in a relevant prospect. Inbound marketing works so well because it ensures a targeted message reaches a specific person that needs your product or service. Outbound marketing brings in a wide range of prospects, some who need your services and some who do not.
3. Content marketing costs 62% less than traditional marketing and generates about 3 times as many leads (Demand Metric).
Content marketing, which is an effective inbound marketing tactic, is much more cost-effective than traditional marketing practices. Since it brings in three times as many leads, businesses looking for better lead generation practices should consider inbound.
4. Conversion rates are nearly 6x higher for content marketing adopters than non-adopters (Aberdeen).
Aberdeen's study found that websites that make content marketing their primary focus received six times more website conversions than websites that did not focus on content marketing.
5. 46% of marketers reported that inbound marketing gave a higher ROI (HubSpot)
According to HubSpot, almost half of marketers said inbound gave a higher return-on-investment, while only 12% reported outbound did (41% of respondents could not answer or did not know).
6. 59% of marketers said inbound produces higher quality leads for sales (HubSpot).
When asked which marketing tactic provides higher quality leads for the sales team, 59% of marketers responded inbound, and only 16% reported outbound. 26% were reported as self-sourced leads from sales.
7. 39% of marketing budget is spent on content marketing by the most effective B2B marketers (TopRankBlog)
When studying effective B2B marketers, TopRankBlog found that these companies devoted an average of 39% of the marketing budget to content marketing tactics, showing how much they rely on a solid content strategy.
8. The demand for infographics increased 800% (Unbounce)
Infographics offer viewers a different way to digest information. Using information graphics are a great inbound marketing tactic for driving buyer interest and improving education. The demand for infographics has skyrocketed (especially in complex industries), as many prospects prefer to view content in this way.
9. B2B marketers use an average of 13 content marketing tactics (TopRankBlog). The most popular type of content marketing tactics used by B2B marketers includes blogging or writing articles, white papers, and case studies. Prospects like to read this kind of content when entering and moving down the sales cycle. Content like this allows the prospect to connect with the company, feeling more comfortable and confident when they make the buying decision.
10. 86% of highly effective organizations have someone in charge of content strategy (CMI).
When reporting on highly effective organizations, CMI found that 86% of them hired a person to lead the content strategy to ensure its success. Having this person on staff helped maintain inbound marketing tactics, which made the company more effective overall.
Inbound marketing is clearly an effective tactic for companies looking to increase qualified leads. Not only are more marketers relying on inbound tactics, but more are also reporting on its effectiveness and relation to an increased ROI. As outbound marketing tactics begin to become less and less relevant, marketers should continue focusing on inbound strategies for the new year.
Sources
https://www.statista.com/statistics/274986/best-content-marketing-elements-for-lead-generation-in-the-us/
https://www.demandmetric.com/content/content-marketing-infographic
https://resources.kapost.com/aberdeen-content-chaos.html?id=701E0000000AGpy&source=marketeer#_ts=1405356124683
https://www.stateofinbound.com/
https://www.hubspot.com/marketing-statistics
https://unbounce.com/content-marketing/why-do-infographics-make-great-marketing-tools/
https://www.iab.net/media/file/B2BResearch2014.pdf