LinkedIn has a new layout. This means that both brands and individuals must rethink their LinkedIn marketing strategy for 2017.
The cleaner, sleeker look will be "more intuitive and focused to bring conversations and content to the forefront," says LinkedIn.
50% of LinkedIn members report they are more likely to buy from a company they engage with on LinkedIn.
Additionally, the new algorithms are more predictive. This means a user's feed will show content they may be interested in, rather than content posted by their connections. And analytics may improve as well, making it easier to discover who is interested in your brand.
With this new design comes new best practices that B2B brands need to know. While certain best practices will not change on this platform, there are a few new LinkedIn marketing tips for B2B brands.
https://www.ironpaper.com/articles/using-social-media-to-engage-it-buyers/
1. Encourage Employee Advocacy
Employees' networks are collectively about ten times larger than your company's followers. Effective LinkedIn marketing requires your employees' help.
When employees share content, they typically see a click-through rate that is 2x higher than when their company shares the same content.
Additionally, LinkedIn is burying a company's own updates under an "overview" tab. This means employee advocacy is even more important with the new layout.
Company updates appear in a user's newsfeed only when they follow that company. In other words, company content will take a backseat to individual content shares.
Employees who are active on LinkedIn can help broadcast brand updates through their personal profiles. It will not only help the company, but it will help build their personal following as well.
https://www.ironpaper.com/articles/the-value-of-social-media-monitoring/
2. Build out Executives' Pages
The new 'Life' tab on the company pages shows an inside look at what it's like to work at a particular company. The company's executives appear right below the first image or video in that tab. Because of this, executives must have a robust LinkedIn account.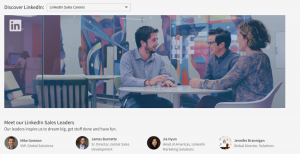 Since job seekers will most likely view this page to see what a position at the company would be like, brands should be aware their top executives will be on display.
Tip: Executives featured in this section should have well-written profiles with unique updates and content shares, since they are apt to get clicks on their profiles.
3. Blog on LinkedIn Publishing Tool
Scrolling down on the company 'Life' tab, next comes any blog that employee have written using LinkedIn's Publishing Tool.

Called "Employee Perspectives," this section highlights blogs recently written by anyone who has their company on their LinkedIn profile.
This gives more viewership to company blogs, and increases the chances for B2B lead generation. Executives should take advantage of this new feature to write insightful posts about the industry, and also about their company's philosophy.
Tip: Since this feature is sure to be used by job hunters, it's important to show the company in a positive light.
LinkedIn Marketing: An Important Tool for B2B Companies in 2017
Now that the company has made updates to its tool, B2B companies should stay updated on latest trends. With new paid social features, better analytics, and improved job seeking functionality, LinkedIn offers much-needed data for all companies.
B2B businesses should enjoy these new features. But they should also make sure to utilize the new layout.
80% of B2B social media leads come from LinkedIn, making this platform a tremendous tool for marketers.
This means investing more time in LinkedIn in order to build out executive profiles, set up an employee advocacy program, and create shareable blogs.
But with so many business- and hiring leads coming from LinkedIn, it will be worth it in the end.
The B2B guide to best practices on LinkedIn may shift or change as 2017 rolls along. These new features are new for every company, so brands are playing catch up trying to see what works and what doesn't.
It's important, however, to play close attention to the layout to see what LinkedIn features for company pages. Make sure your brand content is there to impress and convert your target audience.
https://www.ironpaper.com/articles/b2b-marketing-tips-prospects/
---
Sources
https://business.linkedin.com/marketing-solutions/blog/linkedin-elevate/2016/introducing-the-official-guide-to-employee-advocacy
https://www.linkedin.com/company-beta/1337/life/
https://business.linkedin.com/marketing-solutions/blog/6/60-b2b-marketing-quotes-stats-and-facts-for-the-modern-marketer