For industrial companies trying to break into a digital market, there are plenty of opportunities for your manufacturing marketing strategy: lead generation, customer conversion, and brand awareness. However:
According to the CMI, only 1% of manufacturing marketing teams rate their marketing as "sophisticated."
Whether you agree with this statement or not, there is clearly room for marketers to grow in their content marketing, campaigns, and website strategy. Here is top advice for manufacturing marketers who want to grow their presence (and business) online.
Invest in Your Website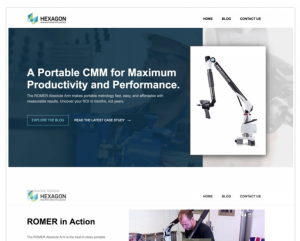 A strong manufacturing website should host thought leadership content, generate leads, and rank in organic search for key terms. However, without a great website design, you won't have the foundation to meet your goals.
Find a manufacturing marketing company to partner with you on a website redesign, if you don't have in-house capabilities.
Specifically, you'll need a website that:
Follows great design principles, providing an up-to-date and accessible experience
Looks and works great on mobile devices, since a growing percentage of web traffic comes from a cell phone
Can host fresh new content, like a weekly blog
Follows great lead conversion practices, with calls-to-action and a strong value proposition
Can be updated by your marketing team frequently, so you can make fast improvements and quick, testable iterations
Create Content to Grow SEO and Sales
You might know that many industrial companies are working content into their manufacturing marketing strategy.
In fact, 85% of manufacturing marketers are currently using content marketing, according to CMI.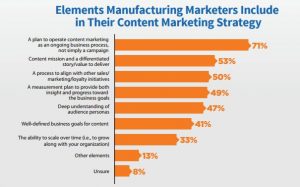 Content can serve several roles for your sales funnel:
Attract new prospects who are searching for industry information
Convert website visitors into business leads
Nurture new leads into sales opportunities
Help with the sales process, closing opportunities into customers
You might be wondering, how can content achieve all that? By producing content marketing throughout the sales funnel, you can achieve major business goals.
First, you'll need to buildup an organic presence — that is, "authority" in Google that allows you to rank for manufacturing- and product-related keywords. Blog regularly (1-2x a week) on topics of interest to your buyers. However, avoid the urge to write about product- or company-centric news and information.
Then, go a step farther by creating gated content offers, such as case studies and white papers. These should go into more depth about your solutions, but first and foremost, these must service your audience. By "gating" this content behind landing pages, you will start generating leads who provide their contact information.
Finally, work with your sales team to develop content to assist through the sales process. Maybe there are common hesitations to buying. Or maybe many prospects request a spec sheet, case studies, or something else. These requests can all be made into content offers, which are sent on a one-to-one basis by sales reps.
Promote Your Website to Key Audiences
When many companies decide to promote their website (especially within the manufacturing industry), they "spray and pray" — that is, send out a promotional message to a wide and un-targeted audience. However, you will drive more qualified leads online if you can target your campaigns.
Specifically, you should invest in these promotional channels as an addition to your organic search efforts:
Social media, like Twitter and LinkedIn: Find industry influencers and key buyers, and start following them on social media. Promote your blog posts and content offers to your page, and try to copy their hashtags.
Paid advertising, like AdWords and paid social: When you start out with a manufacturing marketing strategy, you might want to see results right away. This is where paid comes in. Spend time creating a targeted audience of your key prospects, based on their job titles, company sizes, etc. Then, promote your content in small iterations, testing to see what messaging works. But make sure to drive all traffic to a dedicated landing page with a form, not your home page!
Third-party sources: You can try to get listed in directories as one way to get more exposure. Also, build relationships with publications within your niche industry. If you can publish your own thought pieces, you will promote to a new audience.
Manufacturing Marketing Strategy Must-Have: Testing and Iteration
No marketing strategy is complete without testing and iteration. Don't create all of these assets, then "set it and forget it." Instead, it's crucial that you iterate weekly or even daily. That is, use analytics tools like HubSpot, Google Analytics, Hotjar, and SEMrush to track your keywords and page performance.
By staying close to the performance of your website — and knowing how many leads you're generating from different content offers and campaigns — you will pave a neat, clear pathway to do more of the successful stuff.
---

CMI. https://www.globalspec.com/advertising/trends-wp/2017_ContentMarketing_CMI.