Data is quickly becoming the preferred decision-maker in B2B organizations. And companies realize the need for improved data collection, analysis, and reporting. In fact:
42% of B2B marketing professionals state that a lack of quality data is their biggest barrier to lead generation.
Moreover, almost half of executives feel "significant pressure" to increase data's role in their current strategy. In fact, all of the top technologies desired by marketers in 2016 revolved around data and analytics: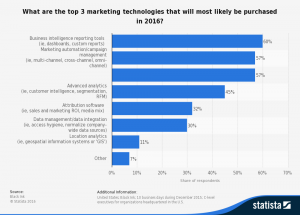 What's the value of marketing data for B2B marketers?
More and more, the value of marketing data is clear for B2B:
According to a study by The Economist Intelligent Unit (EIU) 60% of the professionals surveyed said that data is generating revenue within their organizations, and 83% said it is making existing services and products more profitable.
Since the drive to use data has never been stronger, B2B companies should keep in mind certain best practices for collecting, analyzing, and reporting on data.
Best practices begin with understanding which metrics matter. B2B companies still using vanity metrics such as total traffic will find themselves unable to make proper data-driven decisions. However, measuring relevant metrics can provide real insight into a marketing campaign.
Marketing Metrics that Matter for B2B Companies
B2B companies should establish clear goals based on results-driven marketing metrics, in order to evaluate campaigns that will actually boost business objectives. Specifically, businesses should focus on measuring:
Marketing-qualified leads
Conversion rate
Sales-qualified leads
Qualified leads per marketing channel
Return-on-investment (ROI) of specific marketing efforts
Marketing-Qualified Leads (MQL)
MQLs are leads often generated by marketing efforts (such as blogging, social media, and paid campaigns). This lead is not quite ready to buy, but they do fit some baseline criteria for a potential customer: First, they are interested in the company's product or service, and second, they could make a good fit based on early-stage criteria, like company size.
The definition of an MQL is up to each business to decide. You may want to consider gathering criteria in a form field, such as: company size, industry, average annual revenue, etc. Having many MQLs means the marketing team is doing a good job of attracting qualified potential customers to the site, and sparking interest in the company.
Conversion Rate
How many visitors convert into leads? And how many marketing-qualified leads become sales-qualified? Finally, how many SQLs convert into customers?
These are all potential measurements for a conversion rate. A conversion rate should measure a specific, measurable jump in the sales funnel: Anything from a newsletter signup to a demo request. You should also consider quality standards for a conversion rate — Will we count non-qualified leads into this percentage, or only highly qualified leads? Over time, as you generate more leads online, you will generally tighten this definition around more qualified leads.
Not all leads will move down the sales funnel, but companies should measure how many convert further (and then try to determine why). By measuring conversion points throughout the funnel, you can start to identify where you might have high drop-off, and tighten that area with lead nurturing and content.
Sales-Qualified Leads (SQL)
An SQL has been nurtured along the sales funnel and is more likely to purchase than an MQL. This lead is most likely now in touch with the sales team, who is nurturing them into a customer. Like marketing-qualified leads, marketing teams identify SQLs by setting a unique definition for what makes a lead "sales qualified." Do they request a demo? Click a link in an important conversion-focused email? Show interest on your pricing page?
Measuring SQLs will help you understand if your sales funnel is functioning properly. If there are many MQLs but not many SQLs, you're not properly nurturing along the sales funnel. Therefore, you may need to adjust messaging and content for these contacts.
Qualified Leads per Marketing Channel
Where are your company leads coming from? Companies should be sure to break down measurements between campaign tactics, such as organic traffic, social media, and email marketing.
But first, make sure you have marketing automation software in place (or can become well-versed in Google Analytics.) These tools will help you track how much traffic converts from each marketing channel. And by pairing that info with conversion points through the funnel, you can see where the most qualified leads are initially coming from.
Moreover, this metric helps your marketing team focus on efforts and tactics that produce results. Then, you can optimize or cut spending on campaigns that do not drive as many leads. This is the foundational metric for "lean" marketing.
ROI of Specific Marketing Campaigns
Producing an ROI for marketing campaigns proves the value (and any costs incurred) of that strategy. And by understanding how much value is produced, compared to how much money is put into a campaign, you can convince executives to invest further in marketing.
These metrics measure exactly how a campaign performs, as well as how each campaign compares to the others. This data can then be the decision-maker for future campaigns. Therefore, team leaders will understand what actually works (and what does not.)
Data Collection for B2B Companies
B2B marketers can collect data from a variety of sources. Typically, data collection is either explicit or implicit.
Explicit Data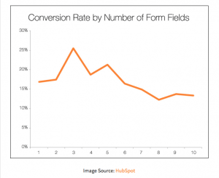 This data comes from the lead himself, in a variety of ways: landing page form submissions, surveys, or contact forms. When users fill out information, the marketing team can collect and store this data in a CRM software.
Explicit data can only get you so far, however. Unless you're willing to ask dozens of questions of your lead (which will hurt conversions), you will need to rely on implicit data as well.
Tip: To encourage a form submission, add some high-value content in return, such as a white paper, an educational eBook, or a newsletter subscription.
Implicit Data
This data type comes from monitoring activity that the lead takes online, usually through the form of cookies and marketing software.
This method collects data on how the user interacts with the website, including browsing data on specific pages, link clicks, and time on page. These data points help a marketer identify two things: A lead's fields of interest, and a lead's readiness to buy. Basically, the marketer is making implications from a lead's actions.
For example, if a lead is browsing your pricing and services pages, they may be more sales-qualified than someone who is merely reading one blog post every week or so.
Tip: Marketing automation software, like HubSpot, will make implicit data collection simple by monitoring activity for leads on an individual level. Furthermore, you can partner with a HubSpot agency who has experience gathering data and setting up segmented lead campaigns.
Importance of B2B Marketing Data
Marketing campaigns change often, but they must change based on data reporting, not on what a marketer thinks the target wants. Data can help tweak and adjust campaigns, constantly improving the strategy. Giving marketers access to data improves campaign decisions and allows them to show their value through marketing ROI.
https://www.ironpaper.com/articles/website-metrics-sales-growth/
---
Sources:
https://go.brighttalk.com/rs/105-RTY-982/images/Holger_B2B_Lead_Gen_Report.pdf?aliId=91476386
https://www.eiuperspectives.economist.com/technology-innovation/business-data-0?