In the past, marketing teams were concerned with softer metrics like social media shares, video views, and webpage visits. These metrics spoke to marketing value, but not business value i.e. revenue, and it was hard to convince stakeholders to invest in or appreciate marketing.
However, B2B marketing teams are realizing their role for the organization can be to benefit the business' bottom line in more direct ways.
With the rise of better marketing technology for lead generation and lifecycle management, B2B marketers are learning that through analytics and strong content marketing, they can generate and nurture leads through the funnel.
This opens up a whole new realm for CMOs and digital marketers alike: What do our goals look like now, how do we qualify the leads we're bringing in, and how do we work with sales teams for a strong B2B funnel?
Setting realistic but results-driven goals will help B2B marketing teams continually prove their value.
Marketing Goals Examples for B2B
85% of B2B marketers say lead generation is their most important content marketing goal. – CMI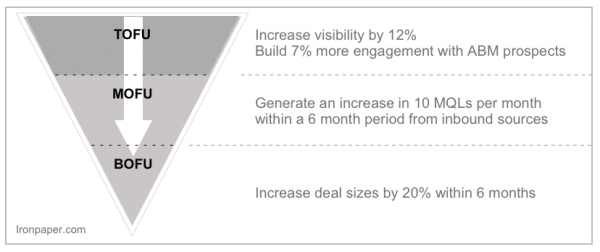 Strong goals for B2B marketing teams today include:
Qualified lead quota
Lower cost per qualified lead
Website conversion rate growth
Sales opportunity generation and enablement
Qualified Lead Quota
Website traffic matters very little now for hungry sales teams who want actual traction in their pipelines. Instead, sales teams are asking for leads. But while several years ago "leads" would be a fine focus for marketing teams, today, marketers must generate qualified leads to prove the value of their spend.
Read more: How to Bring Better Qualified Marketing Leads Into Your B2B Funnel
Marketing teams must align with sales teams to generate a qualified lead definition — who is a budget-qualified decision maker in our target market? What is their job title, company size, and pain point? A shared definition will avoid confusion or hostility down the road.
Once generating this definition, B2B marketers need to adhere to this criteria and test all of their efforts against this audience. Anything that yields quantity but not quality of leads should be optimized or discarded. Setting a weekly or monthly qualified lead quota is a helpful tool for a sales and marketing SLA – "This month we will generate 25 qualified leads, up from 20 last month."
Lower Cost Per Qualified Lead
Before digital technology, the cost and value of your marketing efforts was hard to prove. Especially with outbound techniques like advertisements, cold emails, and other untrackable or offline strategies, marketers could infer but not prove that their spend yielded results.
For B2B software marketers, the top sources of new business are organic search, SEM/PPC advertising, and word of mouth referrals. – Capterra
Today, marketers should strive to set goals around cost per qualified lead. It doesn't matter how much your marketing team is spending so long as your cost per lead justifies the spend. Teams with budgets of $500 or $50,000 can both be successful.
To accurately measure cost per qualified lead, ideally you need a robust CRM software (like HubSpot or Salesforce) to track your spend per channel against the lead numbers you have coming in. A lower cost per qualified lead goal is a metric that will get all business parties on board – "This month by focusing on LinkedIn Lead Generation and Organic Search, we aim for a $150/qualified lead goal, down from last month of $200."
To lower this metric, B2B marketers need to test numerous channels, optimize regularly based on their tests, and shift budget around in a lean way towards the channels with the lowest cost per acquisition. Note: This metric will not be relevant if you're not qualifying your leads first. You need to calculate only genuine leads into your math (not spam or unqualified contacts).
Higher Website Conversion Rate
We already mentioned that website traffic is becoming less and less important. In fact, at Ironpaper we've seen clients cut their website traffic by a third while still growing lead generation steadily. This is because website traffic doesn't speak to who is visiting your website. As you become more targeted in your approach, you may attract fewer but more relevant people, and that can be a good thing.
Overall, though, you want to maintain and grow your website conversion rate, ensuring that people visiting are turning into leads and submitting information. A goal for website conversion rate might include: "Raise conversion rate from 1.25% in Month 1 to 1.75% by Month 3."
Strategies include conversion rate optimization, or A/B testing different messaging, calls-to-action and designs to see what works gradually over time. You should have your finger on the pulse of your overall conversion rate but also your individual channel conversion rates – organic traffic vs. social media vs. paid advertising, for example.
Sales Opportunity Generation and Enablement
As marketing teams adopt tech faster than many sales teams, including tech-supported strategies like analytics and content marketing, naturally sales teams can benefit from partnering with their marketing counterparts. Especially for sales teams who have shifted away from legacy outreach like cold calling/emailing, they're relying on tech-savvy marketers to generate reports of inbound lead performance.
Only 29% of people want to talk to a salesperson to learn more about a product, while 62% will consult a search engine. – HubSpot
This is a vital opportunity for marketers to step in with support and strategy on content marketing, email marketing, and even direct outreach. Marketers can use tools like AI, chatbots, and drip email campaigns to nurture new leads towards an eventual sale. Marketers can also use their CRM tools to qualify leads and segment them.
Such a marketing goal example might include: "Provide content and email optimization tips to convert 10% of MQLs into SQLs."
With the right tactics and a laser focus on results, B2B marketing teams can support their organizations across many major goals. The right goals are specific but reasonable, and informed by the data of what you're already achieving.
Related article: Top of Funnel Marketing: Strategies for Acquiring More B2B Leads
Sources
Capterra "Software Buying Trends"
CMI (Content Marketing Institute), "B2B Content Marketing: 2016 Benchmarks, Budgets, and Trends–North America"
HubSpot, "How Sales Teams Need to Evolve" Report, 2016