Your homepage is often the first impression many prospects will see of your company. Sure, they may click an advertisement or find you through a social media post — but your website homepage is your major chance to own the buyer's journey and build a dialogue all about your buyer's problems, goals, and unique needs.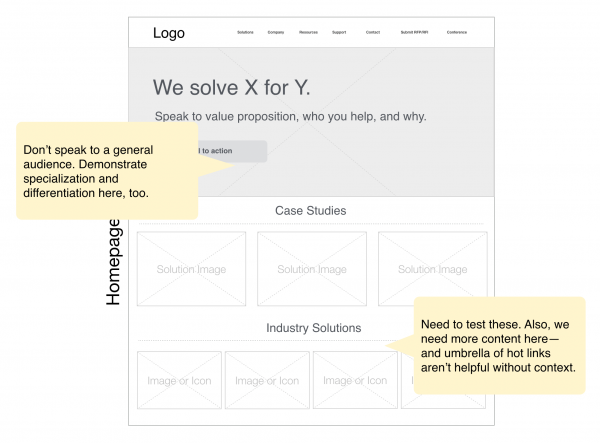 Unfortunately, many technology companies put too much stock in the design of their homepage. They think that having up-to-date, flashy graphics and catchy headlines will be enough to "wow" B2B tech buyers and propel them to speak to a sales rep. But you build true relationships by communicating authentic and compelling value, which can happen by optimizing your current homepage layout.
Keywords + Headings
Website homepage headings are the flashing billboards of your technology website. What do yours say? Are you clearly communicating the what, how, and why of what you do, as well as who you do it for? Advertisement-like, poetic or aspirational language is not appropriate for a homepage heading; for example, "We are where we go" or "Innovative solutions, incredible results." These statements speak to no one in particular and they don't communicate value. As a result, your prospects will likely take one look and think "this doesn't apply to me" at the critical decision point.
You only have a few seconds to convey value and capture attention. Your homepage needs to:
Categorically say what you do, i.e. "Data-gathering software to help advertising planning,"
Answer who it's for, i.e. "CTOs at enterprise companies," and
Speak to either pain or value that you solve, in the lexicon of buyers.
The main heading, or H1, is also critical for search engine optimization or SEO. Identify your H1 in the code of your website and update it to be keyword-rich. This is one of the top indicators for search engines, so use this real estate wisely. Your company name or a vague catchphrase will not benefit you. H2 and H3 tags should also be optimized for keywords while maintaining their explanatory value.
Set up analytics for any keywords on your homepage to track progress. Look up your existing word choices to see if any of them are actual keywords, with a tool like Keywords Everywhere. Try phrases that you're not already using because they may resonate more with target tech buyers. Track insights right away and populate a tool like Agency Analytics to see your ranking and strategize improvements.
Read more: Marketing Your B2B Technology Company? You Need These Tools
Alternative CTA
Effective technology marketing uses education to incentivize and educate new leads. Is there any content or conversion point on your homepage that could draw new visitors? Instead of "Learn more" or "Contact us" calls-to-action, get more enticing with a downloadable PDF such as "Download the Big Data Guide for Retailers." Prospects will be enticed by a quid pro quo, and more than likely they're seeking education before moving to any sales-driven conversation. Offers that hit in the awareness or consideration stages of the buyer's journey, aka that layout related technology problems and solutions to educate clients, are good options for a homepage.
If you have no content offer but still want to hit qualified leads in the consideration stage, one easy recipe is to create a 3-4 page solution sheet of your product(s). This offer can replace "Contact us" on your homepage. Better yet, create a trackable CTA using a tool like HubSpot to measure clicks and A/B test different options.
Read more: 15 Digital Marketing Trends for B2B Technology Companies
Meaningful language
Sadly, messaging is usually an afterthought in most website design initiatives.
The main role of your homepage text is to define who the solution is for clearly. Remove fluffy language like "Introducing X [Company Name]," which says and means nothing. That preceding copy doesn't inform, inspire, drive action, or give anything value-added. Also avoid generic language that assumes your audience identifies themselves, such as "A solution for your unique business needs." Prospects will ask: Who is it for? What does it do? So reduce generic statements in favor of specifically addressing your tech buyer.
If addressing multiple audiences, create a bullet list and address all intended recipients within the target audience. For example, you can list out multiple job functions or industries that you serve.
Present not just how you work, but business outcomes. Buyers don't know why your product is important; No one inherently knows. What does having certain IoT intelligence or tools get them? What are the outcomes of a data-driven technology solution? Answer the "why" of what you do: A solution to a problem, value outcome, or definition of service against a group of people.
Use structured headers to say something, for example, "Using location data to unlock audience insights." If you struggle to know your value statements or differentiators, ask the sales team. Do you have a unique sales process, a three-step onboarding strategy, a product-market fit diagram? These can all be identified in your homepage copy as differentiators. Document sales insights, because you'll earn ammo to use in decision-making for homepage copy.
Analytics
Data drives improvement and reveals which choices are useful for your homepage over time. Heat-mapping tools like Hotjar reveal where prospects click and how far they scroll. If you have videos and want to get serious about account-based marketing in understanding your users, can use a platform like Wistia to capture analytics on video views for particular buyers in your CRM. You'll reveal if leads are actually watching your videos and for how long. By answering questions like "Where is the dropoff point for this clip?" you use analysis to get better information and tailor your approach.
Gather good lead data as well. Avoid generic forms and instead ask good questions that are interesting to answer: "What is your problem?" "What are your business aspirations?" for example. Aesthetic or length matters little if you ask good investigative questions.
You can find how your company solves those particular issues for prospects, and that is profound. In later progressions of forms, use progressive fields to ask more in-depth questions about solutions, budget, and other qualifiers once the relationship is built.