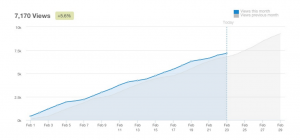 Search engine optimization is important for every B2B company. However, SEO for technology companies is especially crucial, because in the tech market, you're competing against many companies who also have a strong online presence. Your leads are tech-savvy, and in a very saturated market, they don't need to look far to find your competitors.
What's more, in search engine results pages (or SERPs), you're playing with high stakes:
81% of B2B purchase cycles start with a web search, according to Earnest Agency, and 57% of B2B marketers say SEO has the biggest impact on lead generation, according to NewsCred.
Clearly, leads and business are on the line! So here are top SEO tips for tech companies. Some are general best practices, and others are more unconventional strategies we've used to grow organic leads for B2B technology companies.
Start with keyword research and identify 4-5 industry targets
First, you need to start with an SEO plan that targets interested tech leads. While it's important to have high "authority" in Google overall, it's more important to rank for keywords your buyers would search.
70% of the links search users click on are organic. –imFORZA
To begin, you can start with a spy tool like Spyfu to see what your competitors are ranking for currently. Identify targets that you could create competition for in SERPs. (Spyfu will also be helpful later to measure your progress in search engines.)
Then, you'll want to find new keyword opportunities. So conduct research in a keyword tool like HubSpot, Moz, Agency Analytics, or in a Google search to find technology keyword targets. The "sweet spot" for SEO is to find keywords that:
are low in competition (often graded as a "Competition" score)
have a sizable search volume
and also pertain directly to your technology services
Narrow down your keyword targets to a handful, then create an SEO landing page for each keyword — what we'll refer to as a "pillar page." Include the keyword in the page title, in headings, in your image alt text, in your meta description, and in the page copy. Make sure each pillar page has a form for conversion, and some kind of call-to-action.
Your goal will be to convert leads on pillar pages, and drive website traffic to them.
Publish regularly to support "pillar pages"
Also known as cornerstone content, pillar pages are where you want to drive much of your ranking power towards. These pages should directly support your business and generate leads. For example, you want someone searching "Internet of Things Consultant" (or a similar keyword in your industry) to find you first, and convert on your page. Therefore, it's important to support these pages with fresh, consistent content.
B2B marketers that use blogs get 67% more leads than those that do not. – HubSpot
In order to build steady authority around your pillar pages, keep a blog that you publish regularly. Write around topics related to your pillar page, and link to your pillar pages within your content.
Blog posts can be:
Explanations of technology topics in your industry
Trend and statistics articles
Thought pieces from executives
Analysis of current events in your market
However, seek to service your audience whenever possible. SEO for technology companies should not consist only of news about business' events, products, and employees. These topics — though tempting to many B2B technology companies — won't earn a new audience in search engines. So publish them sparingly.
Utilize other SEO factors: Social Media and Third-party Publishing
Beyond publishing on your own website, there are other factors that can boost SEO for technology companies. In one example, you should take care to get your content in front of a bigger audience.
So make connections with journalists in your industry, and try to contribute to LinkedIn Pulse, Medium, and other industry publications — always linking back to your website. These will show Google that you are earning "backlinks," or stamps of approval when other sites link back to your own.
Also, social media publishing is important for a few reasons. Here are some best (though not commonly used) practices:
Don't guess at hashtags or use them randomly. Instead, research for the best hashtags on Twitter and use those. The more relevant your hashtags are, the more exposure you'll get. And the more often your content is shared, the better your SEO will be.
Use company accounts to promote content. Make sure you're starting promotion with your own team. Add value to the posts, and avoid being spammy by publishing too often. Consider posting to LinkedIn, Twitter, Facebook, and Google+.
Share other content in your industry. This will help with thought leadership, but from an SEO perspective, it will increase the likelihood that someone will return the favor.
Keep your website speed and technical factors in the green
Run site performance and SEO tests regularly. Google will take the speed and user experience of your website into account for your ranking. For example, if you have irritating pop-ups on your website, Google will dock this against you. The same goes for a slow-loading website, or a site that isn't optimized for mobile. So give as much care to you website's foundations as the content you publish.
SEO for Technology Companies is a Long Game
Don't expect to see your results overnight. But if you keep up with your SEO strategy, publish high-quality articles for the right audience, and maintain a usable website, you will start to see traction.
---
---
SEO for Technology Companies Sources
Earnest Agency. https://www.earnest-agency.com/ideas-and-insight/earnest-in-motion/vital-statistics-for-b2b-marketers-two/
NewsCred via Social Fresh. https://www.socialfresh.com/marketing-statistics-every-cmo-should-know-in-2014/?utm_medium=Webbiquity.com
imFORZA. https://www.imforza.com/blog/8-seo-stats-that-are-hard-to-ignore/
HubSpot. https://blog.hubspot.com/marketing/business-blogging-in-2015