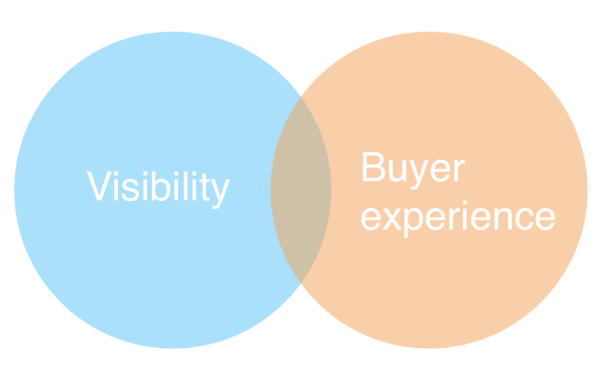 The challenge of striking a balance between your SEO goals and user experience is nothing new for marketers, but in recent years, the balance has shifted. Instead of considering the needs of robots and algorithms first, content needs to be crafted with the needs of a company's target prospects in mind.
Keyword density or bounce rate are not presiding goals in and of themselves. Instead, brands must create content that nurtures and educates prospective customers as they progress along the sales funnel. Understanding the needs of a niche readership and focusing on their needs helps to create relevancy as you nurture these readers and give them reasons to convert. Matching this content to what customers want and need encourages the positive signals that Google equates with good results. Ultimately, brands must look beyond traffic metrics and examine the quality of outcomes that align with business goals.
High quality content that performs well is crafted with a purpose and based on concepts instead of keywords. While a robot or algorithm can't necessarily assign your content a quality score, the engineers behind them have noticed the way searchers behave when they find content that helps them, and now associate certain behaviors with high quality content, including:
Reader feedback
Analytics metrics and article shares
Links back to the content
Citations
Leads generated
Conversions influenced
Quality of leads
Creating Purpose-Driven Content

Instead of thinking about the topic of the article as a starting point, consider crafting pieces around a purpose. To do this, take some time to define what engagement metrics are important to you and what kinds of content help to drive those metrics up. Incorporate multiple content types to cater to the way your potential buyers might prefer to conduct research, like:
eBooks: e-books allow you to make a longer pitch that can help move prospects who need more information than a simple blog post or email can offer along the pipeline. Combined with a strong call to action, they can also work to fill the top of your pipeline with new leads.
Articles that incorporate research, stats, and evidence of critical trends
Articles that share thought-leadership with a structural understanding of a problem
Guides: Guides can transform buyers into evangelists for your brand by helping them understand all the features and benefits you offer.
Infographics: The mix of graphics, text and visual representations can help readers who are visual learners connect with complex concepts.
Articles on Medium, LinkedIn and other thought leadership sites: These platforms help you draw more eyes from prospects who are already familiar with key terms in your industry.
Constantly creating new relationships and evolving them is a key part of the content engine. If the purpose of a content piece is to generate interest from totally new prospects, identify those queries that buyers at the top of your funnel might need to be answered. These might include:
Prospective buyers who are so close to the top of the funnel that they haven't yet considered your service as a solution to their problem. They may not even know the extent of their problem yet.
Existing leads who need to move along the funnel towards conversion. Building trust with them will help them place confidence in you and deepen the relationship. One of the best ways to establish yourself as an authority is to present a solution to common pain points that affect your prospects. These content pieces may appeal to a niche audience, but they might represent a large section of your buyers. While these prospective customers may not convert soon, they will eventually, and once you've established a relationship, you can help to nudge them along.
See also: How to Bring in Better Qualified Marketing Leads to Your B2B Funnel
Google's Developer Documentation Style Guide suggests that you convey purpose from the start with the tone of your piece.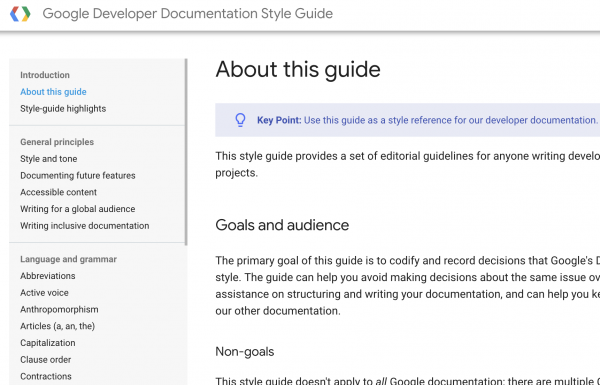 Match your tone, voice, and substance to your persona's needs and preferences, as well as how you want to appear as an organization. Are you a friendly, helpful resource or an authoritative pacesetter in the industry? No matter which voice you choose, use short sentences for easy readability on any device.
Creating Relevant Content
Nailing the intent behind a search and the format that searchers will prefer the most helps keep your content evergreen and relevant for the longest possible time.
Targeting intent behind keywords begins with long tail keyword research and forming a larger picture of the searcher. Queries can hold important clues to where searchers are in the buyer's journey. For example, queries that begin with "benefits of" or end with "reviews" indicate that prospecting are still gathering information as they decide about a product or service. Queries that include a brand name or product name indicates the searcher is a little farther down the funnel, has done the initial research and now has a few vendors in mind. Matching concepts and topics with keywords leads to stronger content pieces that answer a prospect's key questions while naturally increasing your ranking for those keywords. Content marketing plays a dynamic--not a single purpose role.
The format is another key to presenting the most relevant result that gets the most clicks. Are your buyers looking to scan a list of key features? Do they need a video to explain your service fully, and how likely will they be to watch this video? What social platform are they spending time on, and how can you grab their attention?
Focus less on manipulating users to find (discover) your website or brand, and focus more on making sure you are meeting their goals when they arrive.
Further reading: Mistakes Small Businesses Make with SEO
Creating SEO Content That Drives Outcomes for Business
Once you have a wealth of content, the conversions aren't going to start pouring in. There may be adjustments to be made and improvements to try. Deeper metrics can provide more insight on how visitors are behaving, and what content pieces are lacking.
Engagement: Traditionally, the longer a visitor stayed on site, the more engaged they were. But social interactions can signal engagement in different ways. Sharing a video to all their followers might take a second, but it can indicate that the person is becoming more engaged with the brand and more aware of the services they provide. A tag on social media can indicate a potential buyer sharing with another decision maker in their office or home.
Visitor flow: Google analytics provides a behavior flow map that can show you the points where people are leaving the site. Once you've figured out these points, heatmapping tools can give insight into where visitors are losing interest on each page and what elements may need to be restructured.
Lead acquisition: The best lead acquisition campaigns focus just as much on what happens after a lead comes in and how they become a qualified prospect. Workflows are a great way to measure how engaged potential buyers are and keep them moving down the pipeline in a set time frame. To ensure they work effectively, segmentation of potential buyers must be on point, which might mean creating several workflows targeting personas with only small differences between them. The content delivered in these emails should be focused around assuring your buyers you can meet their needs and help them overcome major pain points.
Opportunity nurturing: Progressive profiling of your current prospects will not only help you segment them better, it will help you avoid being classed as graymail. Ask questions to help identify their goals and challenges and use the insights you gather to fine-tune your messaging and create more specific segments within your prospects.
Too much of today's SEO work focuses on creating a high volume of traffic, without stopping to consider what happens after prospective leads hit the page. While traffic increases are important, the traffic must include prospective buyers who are interested in your product or service and likely to convert at some point to be worth the time and effort. SEO is nothing without relevant content pieces that nurture prospects until they convert. Creating quality content takes forethought, research and effort, but it also powers a real SEO strategy that search engines and human readers will reward equally.