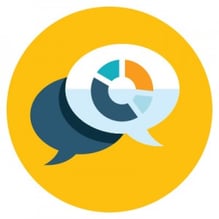 The following article features a collection of the latest social media marketing statistics. We looked at data from surveys, studies, and industry predictions to compile this collection, which is meant to help companies and organizations update and optimize their social media marketing strategy for 2015:
B2B marketers are continuing to find social media to be an effective method of generating leads, distributing content, and expanding their reach in 2015.
54% of B2B marketers have generated leads from social media. – CMO
LinkedIn is the only platform the majority (62%) of B2B marketers consider to be effective. – CMO
60% of all social media traffic to B2B websites comes from Facebook, Twitter and LinkedIn. – SteamFeed
U.S. B2B marketers are projected to spend more than $100 billion on social media advertising by 2017. – Gerardo Lara on Pinterest
For online retailers, getting happy customers to engage on social media and make recommendations to their peers is a highly effective way to drive traffic and sales.
93% of shoppers' buying decisions are influenced by social media because 90% trust peer recommendations. However, only 14% of shoppers trust advertisements. – #Socialnomics 2014
Just 18% of consumers trust posts by brands or companies on social sites like Facebook and Twitter. – MediaPost
For online merchants, the average order value influenced by social media in 2014 was $143.46. – AddShoppers
For online retailers, Pinterest (24.8%) and Facebook (24.2%) drive the highest share of social revenue. – AddShoppers
The time is now for companies to develop a viable strategy to respond to customer service requests through social media, as it's a trend that's quickly gaining prevalence in 2015.
Customer service requests through "eService" channels – including web, social and chat – are expected to grow to 53% in 2015. – Bluewolf
90% of enterprises say they use social media to respond to customer service inquiries – yet 58% of consumers who have tweeted about a bad experience never received a response from the offending company. – Bluewolf
When they do respond, the average response times of brands on Twitter to user comments or complaints is nine hours. – Social Media Slant
Specific data on the prevalence and effectiveness of YouTube, Instagram, Twitter, and Facebook.
Among the largest social media sites, YouTube drives the most highly engaged website traffic (with visitors overall spending on average nearly four minutes and visiting three pages on target sites). – VentureBeat
YouTube reaches more U.S. adults 18-24 years old than any cable network. – SteamFeed
Instagram grew by 50% between March and December 2014, and exceeded the 300 million user mark. It's now bigger than Twitter in terms of active users. – Our Social Times
Engagement rates on Instagram are 15 times higher than Facebook and 20 times higher than Twitter. – Simply Measured
Today, 86% of top brands have Instagram accounts, up from 71% last year. – Simply Measured
Tweets with images receive 18% more clicks, 89% more favorites and 150% more retweets. – BufferSocial
When people follow a brand on Twitter, 72% are more likely to make a future purchase from that brand. – Twitter
Facebook posts with less than 250 characters get 60% more engagement – SteamFeed
Posting to Facebook on Fridays is likely to result in better engagement: 17% of weekly comments, 16% of weekly likes and shares, and 25% of videos played occur on that day. Updates posted on Sundays generate the fewest comments. – Social Media Slant
Related articles: SEO trends and statistics
SOURCES:
HubSpot, The Ultimate List of Marketing Statistics, https://www.hubspot.com/marketing-statistics
Business 2 Community, 106 More Amazing Social Media and Digital Marketing Statistics for 2014 and 2015, https://www.business2community.com/social-media/106-amazing-social-media-marketing-statistics-2014-2015-01151764
Simply Measured Q3 2014 Instagram Study, https://get.simplymeasured.com/rs/simplymeasured/images/InstagramStudy2014Q3.pdf?mkt_tok=3RkMMJWWfF9wsRolua%2FAZKXonjHpfsX56%2BgtXaC0lMI%2F0ER3fOvrPUfGjI4CTsViI%2BSLDwEYGJlv6SgFQrDEMal41bgNWRM%3D
Our Social Times, 8 Useful Social Media Statistics for 2014, https://oursocialtimes.com/8-useful-social-media-statistics-for-2015/