B2B marketers strive to reach a select target of business buyers using high-quality content disseminated effectively. Since B2B marketing wants to reach other businesses, some consider it a more difficult task than B2C marketing, which needs to get in front of individual customers.
Statista put together a report on "Content Marketing in the U.S." to showcase some of the challenges and opportunities both B2B and B2C marketers see daily. Of the many questions Statista asked B2B marketers, one of the most interesting discusses the challenges of B2B marketing.
According to the study, the top three challenges are:
Producing engaging content

Measuring content effectiveness

Producing content consistently
While those three concerns are challenging, each of them is solvable with a strategic marketing plan. Here is how to solve the top three challenges of B2B marketing.
How to Produce Engaging Content
Content creation is essential for B2B marketers both as an inbound marketing tool and to showcase the company's expertise. However, given the technical expertise necessary in many B2B companies, this can be daunting. Luckily, there are many technical writers out there that can help.
The biggest mistake B2B content writers make is focusing on the company's technology and not about the buyer's concerns, wants, and needs. When a potential buyer lands on your website, they are not ready to purchase your product since they are at the very top of the sales funnel. B2B marketers must remember this and provide content that addresses the consumer pain points instead of launching into a detailed explanation of the company. Content marketing must be helpful, educational, inspirational, and frame the problems/solutions around the buyer's perspective.
Furthermore, content must be available through the entire sales funnel and address the customer's concerns along the way. 47% of buyers viewed 3-5 pieces of content before engaging with a sales rep (Demand Gen Report), which means customers will read the content before moving down in the sales funnel. The content must remain relevant at each step, always considering the buyer's perspective.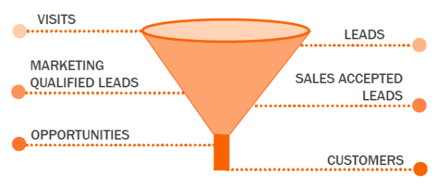 How to Measure Content Effectiveness
Marketers should aim to use content that drives impact, but you also need to understand how to measure that online and offline impact. Simply looking at how many times viewers read a blog post won't measure the full effect of the content piece. Instead, marketers should analyze the content and ask:
Did this piece produce any leads? If so, how many? Is this more or less than the average number of leads produced per content piece?

Was the sales team able to nurture those leads down the sales funnel, or did they all drop off?

Did this piece produce any offline opportunities, such as speaking engagements?

Did readers view more company content after reading this piece? Did they click the CTA?
According to HubSpot, 74% of companies that weren't exceeding revenue goals did not know their visitor, lead, MQL, or sales opportunities. Without effective measurements in place, B2B marketers will not replicate high-performing content or measure ROI on specific efforts. B2B marketers can use basic Google Analytics or tools like HubSpot to take a deep dive into performance analytics and understand which pieces of content are the best performing.
How to Produce Content Consistently
B2B marketers are usually involved in the sales process, so they may find themselves pulled in different directions and unable to produce regular content. Buyers, however, expect updated, fresh content from companies, so B2B marketers may at times feel they fall short. There are, however, ways to produce more internal content to meet buyer demands.
B2B marketers should remember that they have individual experts throughout the company. Though these experts may not be strong writers, they most likely have interesting, engaging commentary to make about the industry.
Furthermore, 96% of B2B buyers want content with more input from industry thought leaders (Demand Gen Report). By utilizing internal resources, you can provide your audience with what they need while positioning your company as experts in their field.
B2B marketers should encourage these thought leaders to draft content (or even bullet points) that can be turned into marketing content by a writer. While this may take constant reminding, the result will be expert commentary from a leader in the field. If marketers cannot pull content from internal sources, digital agencies can always help pick up the slack.
By using these techniques to solve the B2B marketing challenges, marketers can produce more impactful, results-driven campaigns.
Sources
https://www.demandgenreport.com/resources/research/2016-content-preferences-survey-b2b-buyers-value-content-that-offers-data-and-analysis
https://offers.hubspot.com/demand-generation-benchmarks-report?_ga=2.168108649.934722897.1502396578-405145133.1479400303