The following article features a collection of statistics concerning the latest digital marketing opportunities. We looked at statistics from surveys, studies, and industry predictions from the past two years to compile this collection of statistics, meant to help companies and organizations capitalize on the top digital marketing opportunities in 2015.
In 2014, email marketing was cited as the most effective digital marketing channel for customer retention in the United States. – eMarketer
82% of consumers feel more positive about a company after reading custom content. – Demand Metric
Content marketing generates three times as many leads as traditional outbound marketing, but costs 62% less. – DemandMetric
64% of people say the customer experience is more important than price in their choice of brand. – Gartner
37% of consumers are more likely to purchase on a mobile optimized site. – ExactTarget
27% of consumers will leave a site if it is not mobile-optimized. – ExactTarget
Mobile devices accounted for 34% of US organic search visits during the second quarter of 2014. – RKG Digital
In 2015, one-third of all online sales in the UK will take place via smartphones and tablets. By 2019, that figure will rise to over 40%. – eMarketer
Mobile ad spending is expected to top $100 billion worldwide in 2016. Driving this growth is consumer adoption of mobile devices. – eMarketer
As demonstrated in the graph below, one in three marketers report a "major uplift" in search engine marketing conversion rates since implementing personalization. This indicates a significant opportunity for companies to embrace website and content personalization to drive conversions.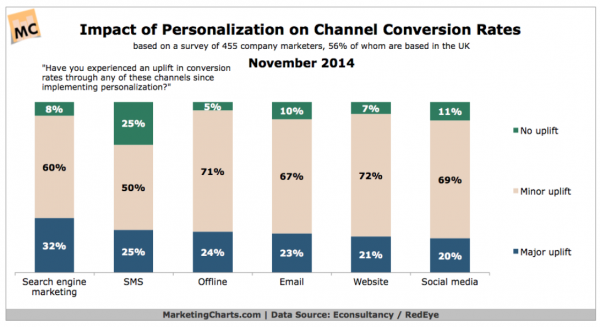 The following graph depicts that organic search remains the leading method by which US adults find information online. This indicates that organic search – and thus inbound marketing – remain critical to lead generation efforts.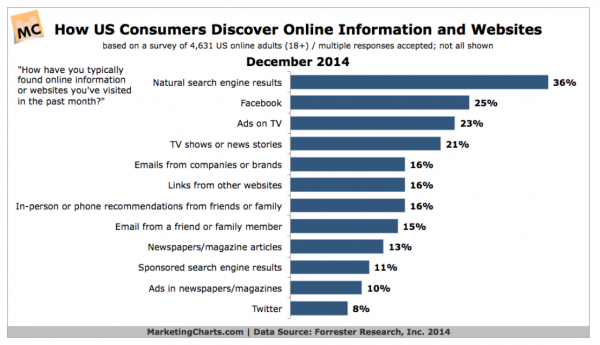 The top 3 content formats that B2B buyers seek out to research a purchase decision include: white papers (78%), case studies (73%), and webinars (69%). – Demand Gen
95% of B2B buyers agreed that they preferred shorter content formats. – Demand Gen
The following graph depicts that online search tools are more important to B2B executives than company websites and recommendation when it comes to finding credible and trustworthy content from companies.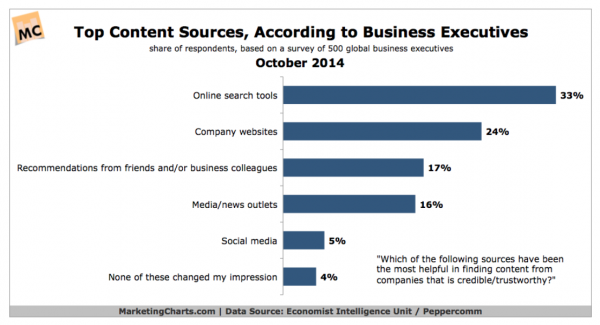 In 2014, 39% of B2B buyers identified that they share infographics on social media frequently. – Demand Gen
In a recent study, 86% of buyers expressed some level of desire to access interactive or visual content on demand. – Demand Gen
In 2014, the use of video content for B2B marketing increased 8% to 58%, while the use of infographics increased from 9% to 52%. – Demand Gen
By 2017, online video will make up nearly 70% of consumer Internet traffic. – Cisco
Global ad spending on social media will rise more than 33% in 2015, to $23.68 billion. – eMarketer
70% of marketers plan to increase their use of original visual assets in 2015. – Social Media Examiner
As shown in the graphic below, adding a photo URL to your tweet can boost retweets by 35%. – Twitter Media Blog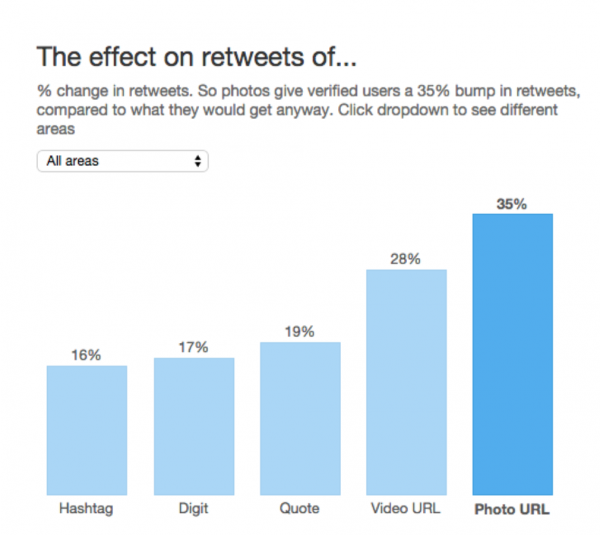 See related articles:
SOURCES
eMarketer, Email: The Old Kid on the Block's Still Got It,

https://www.emarketer.com/Article/Email-Old-Kid-on-Blocks-Still/1011047

ExactTarget, 2014 Mobile Behavior Report,

https://www.exacttarget.com/sites/exacttarget/files/deliverables/etmc-2014mobilebehaviorreport.pdf

Demand Metric, A Guide to Marketing Genius: Content Marketing,

https://www.demandmetric.com/content/content-marketing-infographic

eMarketer,

https://www.emarketer.com/

Demand Gen, B2B Content Preferences Survey: Buyers Want Short, Visual, Mobile-Optimized Content,

https://www.demandgenreport.com/industry-topics/content-strategies/2746-b2b-content-preferences-survey-buyers-want-short-visual-mobile-optimized-content.html#.VUxF0EKe7FI

Social Media Examiner, 2014 Social Media Marketing Industry Report,

https://www.socialmediaexaminer.com/SocialMediaMarketingIndustryReport2014.pdf

Twitter Media Blog, What fuels a Tweet's engagement?,

https://blog.twitter.com/2014/what-fuels-a-tweets-engagement

RKG Digital, Digital Marketing Report,

https://resources.rimmkaufman.com/RKG-DMR-Q2-2014.html

Demand Metric, Content Marketing Infographic,

https://www.demandmetric.com/content/content-marketing-infographic

Content Marketing Institute, How to Win Your Battle for Content Marketing Buy-in,

https://contentmarketinginstitute.com/2015/03/buy-in-conversation-content-marketing/

Marketing Charts, How do US Consumers Discover Online Information and Websites?,

https://www.marketingcharts.com/online/how-do-us-consumers-discover-online-information-and-websites-49623/

Marketing Charts, 1 in 3 Marketers Report "Major Uplift in SEM Conversion Rates From Personalization,

https://www.marketingcharts.com/online/1-in-3-marketers-report-major-uplift-in-sem-conversion-rates-from-personalization-48745/

Marketing Charts, How do B2B Exec Find Content?,

https://www.marketingcharts.com/online/how-do-b2b-execs-find-content-search-47414/