Tips for B2B landing pages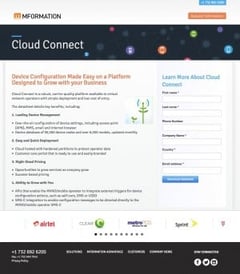 Many prospects fail to view more than the first page they land on when visiting your website from an advertisement. If, upon this first impression, the prospect doesn't like what they see they will leave. Landing pages are direct and tailored messages for helping B2B organizations acquire leads.
Landing pages deliver just enough content to win the trust and interest of a prospect. The essential job of a landing page for B2B marketing is to win prospects over as a lead in a single visit.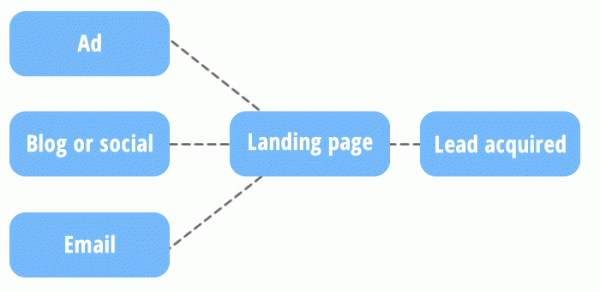 Tips for B2B landing pages
Simplify the landing page and remove distractions. Consider removing navigation, outward pointing links and duplicitous content. Keep it simple and compelling.
The landing page needs a single focus for messaging. Identify a pain point or a single compelling reason to attract the prospect. Sure, the landing page can provide a high-level view of your organization and services, but the landing page needs heirarchy, and it needs a single focus.
Reiterate the singular focus in the page title, header text and in the body (or offer, if you have one). If your landing page is about helping brands solve a specific problem, then you must reiterate this specific problem and address it within the content.
Create an clear conversion pathway. Define your messaging throughout your conversion pathway to help drive users based on interests. The conversion path includes a call-to-action, landing page, web form, thank-you page and a follow-up email. Conversion paths can also include top of the funnel advertising and workflows that are further down the conversion funnel. The goal of marketing should be to create a consistent message throughout the conversion path and inspire prospects to convert to leads.
Provide an incentive for a prospect to fill out a form on your landing page. B2B prospects usually are looking for more information to help them better understand their coming purchase. Provide useful information as a download. Consider providing an eBook, whitepaper, factsheet or a report to help educate buyers on their coming purchase.
Lead-generation, conversion path
A B2B conversion path typically consists of 5 key elements. These elements center around your brand website and include a confirmation email, which should link back to the site with a follow-up action that is measurable.
Call-to-action - A clickable message that inspires web prospects to act on your offer
Landing page - After clicking on the call-to-action or advertisement, the user will go to a web page that includes a submission form and offer.
Web form - Embedding a web form on your landing page will increase the chances they become a lead
Thank-you (post submission) page - Your new leads see this page after completing your form.
Confirmation automated email - This email reassures your lead that their form submission was received and provides a simple follow-up from that submission.