As sales tactics shift from cold calls and "Always Be Closing" to newer methodologies such as "inbound" and consultative sales, salespeople might find themselves in the midst of an evolution in the marketplace. We see many salespeople wanting to make a shift in their careers, and marketing may be a great opportunity for them.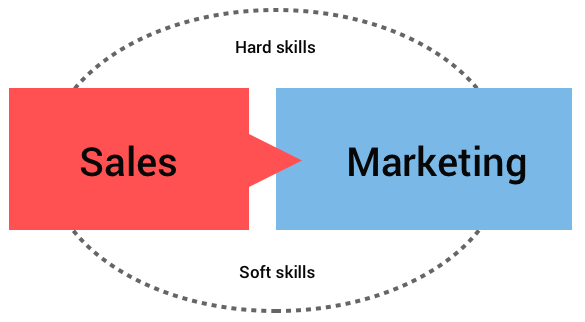 The skills learned in a sales career can certainly aid in the shift to marketing. Switching from a sales position to a marketing position isn't too daunting, as many of the characteristics needed are the same. Both jobs require strong communication, an understanding of the buyer, an analytical mindset, and problem-solving skills.
Sales skills that will translate:
Understanding buyer needs
Translating buyer needs into a decision-making path
Communication, writing, interview, and conversation skills
Email engagement - how to educate and drive action
Being goal-oriented related to the buyer's journey
However, since 75% of buyers want marketers to "curb the sales messaging" in their content (Demand Gen Report), businesses might be hesitant to hire a former salesperson. For those who want to move from a sales job to a marketing career, here are some tips.
Also, consider this post: Getting a Marketing Job without a Degree
Take Classes and Get Certified
The first step is learning and gaining some new skills. There are tools that marketers have been using for years that you need to learn. So, take time and become a master of key marketing technologies to kickstart your career shift. Check out what HubSpot and Google have in terms of certification courses. Figure out what you like, what you're good at, and continue based on that. Employers will be happy to know that you took the time to learn these tools in depth and have certification to prove it.
There are plenty of MOOCs, webinars, and online classes to get you up to speed on marketing basics, which is a good start. To really stand out, learn about how analytics fit in a marketing campaign. The lack of data proficiency is a skills gap in many marketing teams, so if you are good at data, you will have a much easier time finding a job in marketing. Become proficient in inbound marketing best practices, SEO tactics, copywriting, and try to take on AdWords, data, or conversion optimization to stand apart from other candidates.
Recommended Certifications for Inbound Marketing
HubSpot Inbound Marketing Certification – complete in first week or two.
Content Marketing Certification by HubSpot – month 2
Google Analytics – month 3
HubSpot Contextual Marketing Certification – month 4
Email Marketing Certification – month 5
Create a Blog
53% of marketers say blog content creation is their top inbound marketing priority (HubSpot)
Creating, optimizing and maintaining a blog helps in three ways. For one, it improves your writing skills. You can show a potential employer that you can write well, you'll have one foot in the door. Secondly, you can build and demonstrate subject matter expertise in your desired area of practice. Pick a niche (something you know, something you're good at, something that is not written about too much online). Use free templates on Wordpress, SquareSpace, or Blogger to launch your own blog. Begin writing high-quality, consistent content on that topic, making sure to use blog optimization tactics. Third, the practice of content marketing is a key skill today. You can use your blog as a practice ground for new ideas, optimizations, and tests without getting permission. You can use your blog to demonstrate the effects of your practice and experiments.
Start with WordPress.com and create a free blog: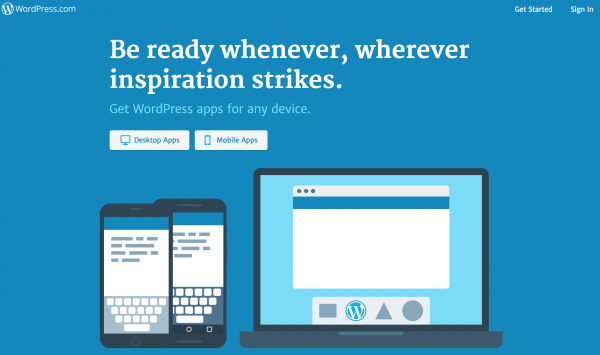 Analytics
The certifications alone will not give you the requisite skills in analytics. You must practice. The reason we recommend having you set up a blog is to give you a practice ground for trying and testing analytics. Start with Google Analytics and then consider expanding into HubSpot (free or Basic). Additionally, use social analytics (Addthis or native analytics within the platform) for building a social media practice.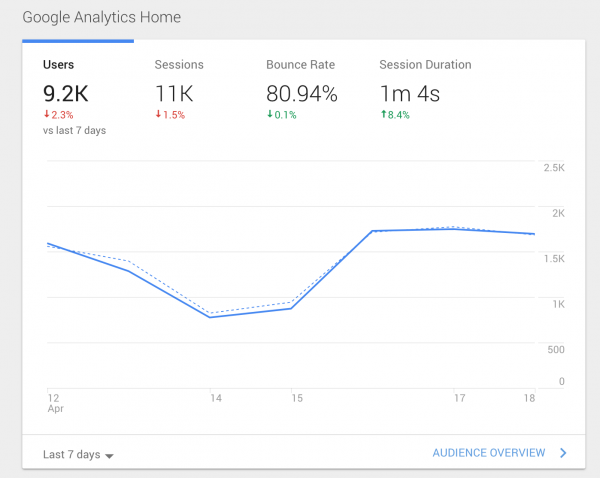 Set Goals for your Blog
Just having a blog won't necessarily set you apart from other candidates. However, ranking high on Google will. Set goals for your blog such as ranking higher for specific keywords on Google and track your success. Or, start a newsletter and set a goal to gain ten new subscribers per week, and then increase that goal as you build an audience. Measure the growth using Google Analytics and screenshots so your potential employer can see the progress.
Build traffic
Become an influencer
Build a subscriber base
Lead generation ** see the HubSpot analytics report below **. As an inidividual, you can generate leads to find work opportunities for yourself (freelance or career moves) or build partnerships
Run Experiments
Marketing changes quickly, so those proficient in the field are always ready to learn a new tool or tactic. To impress a company, try running different experiments to see what works and what doesn't work. Try A/B testing different subscribe buttons and calls to action (CTAs), tracking the success of each. Marketers test campaign strategies all the time, so if you can come to an interview understanding how to test, organizations will be impressed.
Test out different content types to see what pushes up rankings. 72% of marketers say relevant content creation was the most effective SEO tactic (Ascend2), so make sure you know what content works, what content doesn't, and why.
A few test recommendations:
Test messaging
Test content offers for use in building your subscriber base
Test SEO content for building traffic

Understand which Skills you Already Have: Soft Skills Are Important Too
Again, sales and marketing have overlapping skills, so impress an interviewer by describing those. Learn what skills are needed to be a marketer today and how your sales training has taught you some of those skills already. While 'doing' is more important (i.e., creating a blog and measuring its impact), some HR people will want to ensure you have the soft skills it takes to be on the marketing team.
Lifelong Learner - demonstrate this
Ability to interview and take actionable notes
Professional etiquette.
Accountability - that you have "follow through"
Great conversationalist
Marketing tactical skills
A key ingredient to the shift from sales to marketing will be to gain a contemporary understanding of marketing tactics. Use the certifications above to build a new practice set. Pay special attention to the following practice areas:
Inbound marketing practices and its core premise
Conversion optimization
Content marketing for top, middle, and bottom of the funnel
Advertising management - you will need to select a specialty area
Website strategy
Research
Marketers conduct research in order to build strong, relevant strategies for attracting, converting, and nurturing leads. Using research skills, marketers must make sense of a prospective buyer's motivation and set of interests/needs.
Spend time to study value propositions and buyer needs within a chosen market. Your experience in sales should aid your ability to dive deeper into buyer, market, and industry research. Read industry whitepapers, study trends, and dive into reading further about opportunities within your selected market. For example, if you decide to specialize in cloud IT, you may spend time reading about the impact of digital transformation on the enterprise.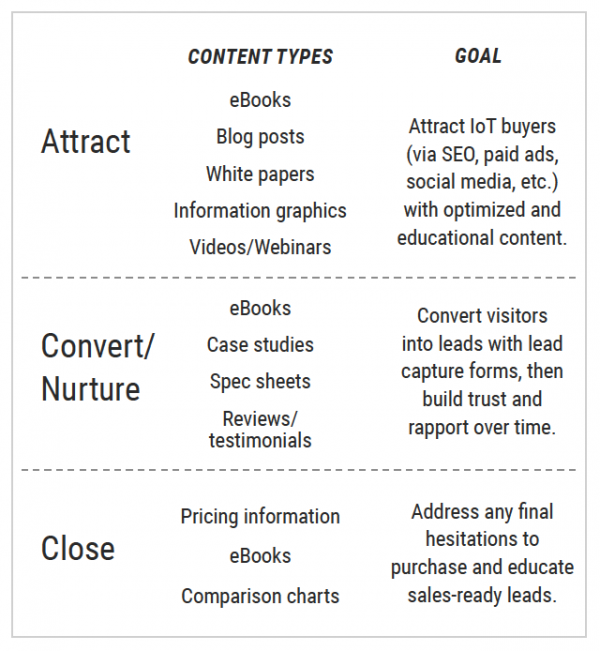 Furthermore, you should try to understand the motivation of business decision makers versus technical influencers in a buying process. Marketers must understand the motivations behind these personas in order to create great educational content, messaging strategy, and a buyer's journey.

Interviews are another great way to dive deeper into deepening your skills as a marketer. Practice interviewing customer service teams, executives, sales reps, marketers, and field teams to better understand the needs of buyers. This understanding will form the basis of your strategy and testing program as a marketer.
Likewise, you can use your research skills to deepen what it takes to become a marketer. There is a plethora of information online on how to make the switch from sales to marketing, so read up. After you read, then start doing. Employers will be impressed by your education, but more impressed with what you've created.
Sources
Demand Gen Report, Exclusive Survey Report: Business Executives' Content Preferences & Consumption Habits, May 8, 2012.
Ascend2, Marketing Technology Trends, 2015.
HubSpot, State of Inbound, 2017.